Hey, did you know that people in your area are still searching online for "makeup artists near me" but can't find you? If you're wondering how to promote your services locally and attract more potential customers, your search is over. You can target your audience and generate more leads by implementing effective digital marketing strategies for makeup artists.
This concise guide will give you an understanding of various digital marketing terms and strategies tailored explicitly for makeup artists.
Let's get started!
What is digital marketing for makeup artists?
For makeup artists, digital marketing means creating a unique brand for yourself, as well as presenting that brand to potential clients and making sure they like it.
Take a moment to perform a quick Google search for "makeup artist + your city" or "makeup artists + city in your service area" If your business doesn't rank at the top of the search results, it risks being completely overlooked, significantly if your competitors outperform you.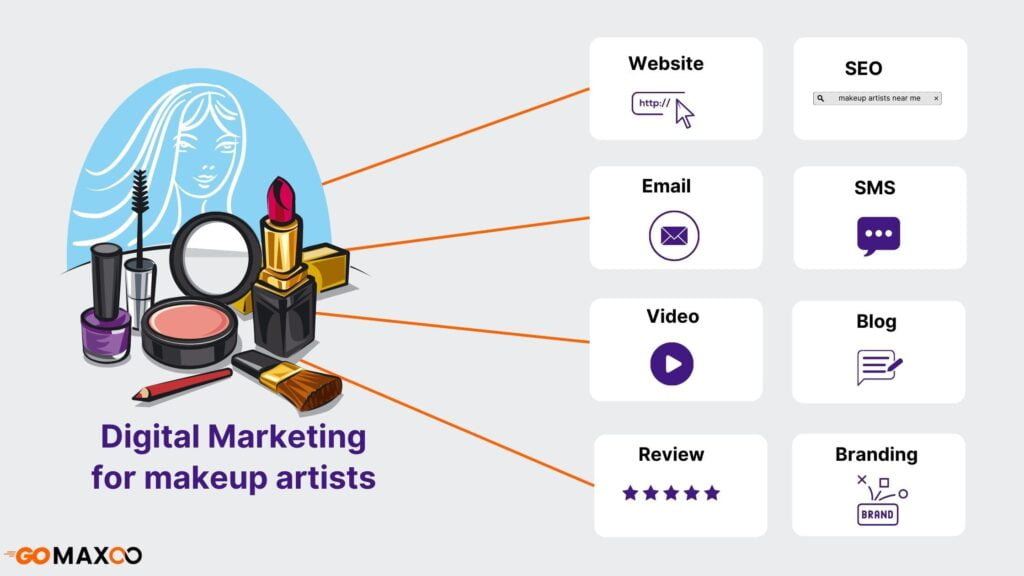 With the makeup artists industry experiencing rapid growth and becoming a significant part of consumers' daily lives, makeup artists must embrace digital marketing as a key aspect of their branding efforts. Let us move on to what can help your business attract more customers.
What is the importance of digital marketing for makeup artists?
Digital marketing for makeup artists has the ability to reach a wide range of potential clients and enable you to differentiate yourself in a competitive market. This contemporary marketing approach can also attract more clients and enhance your visibility in the makeup industry.
In today's digital age, most people rely on Google to find relevant information or services. They often search for specialty makeup artists such as "makeup artist near me" and "makeup artist near me" If your makeup artist business lacks visibility in Google search results, you risk missing out on many potential customers.
Although, simply setting up a website for your makeup artist business is not enough. To stay competitive, it is essential to stay informed about the latest trends in the makeup artist industry and address them effectively, which can only be achieved through digital marketing.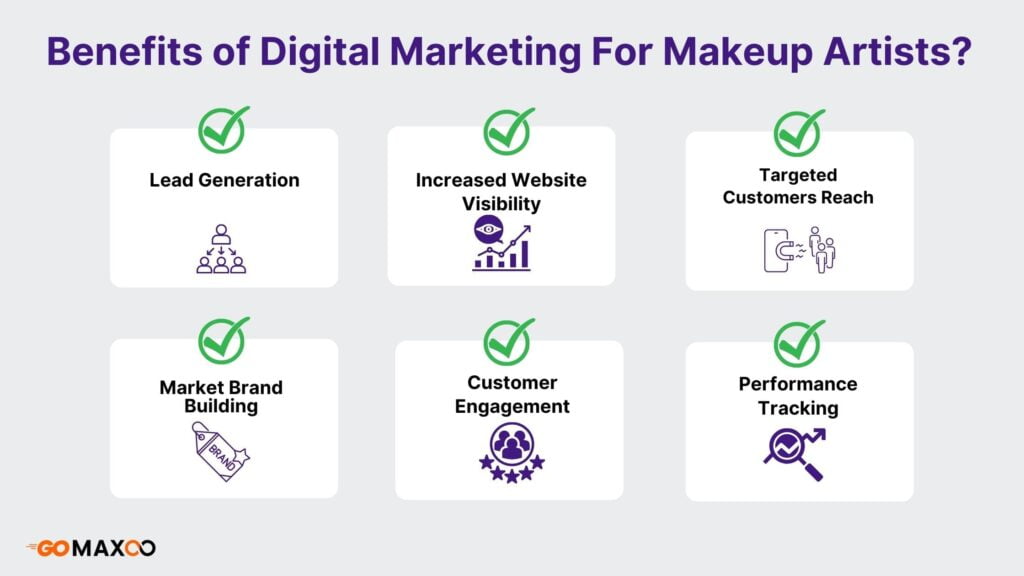 Here we suggest some key benefits of digital marketing for makeup artists:
Lead generation
Effective digital marketing techniques generate leads for makeup artists, leading to increased bookings and business growth.
Increased website visibility
Digital marketing helps makeup artists enhance their online presence and visibility, making it easier for potential clients to discover their services.
Targeted customers reach
By utilizing digital marketing strategies, makeup artists can specifically target their desired audience, ensuring their marketing efforts reach the right people.
Market brand building
Digital marketing allows makeup artists to establish and promote their unique brand, helping them stand out in a competitive market.
Customer engagement
Through digital platforms, makeup artists can engage with their audience, build relationships, and provide valuable content to keep clients interested and connected.
Performance Tracking
With digital marketing tools and analytics, makeup artists can track and measure the success of their marketing campaigns, enabling them to make data-driven decisions for better results.
What is the market trend of makeup artists?
The global makeup market size was estimated at USD 39.58 billion in 2022 and is projected to grow from USD 41.49 billion in 2023 to USD 58.15 billion in 2030, showing a CAGR of 4.9% during the forecast period.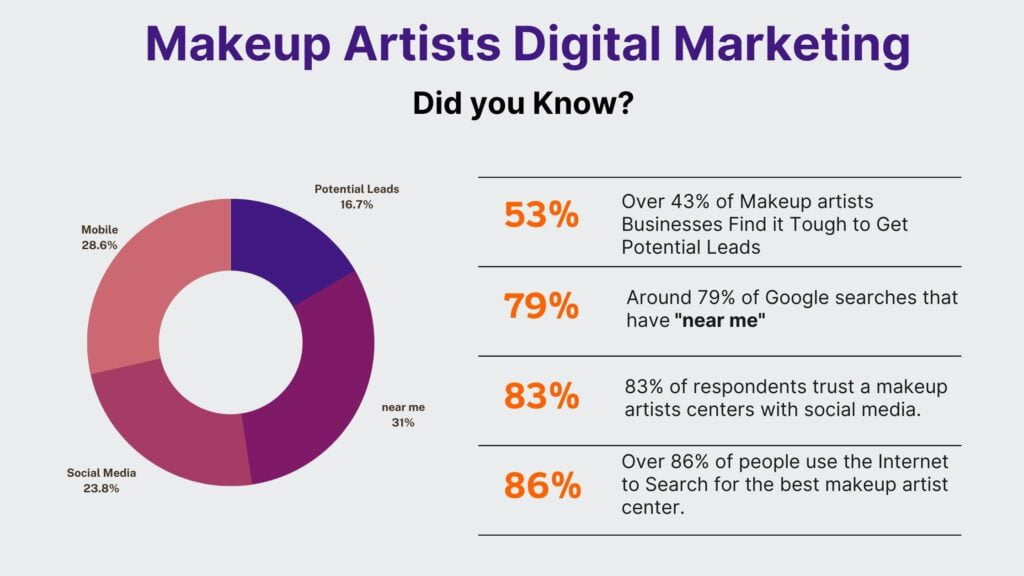 In today's society, there has been a shift in perception towards the beauty industry. People now place importance on their appearance in various aspects of life, whether it's a professional event, a casual brunch, or a simple gathering.
This growing interest has opened up numerous career opportunities, including makeup artists, beauty/makeup influencers, and personal/hair stylists. The industry is thriving, leading to an increase in entrepreneurial ventures as women recognize the untapped potential and seek to fill the gaps within the market.
What are the digital marketing strategies for makeup artists?
Here are 16 digital marketing strategies to grow the makeup artist business.

1. Create an attractive makeup artist website
When it comes to effective makeup artist promotion ideas, it all begins with establishing an online presence for your business. To achieve this, you need an appealing website design dedicated to your makeup business marketing.
A website serves as a powerful tool to showcase your work and attract new clients. Ensure your site exudes professionalism and offers easy navigation. Include sections for a portfolio, testimonials, and contact information.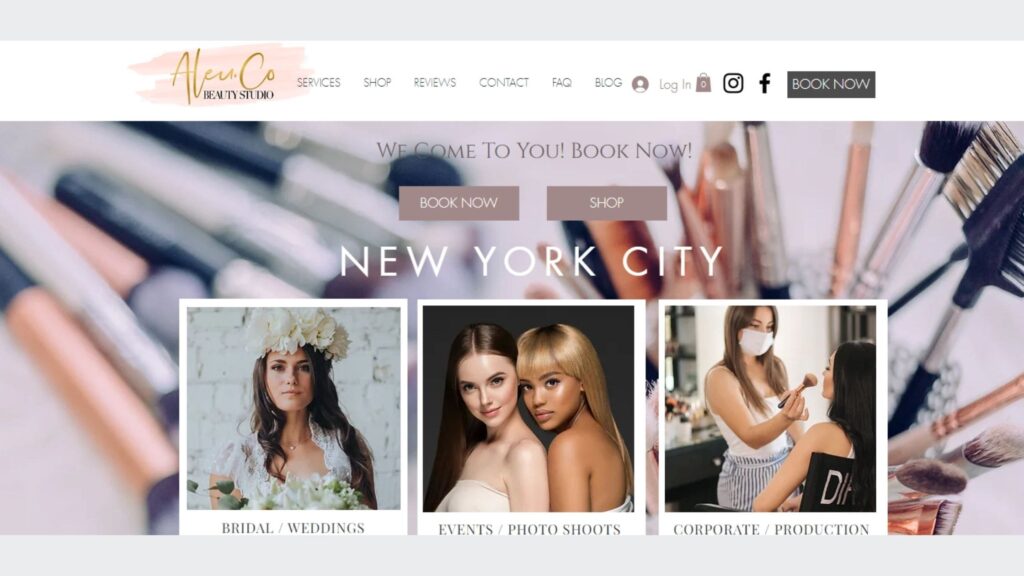 Key pages to include on your makeup artist website:
Home page: Use captivating visuals targeted at your primary audience and clients.
Online booking: Demonstrate relevance and professionalism by offering online booking capabilities.
Portfolio: Collaborate with a photographer to build a polished online portfolio highlighting your expertise.
Services: Clearly outline the services you provide and include pricing details.
Blog: Blogging helps establish you as an industry authority and serves as an excellent makeup artist promotion idea for your business.
About me: Especially valuable for freelance makeup artists, this section offers potential clients insights into you as a business owner.

2. Build a makeup portfolio
Your makeup artist portfolio showcases your best work, and you need a great portfolio as part of your makeup artist marketing.
Include a collection of the finest images of your work on both yourself and others in your portfolio.
While an online portfolio on your website is essential to your makeup artist marketing strategy, it's also worth considering having a printed portfolio with photographs of your best work. This can be displayed at in-person events to make a lasting impression.
3. Online booking system to increase appointments
A makeup artist booking system is an online tool that allows customers to easily reserve services or products through a website or mobile app, offering convenience and efficiency.
Every professional makeup artist should have a user-friendly booking method displayed on their website and social media platforms. If you haven't utilized one yet, it will revolutionize your business. You'll attract more appointments with minimal effort.
By incorporating a "Book Now" button and showcasing your availability online, potential clients can effortlessly schedule appointments, benefiting both the makeup artist and the client.
4. Use Social Media channels for your makeup business
Many individuals perceive social media marketing as an excellent idea for promoting their makeup business, primarily due to its cost-effectiveness.
While it is true that being on social media doesn't require substantial financial investment, the true cost lies in the time and consistent effort required to establish and maintain effective makeup artist marketing channels.
Social media is a powerful tool to quickly and easily reach a broad audience. Ensure you have a presence on major platforms like Facebook, Twitter, and Instagram. Regularly post engaging content, including photos and videos/Reels with relevant hashtags, to showcase your work and attract attention.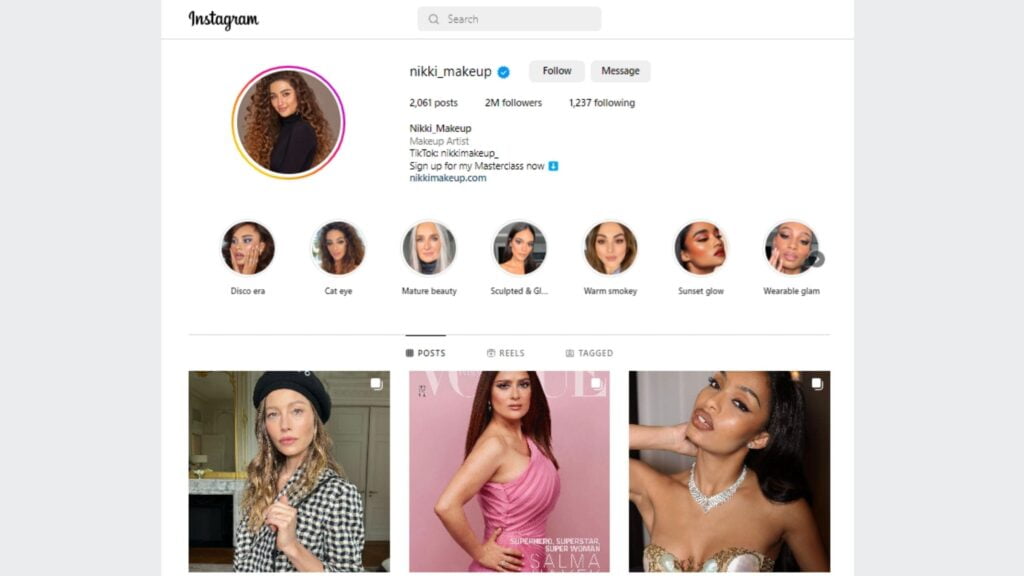 What should you post on social media as a makeup artist?
Share high-quality photos and videos of your makeup creations to highlight your skills and style.
Before and after transformations
Showcase the amazing transformations you've made to demonstrate the power of makeup to your clients.
Provide valuable tips, step-by-step tutorials, and product recommendations to educate and engage your audience.
Display testimonials or reviews from satisfied customers to build trust and showcase others' positive experiences with your services.
Provide a glimpse into your creative process, showcase behind-the-scenes footage or share stories from your work as a makeup artist.
Collaborations and partnerships
Highlight any collaborations with brands or influencers to expand your reach and build credibility within the industry.

5. Search engine optimization to increase organic traffic
Search engine optimization enables you to get the best possible rankings. Hiring an SEO expert is highly recommended to get the most out of it.
Implementing SEO techniques can enhance your website's visibility on search engine results pages. Conduct thorough keyword research to identify relevant terms for your makeup artist services. Optimize your website's content, meta tags, and headers using these keywords to increase organic traffic and attract potential customers.
You can enhance your makeup artist's website's online presence by strategically incorporating relevant keywords and creating amazing content. This optimization significantly improves your search engine rankings, increasing visibility and attracting organic traffic.
Benefits of SEO for Makeup Artists:
The primary source of organic traffic
Generates high-quality leads
Boosts PPC success
Provides higher visibility
Strategic planning for the future
Helps gain market share
Stays ahead of the competition
International online exposure
Attracts targeted users on the web
A consistent stream of new inquiries or calls

6. Create Google business profile for your makeup artist business
When potential clients search for a makeup artist on Google, the search engine promptly displays results for "makeup artists near me" from Google Maps. Is your business listed on Google Maps?
One of the top makeup artist promotion ideas, often overlooked, is to be present where your clients are. People rely on Google for various service requirements in this digital age, including makeup artist services.
To be easily discoverable and engage with potential clients, your makeup business needs to be registered on Google Maps.
Visit Google Business Profile and list your makeup business. This free service from Google enables you to promote your business profile on Google Maps.
Let us know how to list your business in Google Business Profile.
Sign in to Google My Business
Visit the Google My Business website (business.google.com) and sign in using your Google account credentials.
Create a Business Profile
Click the "Manage now" button to create your business profile.
Enter Your Business Information
Provide accurate details about your makeup artist business, including the name, address, phone number, website, and other relevant information.
Specify whether you serve customers at a physical location (such as a studio or parlor) or if you deliver goods and services to customers at their location.
Select Your Business Category
Choose the most relevant category for your makeup artist business, such as "Makeup Artist" or a related category that accurately represents your services.
Follow the verification steps provided by Google. This may involve receiving a postcard by mail or getting a phone call with a verification code.
Optimize Your Business Profile
Once your business is verified, enhance your profile by adding photos, business hours, a description of your services, and other relevant details to attract potential clients.

7. Paid advertising marketing to increase sales
Online advertising is an excellent method to reach individuals searching for makeup artists, beauty salons, or spas in your local area. Utilize platforms like Google Advertising or similar ones to create ads that specifically target your ideal customers.
Google Ads, operating on a pay-per-click (PPC) model, enables you to focus on specific keywords and bid on them accordingly.
By taking advantage of these benefits, you can generate an increased number of leads, increase bookings and achieve substantial growth for your makeup artists business.
Now we will see how to configure Google Ads
Sign in to your Google Ads account or create a new one at ads.google.com.
Set up your campaign:
Click on the "+ Campaign" button.
Choose your campaign goal based on your objectives, such as "Website traffic" or "Leads."
Define campaign settings:
Determine your campaign budget.
Select your target locations, such as specific cities or regions.
Set your bidding strategy, such as manual CPC (cost-per-click) or automated bidding.
Specify the start and end dates for your campaign.
Create ad groups:
Create relevant ad groups based on different services or keywords related to your makeup artist business.
This helps you organize your ads and optimize them effectively.
Create your ads:
Write a compelling ad copy that highlights your unique services and benefits.
Utilize relevant keywords in your headlines and descriptions to attract your target audience.
Set up targeting:
Define your audience targeting preferences, such as demographics, interests, and device preferences.
Refine your targeting to reach potential customers who are more likely to be interested in your makeup artist services.
Choose your bidding strategy:
Decide on your bidding strategy, whether it's manual CPC (cost-per-click), automated bidding, or a specific target cost.
Set up tracking and measurement:
Implement conversion tracking to measure the effectiveness of your ads and optimize your campaigns accordingly.
Review and launch:
Review all your campaign settings, ad groups, and ads to ensure accuracy.
Once everything is set, launch your Google Ads campaign.
8. Offer loyalty cards with discounts for your clients
One effective way to enhance the advertising for makeup artists is by making clients feel valued through loyalty cards. Zazzle offers excellent printable loyalty cards specifically designed for makeup artists.
For instance, you can implement a reward system where clients receive a freebie or a discount of 20%-40% off after every 5th makeup service with you. The freebie could be a complimentary makeup session; if that is not feasible, you can offer a significant discount instead.
9. Email marketing to generate more leads
Utilizing email marketing is an excellent strategy to maintain communication with existing clients and attract new ones. Develop a newsletter or promotional offer, incorporating a compelling call-to-action to motivate individuals to schedule an appointment.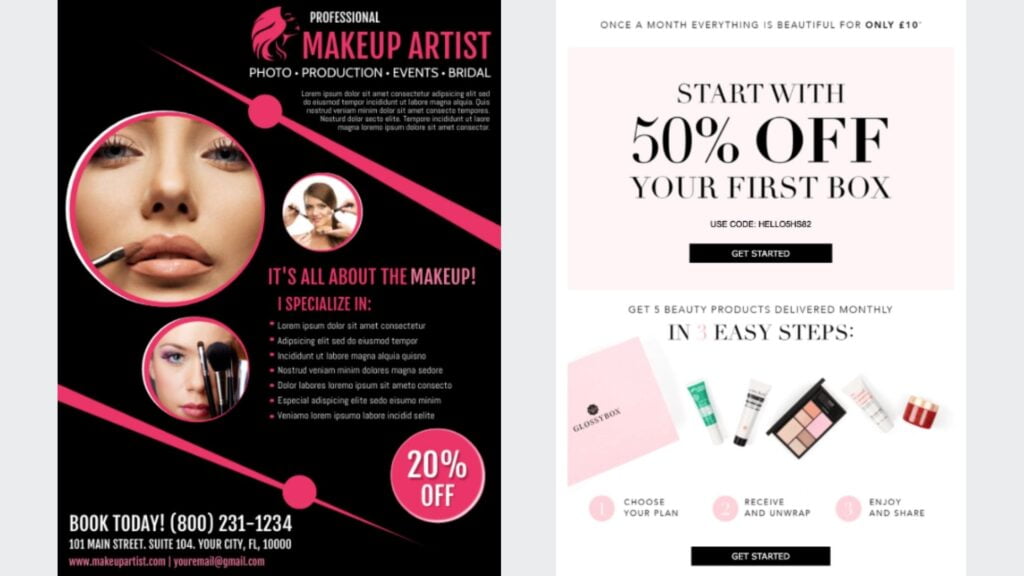 11. Create makeup blogs
Blogging is a wonderful opportunity to impart expertise and establish connections with prospective clients. Opt for a WordPress or Blogger platform, and begin sharing your valuable tips and tricks.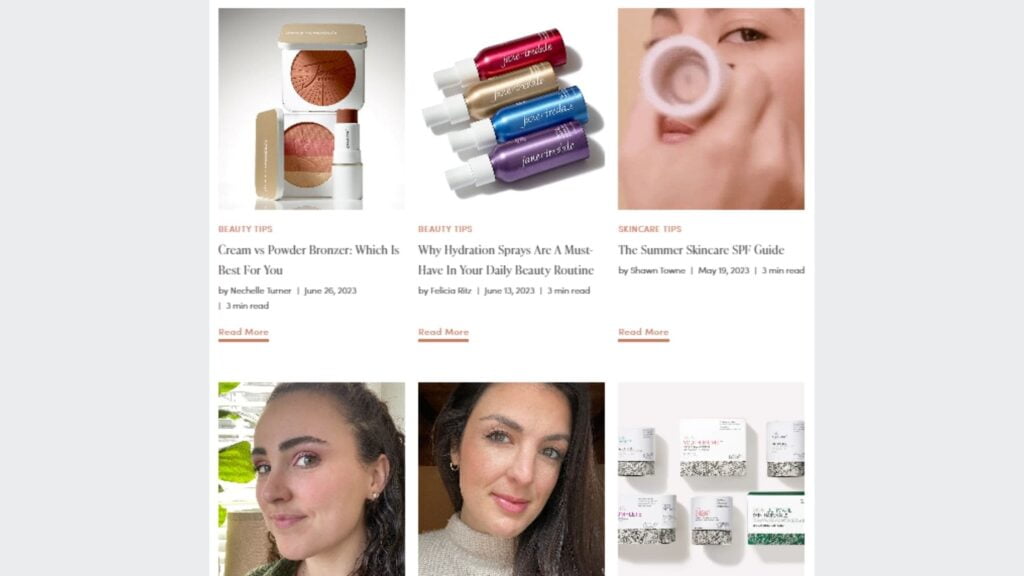 12. Influencer marketing
Engage in collaborations with photographers during shoots. This practice not only broadens your network but also enhances your portfolio. Demonstrating your industry experience through collaborations enhances your brand image. An added advantage of collaborating is that if a photographer appreciates your work, they will likely hire you repeatedly.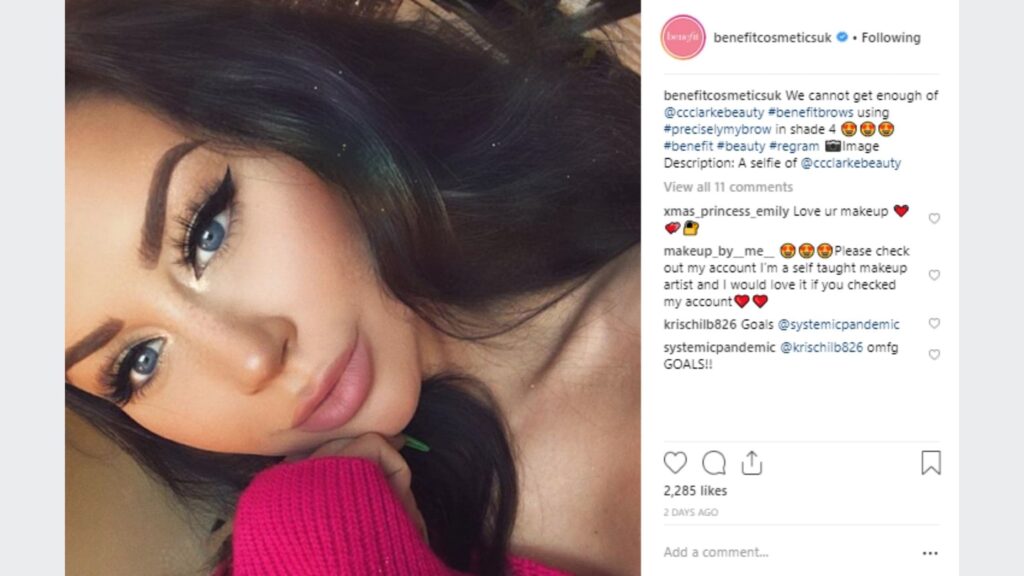 13. Ask Customers to Write Reviews
Getting feedback and reviews from past customers who have utilized your services is a powerful approach to establishing trust and credibility. These testimonials hold a significant influence in attracting new clients.
Customer feedback not only boosts the confidence of potential and returning customers, but it also increases your company's search engine ranking. Integrating customer feedback into your digital marketing strategy is crucial for effective SEO.
The Internet provides a variety of avenues for collecting feedback from customers:
Encourage satisfied customers to leave reviews on platforms like Google, TripAdvisor, or Yelp.
Respond promptly and professionally to both positive and negative reviews.
Monitor and address customer complaints or issues mentioned in reviews.
Utilize positive reviews as testimonials on your agency's website and social media channels.
Utilize feedback from reviews to identify areas for improvement and enhance customer experiences.
By implementing these digital marketing strategies, a makeup artist agency can attract, engage, and retain customers, ultimately leading to increased bookings and business growth.
14. Automation to increase user experience
One of the essential digital marketing strategies for makeup artists is to leverage automation to enhance the user experience. Automation is using technology and software tools to streamline and optimize various processes.
Here is a detailed explanation of how makeup artists can use automation to improve their digital marketing efforts:
Use automated systems for convenient client booking and send confirmation notifications to avoid miscommunication.
Email Marketing:

Utilize automation tools to create personalized campaigns.
Segment your email list.
Send automated messages for client engagement.
Save time by scheduling social media posts in advance and track campaign performance for optimization.
Customer Relationship Management (CRM)
Automate client information management, inquiries, and follow-ups for organized and personalized communication.
Optimize ad campaigns and improve targeting using automated bidding strategies and personalized content.
15. Ask for client referrals
Including a referral system in your marketing strategy is a valuable approach for makeup artists.
When a client recommends your services to a friend, they have an incentive to do so. It is important to acknowledge the client who made the referral by providing them with a bonus. This could be a 20% discount on their next visit or another complimentary item or service.
FURTHER READING

16 Digital Marketing Strategies for Spa & Wellness Center
15 Digital Marketing Strategies For Travel Agency: Complete Guide
Digital Marketing Strategies For Gym: All You Need to Know
Digital Marketing Strategies For Dentists: Step-by-Step Guide
What are the key success factors for makeup artists?
The key success factors for makeup artists are crucial elements that contribute to their achievements and recognition in the industry.

Exceptional Skill and Technique
Mastering a wide range of makeup techniques and staying updated with industry trends ensures the ability to deliver exceptional results.
Creativity and Artistic Vision
The ability to conceptualize and execute unique and innovative makeup looks sets apart successful makeup artists.
Strong Interpersonal Skills
Building rapport, actively listening to clients, and understanding their needs fosters trust and positive client relationships.
Professionalism and Reliability
Consistently demonstrating professionalism, meeting deadlines, and providing reliable services build a solid reputation.
Adaptability and Versatility
Being adaptable to various client preferences and diverse environments allows makeup artists to cater to a wide range of clients.
Effective Marketing and Networking
Utilizing effective marketing strategies and building a strong network within the industry helps attract and retain clients.
How can a digital marketing agency help makeup artists?
A digital marketing agency plays an important role in empowering makeup artist to use online strategies to increase their visibility and attract more clients.
Improve Online Presence
A digital marketing agency can boost a makeup artist's visibility through website optimization, social media management, and online advertising.
Targeted Audience Reach
By utilizing effective targeting strategies, a digital marketing agency can help makeup artists reach their ideal Audience and attract potential clients.
Engaging Content Creation
Skilled content creators can develop compelling and informative content, including blog posts, videos, and tutorials, to engage and educate the Audience.
Branding and Image Building
A digital marketing agency can assist in creating a strong brand identity and building a positive image through cohesive branding strategies and reputation management.
Lead Generation and Conversion
A digital marketing agency can help generate leads and convert them into paying clients by employing lead generation tactics and conversion optimization techniques.
Performance Tracking and Analytics
Utilize analytics tools to track performance, measure marketing campaigns' effectiveness, and make data-driven decisions for continuous improvement.
How to choose the best makeup artists Digital Marketing agency?
Choosing the Best Digital Marketing Agency for Makeup Artists
Relevant Experience
Look for agencies with proven experience in the beauty and makeup industry to ensure they understand makeup artists' unique needs and challenges.
Comprehensive Services
Opt for agencies that offer a wide range of digital marketing services, including website development, social media management, SEO, content creation, and online advertising.
Client Portfolio
Review the agency's portfolio to assess the quality of their work, client testimonials, and successful campaigns executed for makeup artists or similar businesses.
Results-Driven Approach
Choose agencies that prioritize measurable results and have a track record of delivering successful digital marketing campaigns with tangible outcomes.
Transparent Communication
Opt for agencies prioritizing open and transparent communication, providing regular updates, reports, and insights on campaign performance.
Collaboration and Flexibility
Look for agencies that value collaboration and are flexible in tailoring their strategies to align with makeup artists' unique goals and brand vision.


FAQ's
How can I promote my makeup artist business?
Promote your makeup artist business by utilizing digital marketing strategies such as creating a professional website, leveraging social media platforms, collaborating with influencers, and offering special promotions or discounts.
How do I promote my makeup artist on social media?
Promote your makeup artist services on social media by sharing high-quality before-and-after photos, offering makeup tips and tutorials, engaging with your audience through comments and messages, collaborating with other beauty professionals, and running targeted ad campaigns.
Do Facebook ads work for makeup artists?
Yes, Facebook ads can be effective for makeup artists. You can reach potential clients interested in makeup services by targeting specific demographics, interests, and locations. It lets you showcase your work and drive traffic to your website or social media profiles.
How do you get makeup leads?
Generate makeup leads by networking with other industry professionals, attending events and trade shows, offering referral incentives, optimizing your website for search engines, utilizing social media advertising, and collecting email addresses for targeted marketing campaigns.
How do you attract high-end clients?
To attract high-end clients, build a strong portfolio showcasing your high-quality work, target affluent areas and events, collaborate with upscale venues or luxury brands, offer premium services and personalized experiences, and leverage testimonials and reviews from satisfied high-end clients.