Hey, did you know that your potential customers are constantly searching online for "spa near me" or "spa and wellness center near me" but can't find you? If you are wondering how to position yourself locally and get more leads, your patience has ended here. With the right digital marketing strategies for spa and wellness, you can get targeted and leads.
This quick guide will help you understand all the digital marketing terms and strategies for spa and wellness.
Let's dive…
What is digital marketing in Spa and Wellness?
Spa and wellness digital marketing is the process of using digital channels to promote and increase the reach of spas and wellness centers. These channels make marketing profitable through the use of search engines, content, and social media.
Take a moment to do a quick Google search for "spa center + your city" or "spa and wellness + city in your service area" If your business doesn't rank at the top of the search results, it may be completely ignored, especially if one of your competitors is performing better than you.
With the spa and wellness industry growing rapidly and making its way into the everyday lives of consumers, it is imperative that spas and wellness embrace digital marketing as part of their brand referendum. So, without any further delay, let us move on to what will help your business to increase customer attraction.
What are the benefits of digital marketing for Spa and Wellness?
In today's digital age, most individuals rely on Google to discover relevant services or information. They often search for specialized spa and wellness centers like "spa near me" and "spa and wellness near me" If your spa and wellness center lacks visibility in Google search results, you risk missing out on numerous potential customers.
A loyal customer can greatly contribute to your business by promoting it to others, thereby expanding your customer base. As a result, your revenue per customer will increase, ensuring the vitality of your spa and wellness business in both the short and long term.
However, simply setting up a website for your spa and wellness center is not enough. To stay competitive, you must be aware of the latest spa and wellness industry trends and address them effectively, which can only be achieved through digital marketing.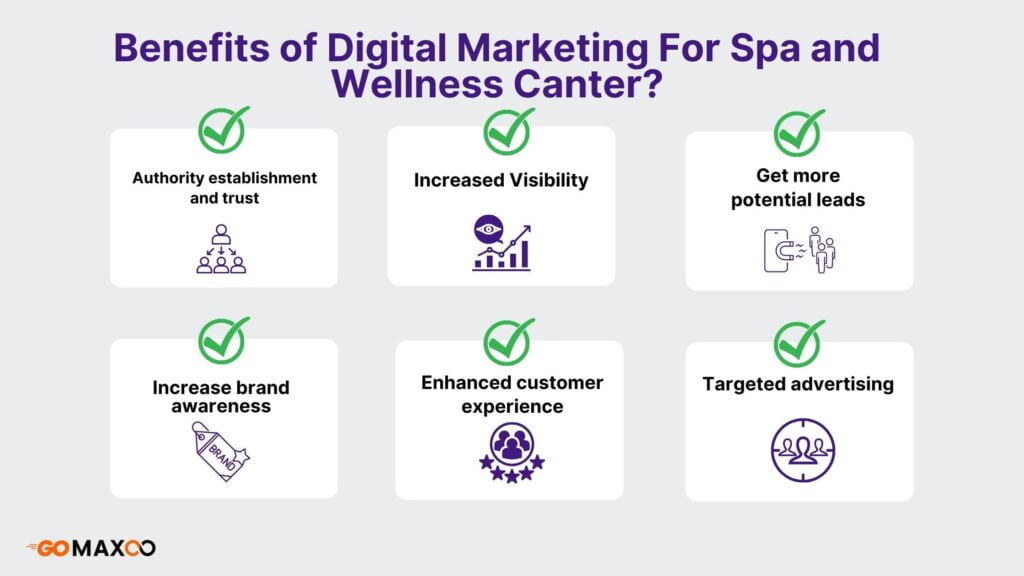 Digital marketing provides many benefits for spas and wellness. Here we suggest some of the key benefits:
Authority establishment and trust
Digital marketing helps a Spa and Wellness business establish credibility and trust among potential customers.
Improving online visibility
Increase visibility by boosting the online presence of Spa and Wellness businesses.
Get more potential leads
Attract more customers through effective lead-generation campaigns and targeted advertising.
Increase brand awareness
Create recognition and memorability for Spa and Wellness businesses through digital marketing.
Enhanced customer experience
Provide personalized interactions and content to improve satisfaction and loyalty.
Targeted advertising
Reach the right audience by targeting specific demographics through digital marketing.
Reasonable cost
Cost-effective digital marketing reaches a broader audience within budget constraints.
What are the different types of marketing for Spa and Wellness?
When it comes to marketing a spa and wellness business, employing various strategies can help attract and retain customers. Here are some effective marketing types to consider: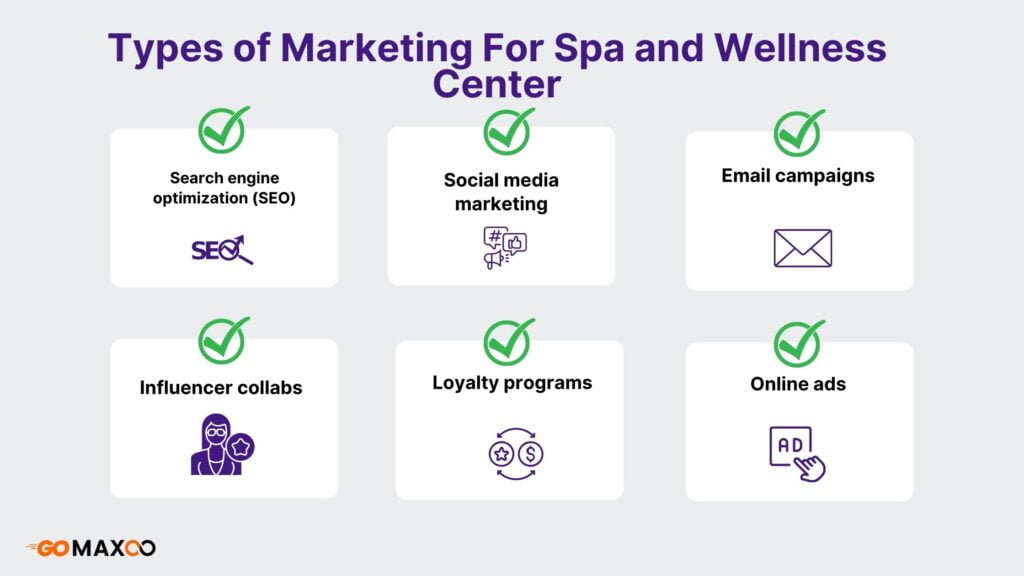 Search engine optimization (SEO): Optimize websites for higher search rankings, increase visibility, and attract organic traffic.
Social media marketing: Engage the audience, share content, and promote services.
Email campaigns: Targeted emails for offers, events, and loyalty.
Influencer collabs: Partner with wellness influencers for broader reach, and credibility.
Loyalty programs: Incentives for loyal customers, repeat visits, and referrals.
Online ads: Use digital channels to reach more customers, and boost brand awareness.

What is the market trend of Spa and Wellness?
The global spa market size was valued at USD 47.5 billion in 2020 and is expected to expand at a compound annual growth rate (CAGR) of 12.1% between 2021 and 2028. The rise of the hectic lifestyle in urban areas, the growth of inbound and outbound tourism for the purpose of wellness, increasing demand from emerging markets and awareness are the factors driving the growth of the market. The coronavirus (COVID -19) pandemic had a significant impact on the industry, as companies were forced to close or enforce strict hygiene requirements and standards for their workers and visitors.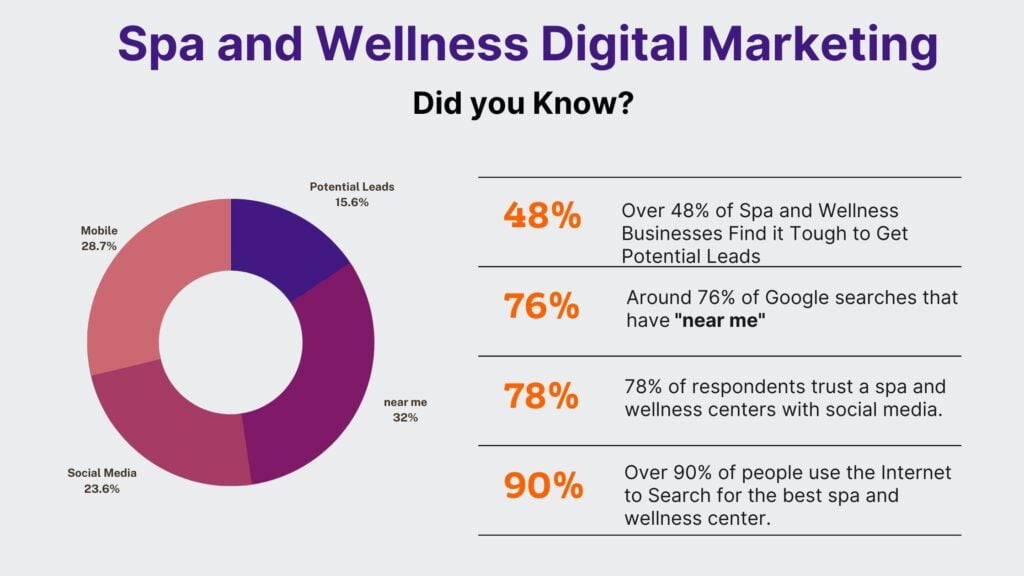 The hotel/resort spa segment dominated the market and had the highest revenue share of 37.4% in 2020 due to the rise in wellness tourism around the world. Based on the type, the market is categorized as hotel/resort spa, destination spa, day spa/wellness, medical spa, mineral spring spa, and others.
This report forecasts revenue growth on a global, regional, and country level and provides an analysis of the latest industry trends in each of the sub-segments from 2016 to 2028. For this study, Grand View Research has segmented the market report spa world accordingly.
Digital marketing strategies for Spa and Wellness?
Here are 16 effective marketing strategies for spa and wellness businesses to attract more customers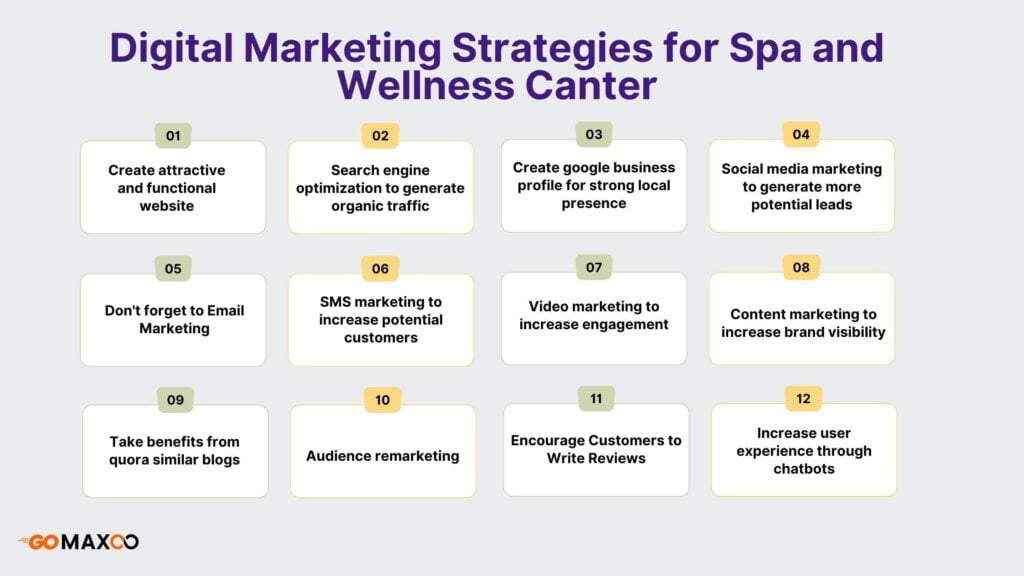 1. Create attractive and functional website
Develop an attractive and user-friendly website that represents your spa and wellness business. Make sure it is visually pleasing, easy to navigate, and provides relevant information about your services, facilities, and location.
Building a user-friendly website for your spa and wellness business is important for a variety of reasons. A user-friendly website ensures a smooth and positive user experience, which translates to higher customer satisfaction and conversion rates. 
Here are some essential components that you should include in your spa and wellness website.
Branding: Establish a consistent and recognizable brand identity.
About section: Provide a concise overview of your spa and wellness business.
Spa Services & price list: Display services and corresponding prices.
Your work: Showcase expertise through testimonials and success stories.
Your spa and wellness center: Highlight your facility's amenities and ambience.
Booking link and contact details: Easy access to booking and contact information.
Cancellation policy: Communicate your cancellation policy.

2. Search engine optimization to generate organic traffic
Implementing SEO techniques can help improve your website's visibility on search engine results pages. Conduct keyword research to identify relevant terms and phrases related to your spa and wellness services. Optimize your website's content, meta tags, and headers using these keywords to increase organic traffic and attract potential customers.
Understanding the popular keywords among your potential customers allows you to create content that addresses their needs and increases the likelihood of appearing in search engine results.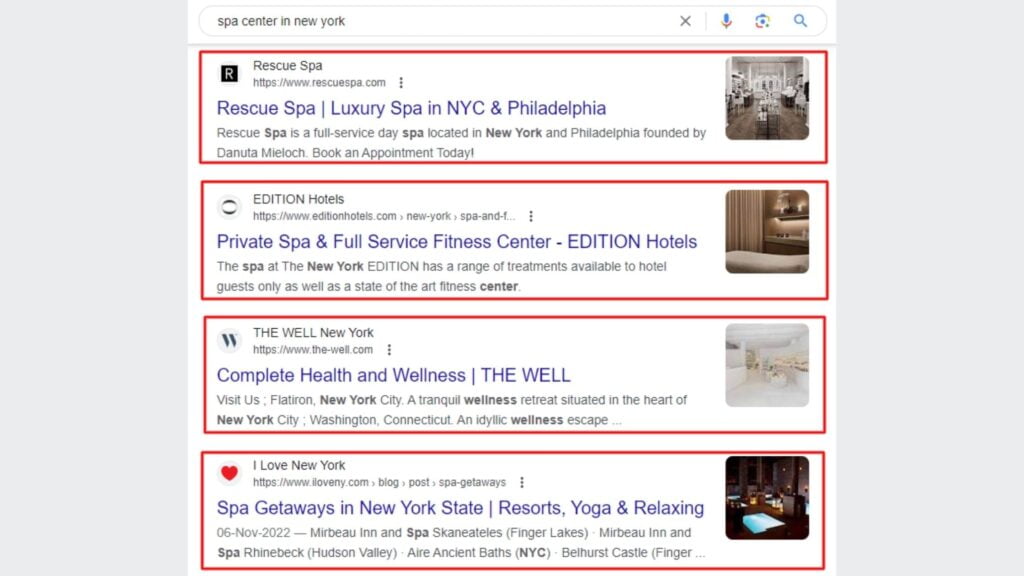 Grow your spa and wellness website's online presence by strategically including relevant keywords and creating exceptional content. This optimization will significantly increase your visibility in search engine rankings, attracting more organic traffic.
Benefits of search engine optimization (SEO):
Increased Online Visibility
Boost your spa and wellness business by improving search engine rankings and attracting more online visitors.
Attract potential customers seeking spa and wellness services to your website.
Strengthen your brand's online presence and visibility, building customer trust and recognition.
SEO offers a long-term, cost-effective marketing strategy that yields sustainable results for your spa and wellness business.
By targeting relevant keywords and optimizing your website, SEO helps convert visitors into paying customers.
Stay ahead of the spa and wellness industry competition by ranking higher in search engine results and gaining a competitive edge.
3. Create Google business profile for a strong local presence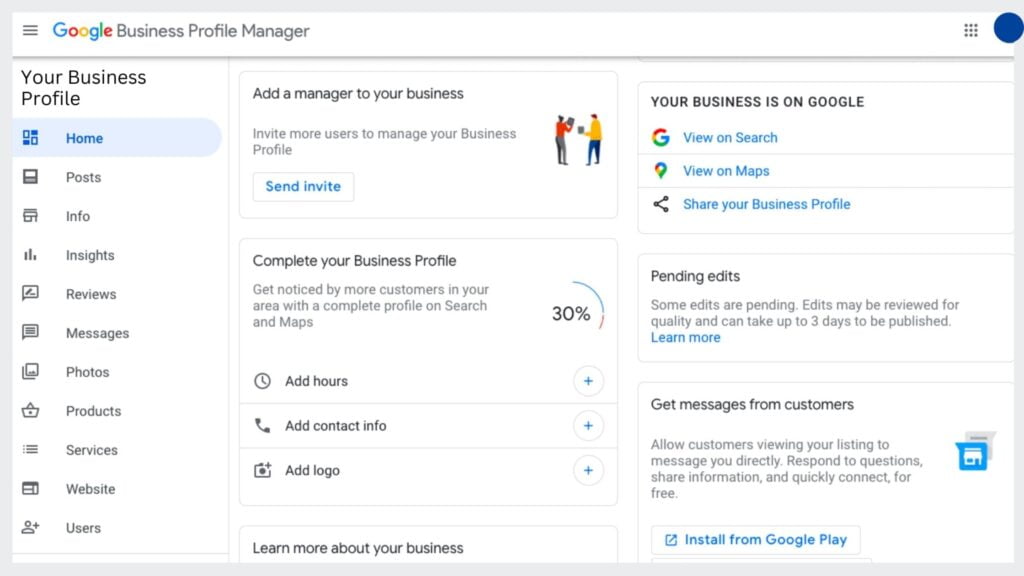 Google Business Profile is a free business listing service offered by Google for local businesses. These listings appear prominently at the top of Google search results, accompanied by a map.
For example, when searching for "spa near me" or "wellness center near me" on Google, you'll find a map displaying nearby spa and wellness businesses among the top search results.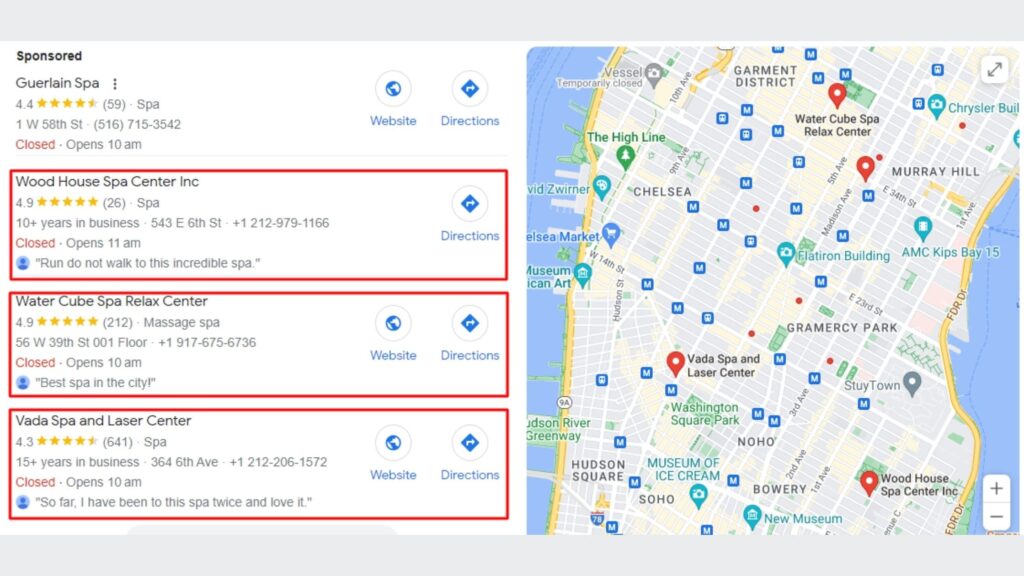 let's know
How to claim a Google Business Profile for Spa and wellness?
Login to your Google Business Profile
Access your Google account using your login credentials. If you don't have an account, click "Sign In" and create a new Google account.
After signing in, use the search bar to find your Spa and wellness. Enter the name of your Spa and health and the city or address. If it appears in the results, select it. Otherwise, click "Add your business to Google."
Verify your connection to the business.
Confirm your association with the business when prompted by Google. Choose the appropriate option, typically "I am the business owner."
Include additional business categories.
While you can choose one primary category like 'body spa,' you can add more categories to elaborate on your services, such as:
"facial spa"
"medical spa"
Ensure your business hours are accurate and modify them under the Info tab if necessary. Remember to add special hours for public holidays.
Add website and appointment links.
Insert your website's URL into the designated website section. Add the link in the 'Appointment link' section for online booking. Simplify the process for visitors to access your site and book appointments.
Add a business description
Utilize the space under the Info tab to create an enticing business description. With a character limit of 750, highlight your location, services, awards, and more.
Showcase services and products
Under the Services tab, list the offerings your business provides. This will improve visibility when people search for specific services in your area.
Add photos to make your business stand out
Utilize the Photos tab to upload images of your business, client transformations, and logos. Showcase your unique offerings and stand out from competitors on Google.
Reviews hold significant weight in Google Business Profile and impact your search result ranking. Accumulate five-star reviews to outrank competitors and attract more clients to your business.
4. Social media marketing to generate more potential leads
Engaging with potential customers through social media is one of the most effective spa and wellness marketing tactics. Social media platforms provide an ideal avenue to connect with relaxation enthusiasts, who spend approximately 28% of their Internet time on these platforms.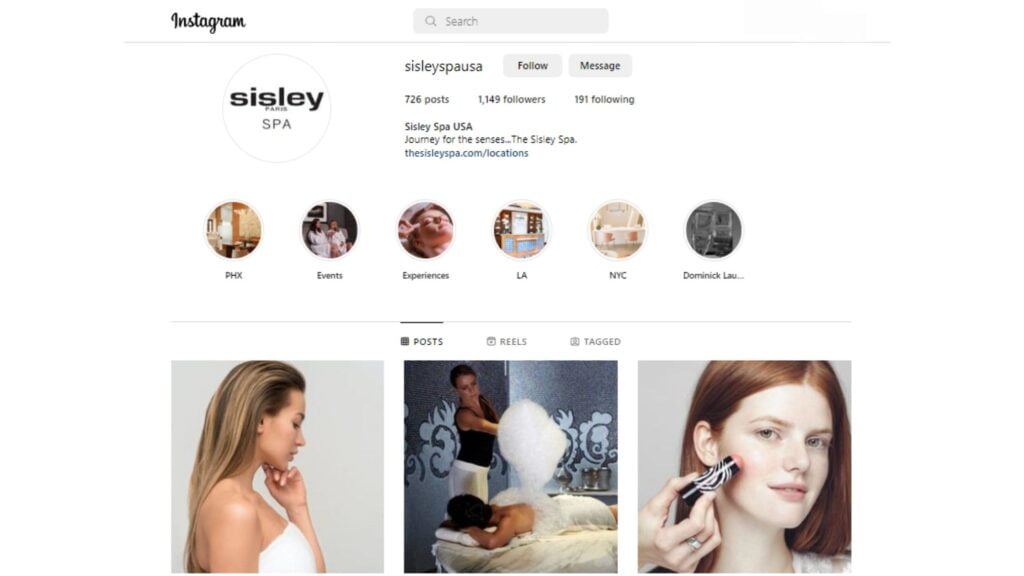 To reach prospects, leverage the following platforms:
Facebook
Twitter
Instagram
Pinterest
LinkedIn
Utilizing social media for spa marketing offers numerous benefits, including establishing a rapport with potential customers. By sharing relevant and valuable content related to your brand and industry, you create opportunities for audience interaction and brand familiarity.
To develop a successful social media strategy, consider these key steps:
Consistently post content to ensure maximum visibility among your audience.
Experiment with various content formats to cater to different segments of your audience.
Utilize a social media calendar to maintain organization and plan your posts effectively.
Run targeted social media ads to expand your reach and attract prospects who are yet to discover your spa.
5. Paid advertising marketing to generate fast sales
Google Ads provides the opportunity to create online advertisements that effectively reach individuals at the very moment they express interest in your products or services.
Operating on a pay-per-click (PPC) model, Google Ads allows you to target specific keywords and bid on them accordingly.
Running paid ads on Google for your spa and wellness business, with a landing page showcasing enticing packages, offers several advantages. It enables you to reach a broad audience actively seeking spa-related information, directs interested users to a focused destination, provides precise targeting options, and facilitates efficient tracking and measurement of campaign performance.
By capitalizing on these advantages, you can generate a higher number of leads, boost bookings, and experience significant growth for your spa and wellness venture.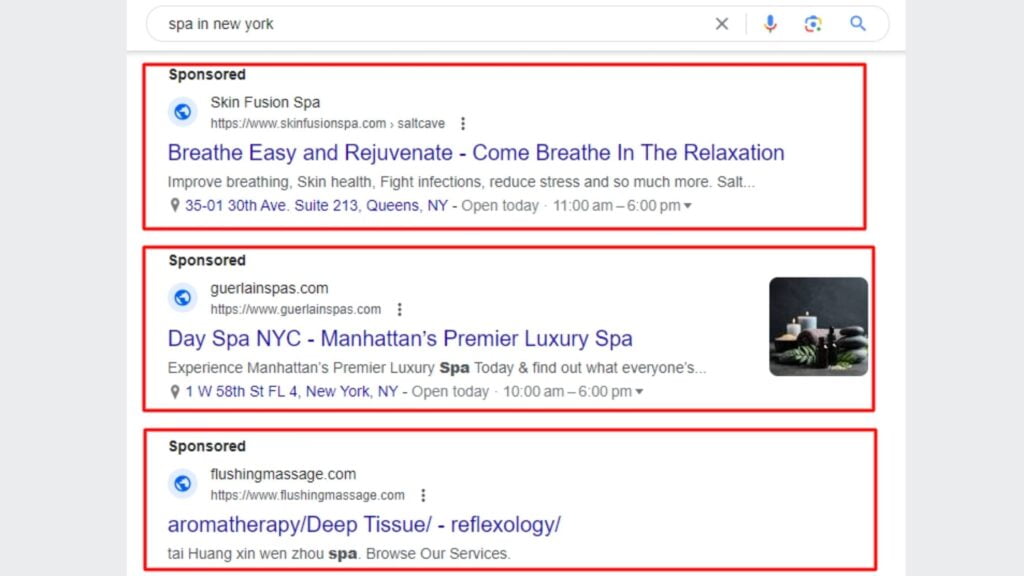 Let's find out how to set up Google ads:
Create a Google Ads account
Visit the Google Ads website and sign up for an account. If you already have a Google account, you can use that to sign in.
Define your campaign goals
Determine what you want to achieve with your Google Ads campaign, such as increasing website traffic, generating leads, or promoting specific services.
Decide on your advertising budget, whether it's a daily or monthly limit. This will help you control your spending.
Choose your campaign type
Select the campaign type that aligns with your goals. Options include Search Network campaigns, Display Network campaigns, or Video campaigns.
Define your target audience based on location, demographics, and interests. This ensures your ads are shown to the right people.
Research relevant keywords related to spa and wellness to target in your campaign. These are the search terms that will trigger your ads.
Create compelling ad copy
Craft engaging and persuasive ad copy that highlights the unique selling points of your spa and wellness services. Use relevant keywords and include a solid call to action.
Create a dedicated landing page on your website that aligns with your ad copy. Make sure it provides transparent information about your spa services and encourages visitors to take action.
Set up conversion tracking
Install conversion tracking on your website to monitor users' actions after clicking on your ads. This helps you measure the effectiveness of your campaign and optimize it accordingly.
Launch and monitor your campaign
Once everything is set up, launch your Google Ads campaign. Monitor its performance regularly, adjust as needed, and optimize your ads and keywords based on data and insights.
6. Don't forget to Email Marketing
Email remains a dependable mode of communication, with most people having active email accounts. Businesses can amplify brand identity and foster a loyal customer base by integrating visually striking and captivating email marketing campaigns for spas and wellness.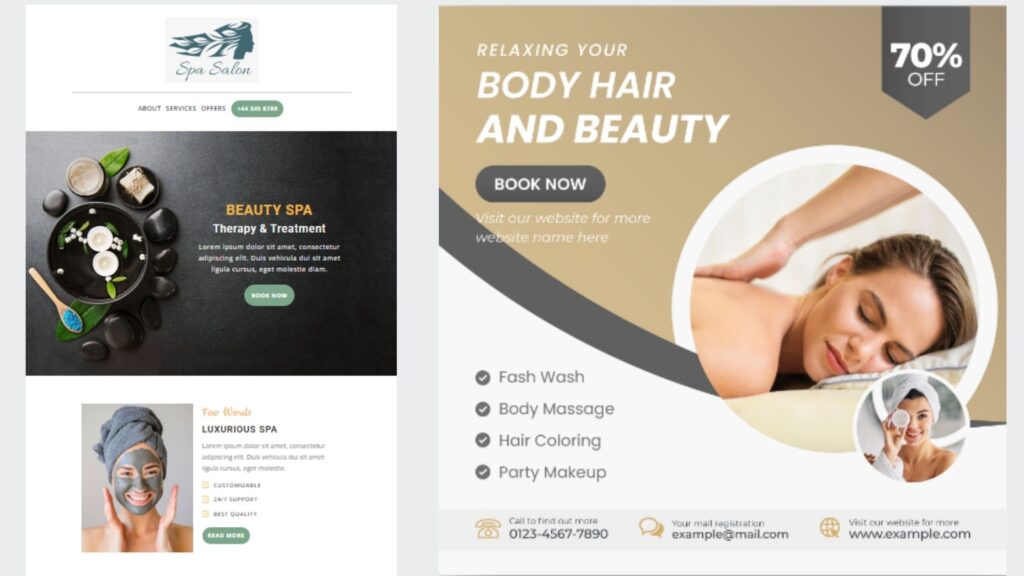 The benefits of email marketing include:
With minimal investment, email marketing is powerful branding collateral that continuously resonates within the industry.
Direct customer engagement
Email marketing brings the brand directly to customers' inboxes, allowing for a touch of personalization.
Facilitates personalization
Emails can be tailored to address customers individually, delivering content tailored to their interests and needs.
Enables omnichannel presence
Given the widespread use of mobile phones for email access, leveraging email marketing ensures a broad and impactful reach across multiple channels.
7. SMS marketing to increase potential customers
In the rapidly expanding spa and wellness market, a significant opportunity exists to capitalize on. One practical approach to leverage this opportunity is through text message marketing.
Text message marketing has given impressive outcomes for spa and wellness owners, such as minimizing missed appointments, sustaining high seasonal visit rates, and increasing bookings.
Mass text messaging enables sending SMS messages to thousands of contacts simultaneously.
Sending a text to a large group at once is useful for:
Increasing bookings and revenue through exclusive discounts.
Filling vacant slots in your calendar promptly.
Increasing brand visibility and recognition.
Improving event attendance and participation.

8. Video marketing to increase engagement
Video marketing has emerged as a highly effective means of engaging and educating audiences. Create captivating videos highlighting your spa's amenities, treatments, and testimonials from satisfied clients. Share these videos on your website, social media platforms, and video-sharing sites like YouTube.
Consider developing tutorial videos offering beauty tips, relaxation techniques, or self-care routines, positioning your spa as a reliable authority in the wellness industry. 
Engaging and visually appealing videos have the potential to captivate prospective customers, boosting brand recognition and driving traffic to your spa.

9. Content marketing to increase brand visibility
Content is king, and holds immense importance in establishing and expanding your brand's online presence. Let's delve into this topic further.
Content can take various forms, including written text, graphics, or videos. The key lies in optimizing the content in line with customer searches and queries, ultimately bolstering brand visibility. Spas and wellness businesses enjoy the advantage of being experimental and adaptable with their content.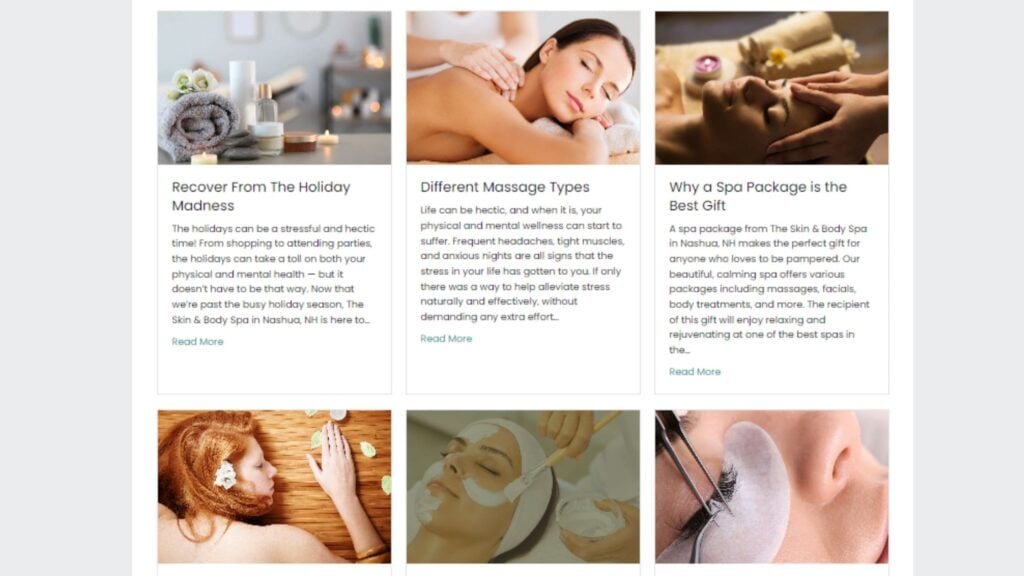 Here are the steps to ensure an optimized content marketing strategy:
Stay updated on the needs of your target audience and make continuous efforts to understand their buying behavior.
Place particular emphasis on thorough keyword research. This helps create customized content that not only ranks well in search engines but also caters to the specific needs of your target audience.
Content optimization is a critical strategy that enables the creation of concise and relevant content without requiring excessive resources.
Creating content that aligns with your industry and target audience is essential. Additionally, ensure that the platforms where you publish your content.

10. Take benefits from Quora similar blogs
Quora is a popular platform where users can ask questions and receive answers from the community. Similarly, other websites or media with a question-and-answer format exist, known as similar blogs.
As a spa or wellness center, you can leverage these platforms by actively participating and offering valuable insights on spa and wellness topics. Here's how:
Create an account and follow relevant spa and wellness topics.
Consistently provide insightful answers to spa and wellness-related questions, offering valuable recommendations and insights.
When appropriate, include links to your website's relevant blog posts or landing pages. This directs users to more information or promotes specific spa and wellness packages.
Be authentic, likable, and genuinely helpful in your responses, building trust with potential customers.

11. Audience remarketing
Audience remarketing is a digital marketing strategy used by spa and wellness businesses to re-engage with users who have previously interacted with their website or online content.
This strategy involves targeting these older customers with personalized ads across various online platforms to re-engage them and encourage them to take the desired action, such as booking an appointment or making a purchase. By staying on top and tailoring the message to a warm audience, audience remarketing can boost brand awareness, increase conversions and foster customer loyalty.
Benefits of Audience remarketing:
Retarget Existing Customers to Your Website
Display ads are best for remarketing to audiences
Increase Conversions Through Remarketing
Increased brand recall and recognition.
Targeted messaging to warm leads.
Reinforces brand trust and credibility.
Maximizes ROI by focusing on interested prospects.
Encourages repeat visits and customer loyalty.

13. Offer referral business
Referred customers exhibit higher loyalty and profitability compared to the average customer. Research from the Wharton School of Business reveals they are 18% less likely to quit and 16% more in lifetime value.
Implementing a referral program is a smart spa marketing strategy, incentivizing current clients to recommend your spa and wellness center to their friends and family. People trust their loved ones more than anyone else, which makes referrals very influential.
Also, referred customers are valuable as they genuinely are interested in your specific services or products.

14. Encourage Customers to Write Reviews
Are you spending enough time generating more online reviews for your business?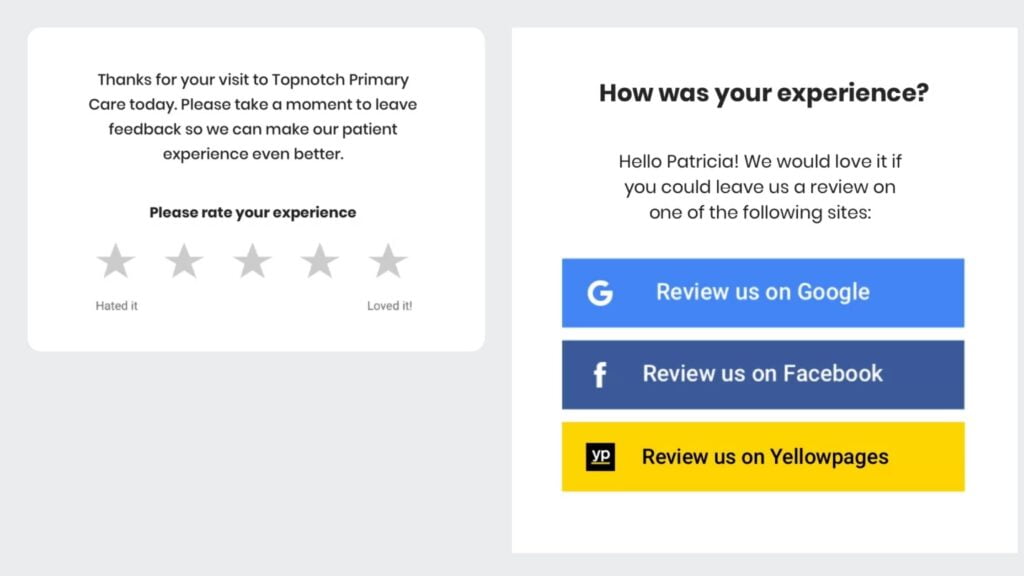 To get started, having a Google Business Profile listing and claiming your Google Knowledge Panel is essential. This is important for local SEO and hyperlocal marketing. Your business will appear in Google search results and on Google Maps when people search for spas nearby.
After ensuring that your business is listed, it is equally important to generate consistent reviews. Online reviews harness social proof's power, one of the most valuable assets in attracting more customers and driving business growth.

15. Increase user experience through chatbots
Chatbots are innovative additions to the marketing landscape, streamlining customer relationships and lead generation without significant capital investment or high maintenance costs. With their 24-hour availability, chatbots can address customer queries anytime, anywhere, and make appointment scheduling more accessible and more interactive. The benefits of integrating a chatbot into your spa or wellness services include the following:
Automated booking and appointment scheduling.
Convenient data access and recovery
Streamlined Customer Service Automation
improved customer engagement
Availability 24/7
Implementation of chatbot in several channels:
An automated chat system integrated into a spa and wellness website to assist visitors, answer queries, and provide personalized recommendations.
Utilizing chatbots on messaging platforms like Facebook Messenger to automate responses, engage with users, and provide instant support.
Implementing chatbots on Facebook to automate interactions, offer quick responses, and provide information about spa and wellness services
Utilizing chatbots on Instagram to automate conversations, respond to messages, and engage with followers regarding spa and wellness offerings.
Leveraging chatbots on WhatsApp to automate conversations, handle inquiries, and provide efficient customer support for spa and wellness inquiries.

16. Run Special Offers
A highly effective digital marketing strategy for spa and wellness involves offering special promotions and discounted rates to attract new customers. You can emphasize value and incentivize potential customers to choose your spa by providing exclusive discounts.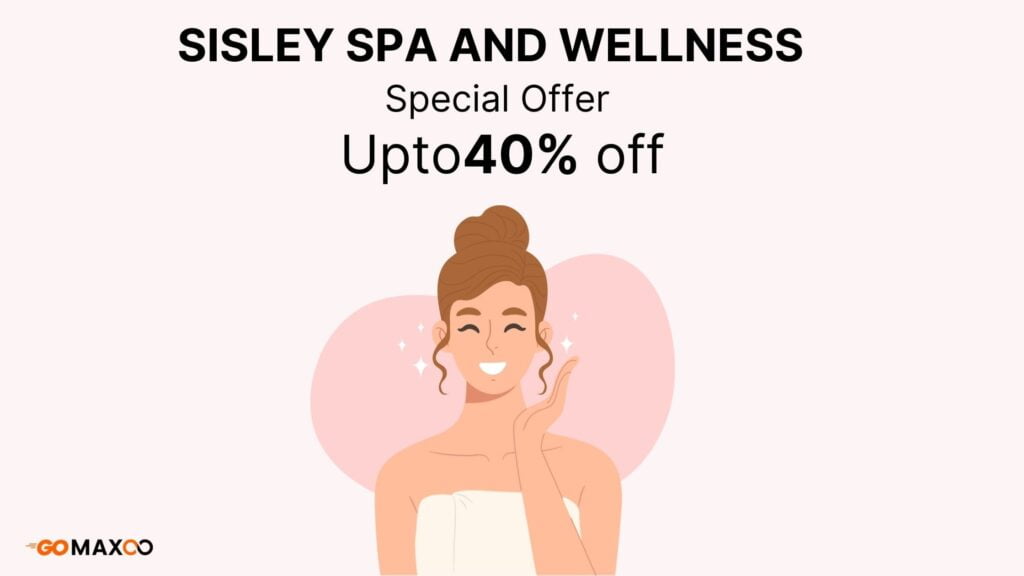 Promote these discount offers through various online channels, including your spa website, social media platforms, email marketing, and online advertisements. Craft compelling messages highlighting the advantages of visiting your spa and emphasizing the discount offer's limited-time nature.
How do I create a marketing plan for a Spa and Wellness?
Creating a marketing plan for a Spa and Wellness center involves strategic thinking and focusing on reaching the right audience. 
Here are some strong solutions to consider:
Identify your target audience
Define the demographic and psychographic characteristics of your ideal customers, such as age, gender, interests, and lifestyle. This will help tailor your marketing efforts effectively.
Conduct market research
Understand the competitive landscape and industry trends. Analyze customer preferences, needs, and pain points to uniquely position your spa and wellness center.
Set measurable goals
Determine specific marketing objectives, such as increasing website traffic, generating leads, boosting social media engagement, or improving booking rates. Clear goals provide direction and allow for practical evaluation.
Develop a brand identity
Craft a compelling brand story communicating your unique value proposition. Design a visually appealing logo, select brand colors, and create consistent messaging that resonates with your target audience.
Choose effective marketing channels
Utilize a mix of online and offline channels to reach your audience. Consider social media platforms, email marketing, search engine optimization (SEO), content marketing, local partnerships, and traditional advertising methods.
Create engaging content
Develop high-quality content that educates, inspires, and entertains your audience. Share wellness tips, showcase spa treatments, offer exclusive promotions, and encourage user-generated content to foster engagement and loyalty.
How can a digital marketing agency help your business?
A digital marketing agency can be a valuable partner in helping your business succeed online. Here are some important ways they can assist you:
Expertise and industry knowledge
Digital marketing agencies have specialized knowledge and experience in various online marketing strategies, allowing them to implement effective tactics tailored to your business.
Targeted audience reach
Agencies can identify and target specific audience segments through precise demographic and psychographic targeting, maximizing the reach of your marketing efforts.
Enhanced online visibility
By utilizing search engine optimization (SEO) techniques, content marketing, and paid advertising, agencies can improve your website's visibility, resulting in higher organic traffic and better rankings.
Engaging content creation
Agencies excel in creating compelling content that resonates with their target audience. From blog posts to social media updates, they can develop engaging content that boosts brand awareness and drives customer engagement.
Data-driven insights
Digital marketing agencies leverage analytics tools to track and analyze campaign performance, providing valuable insights into customer behavior, preferences, and conversion rates. This data-driven approach allows for continuous optimization and better results.
Time and cost efficiency
Partnering with a digital marketing agency frees up your time and resources, allowing you to focus on core business operations. Outsourcing marketing tasks to experts saves costs associated with hiring and training an in-house team.
How to choose the best Spa and Wellness Digital Marketing agency?
Choosing the best Spa and Wellness digital marketing agency is crucial for the success of your business.
Here are some strong ways to help you choose the best spa and wellness digital marketing agency.
Industry expertise
Look for agencies with a proven Spa and Wellness industry track record. Their familiarity with industry trends, target audience, and effective strategies will give you a competitive edge.
Results and success stories
Review case studies and client testimonials to gauge the agency's past performance. Look for measurable results, such as increased website traffic, bookings, or revenue growth.
Customized strategies
Choose an agency that understands your unique needs and offers tailored marketing strategies. Avoid one-size-fits-all approaches and seek agencies that take the time to understand your brand and target audience.
Comprehensive service offering
Ensure the agency provides a wide range of digital marketing services, including SEO, social media management, content creation, email marketing, and paid advertising. A holistic approach is essential for maximizing your online presence.
Transparent communication
Clear and open communication is key. Choose an agency that maintains regular communication, updates progress, and values your input. Transparency builds trust and allows for collaboration.
Long-term partnership
Look for agencies interested in building a long-term partnership with your business. They should be committed to your success, proactive in suggesting new ideas, and willing to adapt their strategies to evolving market trends.
FAQ's
Q: How do I promote my spa and wellness business?
Promote your spa through digital marketing efforts such as social media campaigns, email marketing, search engine advertising, content creation, collaborations with influencers or local bloggers, hosting events, and engaging with the local community through partnerships and sponsorships.
Q: What makes a spa and wellness successful?
A successful spa and wellness center combines exceptional service, a tranquil atmosphere, skilled staff, a wide range of treatments, and effective marketing strategies.
Q: How do I attract clients to my spa?
To attract clients, utilize various marketing channels such as social media, online directories, search engine optimization (SEO), offer promotional deals, partnerships with local businesses, and provide a positive customer experience.
Q: How can I make my spa unique?
Differentiate your spa by offering unique treatments or services, incorporating innovative wellness practices, creating a relaxing and aesthetically pleasing ambiance, and providing personalized and exceptional customer service.
Q: How can I increase my spa revenue?
Increase spa revenue by introducing new services or packages, upselling or cross-selling treatments, implementing effective pricing strategies, creating loyalty programs, and focusing on repeat business through customer retention efforts.