Did you know that numerous individuals in your region still search online for "movers near me" or "packers and movers near me" but cannot locate your business? If you're seeking ways to promote your services in your area and attract a larger pool of potential customers, your search ends here. By employing efficient digital marketing strategies for moving company, you can effectively target your audience and generate a higher number of leads. 
This concise guide will provide you with an understanding of various digital marketing terms and strategies explicitly customized for packers and movers.
Let's start…!
What is digital marketing for moving companies?
Digital marketing for moving companies is the process of using online channels and strategies to promote your moving services, attract more customers, and generate more leads and sales for your business. 
Take a moment to quickly search on Google for "movers company + your city" or "packers and movers + city in your service area" If your business doesn't rank on the search results, it risks being completely overlooked, significantly if your competitors outperform you.
If you're a mover seeking to attract more customers and increase your company's revenue, it's high time you try digital marketing. Digital marketing enables you to reach your most qualified prospects while they're actively searching online, and it will also enhance awareness of your moving company.
What are the benefits of digital marketing for moving company?
Digital marketing is a powerful tool for reaching new clients and expanding your moving company. But how can you leverage digital marketing to gain the maximum advantage and connect with your target audience?
In today's digital era, the majority of people rely on Google to discover relevant information or services. They frequently search for specialized movers and packers, such as "movers near me" and "packing and moving company near me" If your business lacks visibility in Google search results, you risk losing numerous potential customers.
How do I get started? At GoMaxxo, our dedicated team of experts will devise a customized digital marketing plan tailored to your moving company. Our digital marketing specialists have crafted countless effective digital marketing campaigns for businesses aiming to enhance leads, sales, phone calls, and transactions.
Here we suggest some of the key benefits of digital marketing for moving companies:
Increase sales and leads
Digital marketing allows moving companies to reach a broader audience, increasing the potential for sales and leads.
Optimize marketing spend
With digital marketing, moving companies can precisely target their ideal customers, optimizing marketing spending for maximum effectiveness.
Improve Online Visibility
Digital marketing helps moving companies establish a unique online presence, making it easier for customers to find and choose their services.
Establish online brand uniqueness
Digital marketing enables moving companies to showcase their brand identity, stand out from the competition and attract potential customers.
Customer Engagement
Through digital marketing, moving companies can actively engage with customers, building trust and loyalty for long-term business relationships.
Data-Driven Insights
Digital marketing provides valuable data and analytics, allowing moving companies to make informed decisions and continuously improve their strategies.
What is the market trend of moving companies?
By 2023, the market size of the moving services industry in the United States is expected to reach $22.5 billion but is projected to grow to $35.7 billion by 2024.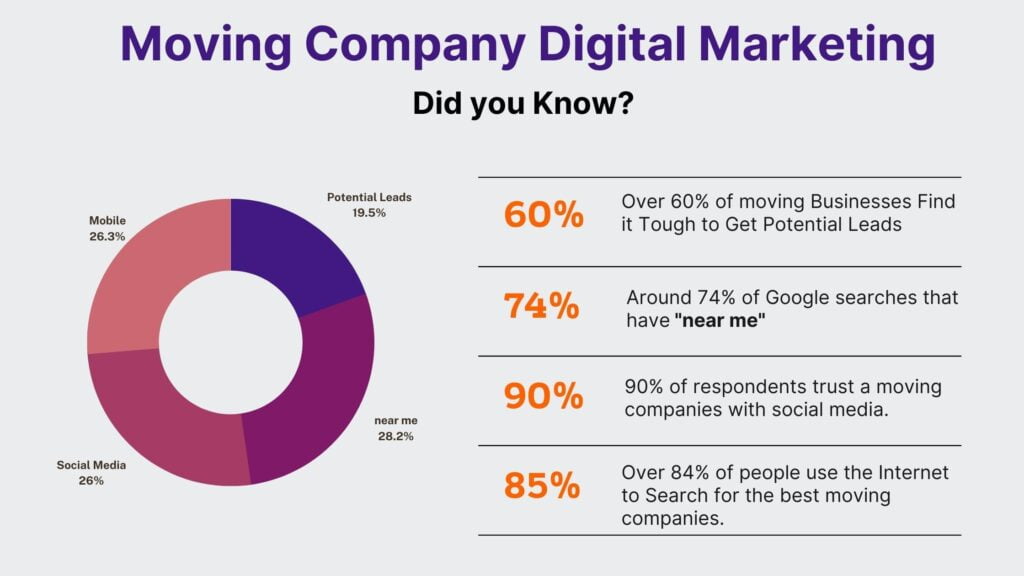 Global GDP growth is projected to be 2.9% in 2024, the lowest annual rate since the global financial crisis, excluding the 2020 pandemic period. It is expected to improve to 4.8% in 2024.
For moving companies, 2024 can boost business due to significant trends. First, more people will move overall if current trends continue through 2023.
What are the Digital Marketing strategies for moving company?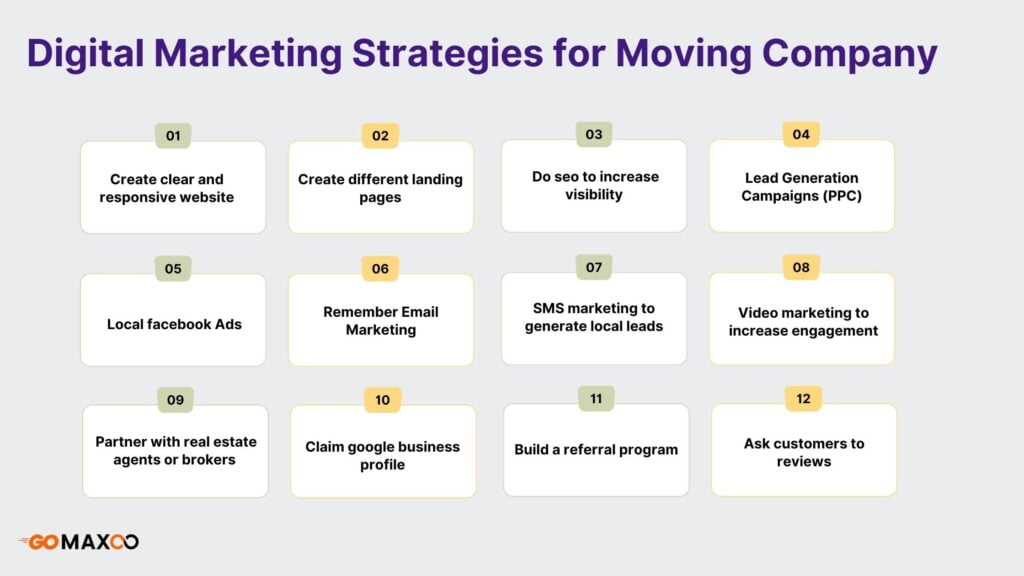 Here are 16 digital marketing strategies to grow your packing and moving business.
1. Create clear and responsive website
Your website is the initial point of contact for potential customers, making it crucial to ensure its quality. An effective website is visually appealing, user-friendly, and includes clear calls to action to guide visitors.
Did you know that 49% of consumers use websites when researching a company and its offerings? Your website represents the first impression of your business, making it essential to establish a strong online presence, attract valuable moving leads, and foster business growth.
Four Important Elements Every Packing and Moving Company Website Should Have
Website design: A well-designed website looks great and keeps visitors engaged. The longer they stay, the higher the chances of converting into leads and hiring your services for their next move.
Sticky header and navigation: Your website's header and navigation should be simple and easy to navigate, especially on mobile devices. Over half of buyers use mobile devices for their initial search.
Page speed: Faster web pages provide a better user experience. Page speed, which refers to the time it takes for your website to load, also impacts search engine optimization (SEO) rankings.
Responsive layout: More than 60% of website traffic comes from mobile devices. Your moving company's website should have a responsive layout, adapting automatically to fit users' screens
across devices such as desktop computers, laptops, tablets, and smartphones. Google's algorithm also prioritizes mobile and user-friendly websites in search rankings.
2. Create different landing pages
To maximize your online presence and engage potential customers, consider creating distinct landing pages for specific services or target markets. These pages should feature compelling testimonials from satisfied clients and informative packaging videos to showcase your expertise and build trust with your audience. Such elements help establish credibility and increase the chances of converting leads into customers.
benefits to create different landing pages for movers company
Targeted Messaging: Tailor landing pages to specific services or customer segments, delivering personalized messages that resonate with the intended audience.
Enhanced Conversion Rates: By aligning landing pages with specific offers, you can optimize the conversion process, leading to higher conversion rates and increased customer acquisition.
Improved User Experience: Custom landing pages provide a focused and streamlined experience, guiding visitors through the desired actions and reducing distractions.
Enhanced SEO Performance: Creating dedicated landing pages allows for targeted optimization, increasing visibility in search engine results and attracting more organic traffic.
Increased Ad Relevance: Linking ads to dedicated landing pages ensures a seamless experience, aligning the ad content with the landing page message and increasing ad relevance.
Better Analytics and Insights: Separate landing pages allow better tracking and analyzing performance metrics, enabling data-driven optimizations for improved campaign effectiveness.
3. Do seo to increase visibility
Consider implementing search engine optimization (SEO) techniques to improve your website's performance and achieve higher rankings on search engine results pages.
SEO for movers refers to optimizing your website to appear on the first page of search results on search engines like Google, Bing, and Yahoo. It's a valuable and cost-effective method to drive website traffic, although executing an effective SEO strategy can be challenging.
Your website's ranking on Google is determined by factors such as:
Site code and structure: Ensure your website loads quickly, is easily crawlable by search engines, and has an optimized internal linking structure.
Onsite content: Create dedicated web pages for each service you offer (e.g., long-distance moves, local moves, piano moves/gun safe moves, packing services) and optimize the content on those pages for better search rankings.
Offsite factors and reviews: Prioritize generating reviews on platforms like Google My Business and maintain consistent online directory listings across all platforms. Optimizing your entire web presence, not just your website improves your chances of ranking on page one of Google.
4. Reach more customers through google ads (Pay-Per-Click)
Pay-per-click (PPC) 's main advantage for moving companies is the instant traffic it generates. 
Once your campaign is live, your website will receive relevant visitors immediately.
While website SEO is essential and cannot be avoided, it's important to understand that SEO takes time to yield results. However, due to the seasonal nature of the moving business, it's crucial to quickly appear at the top of Google's search results pages.
PPC allows you to achieve this by targeting your clients' keywords when searching for online solutions. PPC advertising is a highly effective moving company advertising strategy to reach customers.
A word of advice: since PPC marketing requires investment, it's essential to understand how PPC works, mainly when targeting moving clients.
Many small moving businesses and large agencies seek professional assistance to optimize their PPC marketing and generate more online leads.
If you're new to PPC ads, it's worth considering professional expertise to ensure a good return on your investment.
Now we will know how to set up Google Ads:
Create a Google Ads account: Go to the Google Ads website (ads.google.com) and click "Start Now." Sign in with your Google account or create a new one.
Set up your campaign: Click "New Campaign" and select your advertising goal. For a moving company, you may choose goals like website traffic, leads, or phone calls. Select the campaign type that aligns with your objectives, such as Search or Display.
Define campaign settings: Name your campaign and set the geographic targeting to reach your desired audience. Specify your budget, bidding strategy, and campaign start and end dates.
Select relevant keywords: Identify keywords that potential customers might use when searching for moving services. Examples include "moving company," "reliable movers," or "local moving services." Use keyword research tools to find popular and relevant keywords for your ads.
Create ad groups and ads: Organize your keywords into ad groups based on themes, such as "residential moving" or "commercial moving." Write a compelling ad copy that highlights the unique aspects of your moving services. Include relevant keywords in your ad headlines and descriptions. Choose appropriate ad formats, such as text or responsive ads, to effectively showcase your offerings.
Set up location targeting: Specify the locations where you want your ads to appear. These are areas where you offer your moving services or regions where you want to expand your business.
Implement ad extensions: Enhance your ads with ad extensions, such as sitelink extensions that direct users to specific pages on your website, call extensions that display your phone number, or location extensions that show your business address. These extensions provide additional information and encourage users to engage with your ads.
Set up conversion tracking: Install your website's Google Ads conversion tracking code to track essential actions like form submissions or phone calls. This helps measure the effectiveness of your campaigns and optimize for better results.
Review and launch your campaign: Double-check all your campaign settings, keywords, ad copy, and extensions. Once you're satisfied, submit your campaign for review. Google Ads will review your campaign to ensure compliance with their policies. Once approved, your ads will appear to users searching for relevant keywords.
Regularly monitor your campaign's performance through the Google Ads dashboard.
Analyze key metrics like click-through rates, conversion rates, and cost per conversion.
Adjust your bids, keywords, ad copy, and targeting based on performance to maximize the success of your campaign.
5. Try local facebook Ads
With a staggering 3 billion monthly users, Facebook offers movers a potent online marketing tool. It enables targeted advertisements for individuals seeking moving services similar to yours, or even those located specifically in your local area.
Facebook gathers vast amounts of user data, including demographics, website and app activity, friend connections, and device details. This wealth of information empowers Facebook algorithms to precisely target interested individuals. Consequently, moving companies can reach out to potential customers through tailored advertisements.
By leveraging Facebook's robust advertising capabilities, movers can effectively showcase their services to a relevant and receptive audience.
How to set up facebook ads for moving companies?
Create a Facebook Business Manager account: Go to business.facebook.com, click "Create Account," and follow the prompts to set up your moving company's account.
Set up your Facebook Page: Create a Page within Business Manager, fill in details about your business, and customize it with images and info.
Access Facebook Ads Manager: Navigate to Ads Manager in Business Manager to create, manage, and monitor your ads.
Define campaign objective: Choose an objective like "Increase Brand Awareness" or "Get More Leads" for your moving company.
Specify target audience: Define demographics, interests, and location to reach the right customers.
Set budget and schedule: Decide on your ad budget and choose a daily or lifetime duration for your campaign.
Design ad creative: Use captivating visuals and persuasive copy to showcase your moving services.
Select ad placements: Choose where your ads will be displayed on Facebook's network.
Monitor and optimize: Regularly check performance metrics and make adjustments to improve your campaign.
Test and iterate: Experiment with different ad formats, audiences, and messaging to optimize your ads.
6. Remember Email Marketing
Email marketing has proven to be a very effective digital advertising method for moving companies, thanks to its impressive return on investment. On average, you can expect to earn $30 for every dollar spent on email campaigns.
Utilizing email marketing offers numerous benefits for movers. It helps establish and grow your brand, keeps you connected with customers, reduces costs, and builds new databases. Small businesses in the moving industry can leverage email marketing to build trust with subscribers and deliver exclusive offers directly to their inboxes.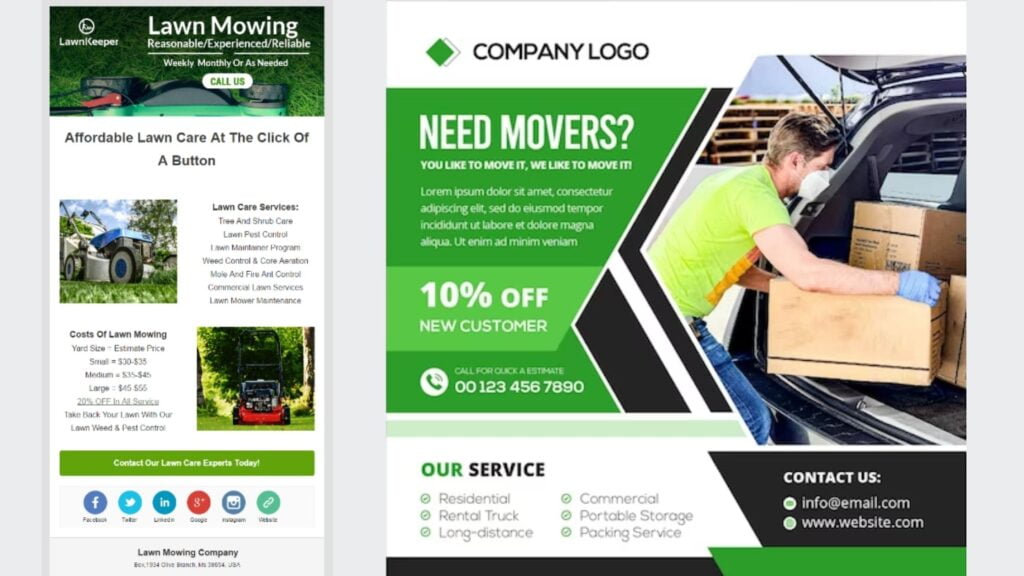 Here's how you can use email marketing:
Welcome new subscribers and introduce them to your company and services.
Keep your customers updated on all your moving services, inform them about new offerings, and share seasonal deals.
Educate your followers by providing helpful information, resources, tips, and advice related to your business services, such as how-to articles.
Reward clients with exclusive discounts on future services and offer discounted moving and storage options when they refer others to you.
Gather valuable customer feedback to understand their needs better and focus on growth-driving strategies.
Email marketing is a powerful tool that can help moving companies connect with their audience, drive sales, and foster long-term customer relationships.
7. SMS marketing to generate local leads
SMS marketing is a valuable strategy for generating local leads for your moving company. By leveraging the power of text messaging, you can directly reach potential customers and drive engagement.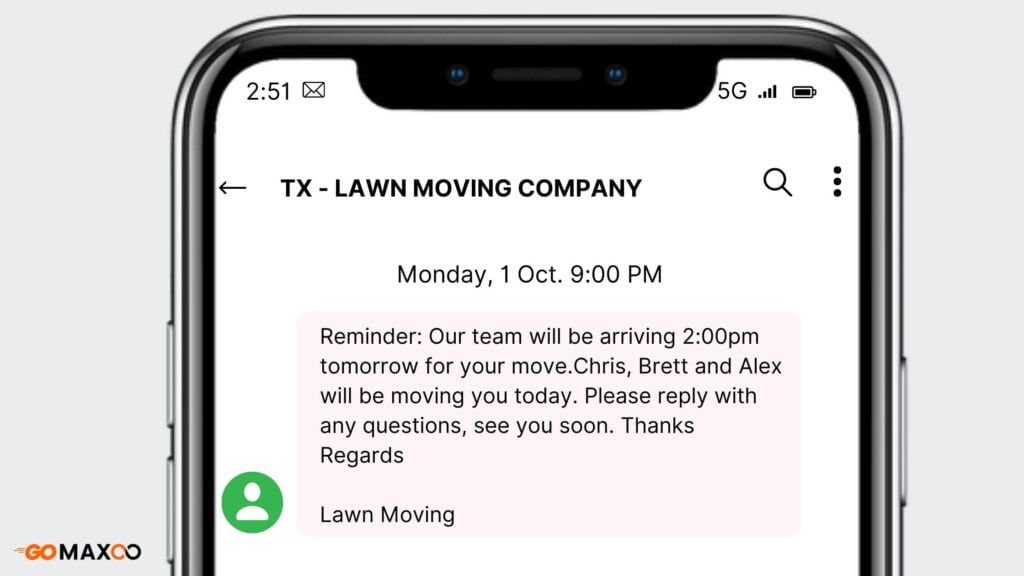 Here's how you can use SMS marketing effectively:
Build a targeted list: Collect phone numbers through opt-in forms or promotions on the website and other channels.
Craft compelling messages: Keep SMS concise, highlight benefits, use a friendly tone, and strong call-to-action.
Personalize messages: Address recipients by name and segment audience for targeted communication.
Timing is key: Send SMS at appropriate times, consider time zones and avoid inconvenient hours.
Provide opt-out options: Respect preferences, include opt-out in every message, and comply with regulations.
Track and analyze results: Monitor metrics like open rates, click-through rates, and conversions for optimization.
8. Video marketing to increase engagement
Video marketing is a highly effective strategy for promoting your moving company. You can engage your audience and build trust by creating compelling videos that showcase your services, team, and satisfied customers.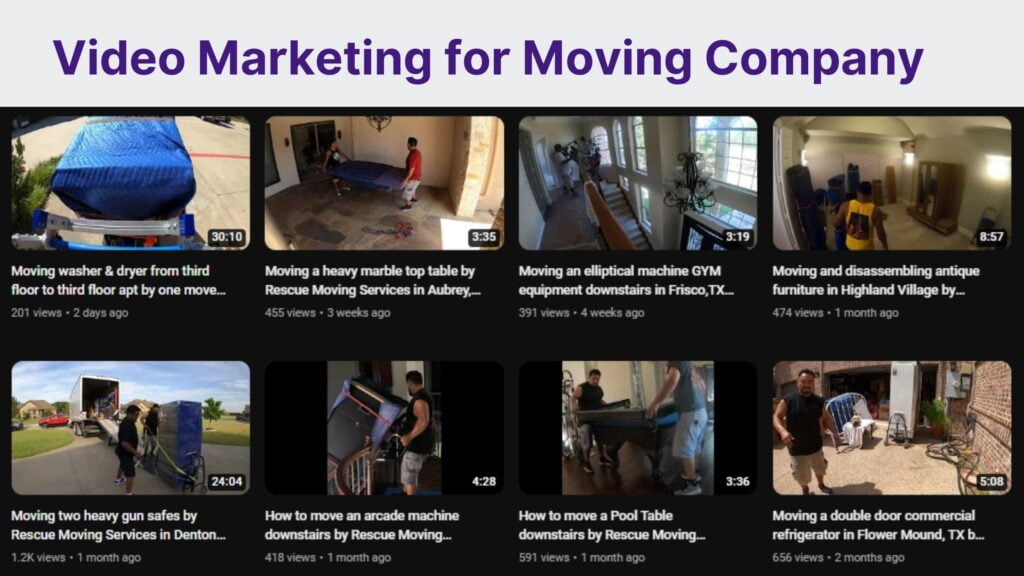 Optimize your videos for different platforms, incorporate storytelling, and include clear calls-to-action to drive viewer engagement and action. Share your videos across channels, analyze performance metrics, and refine your strategy for maximum impact.
With video marketing, you can effectively communicate your unique value proposition, create emotional connections with potential customers, and enhance your brand presence in the moving industry.
9. Partner with real estate agents or brokers
Partnering with real estate agents or brokers is a strategic move for your moving company. By collaborating with these professionals, you can tap into their network and gain access to a pool of potential customers who need moving services.
Establish mutually beneficial partnerships by offering incentives, such as referral programs or exclusive discounts for their clients. This collaboration allows you to expand your reach, increase brand visibility, and position your moving company as a trusted and recommended choice within the real estate industry.
10. Start blogging to increase website visibility
To drive more website traffic and enhance your SEO, starting a regular blog for your moving company is essential if you haven't already.
Maintaining a blog allows you to provide valuable information, tips and establish your expertise in the industry. With endless content possibilities, address common questions people have when considering a move or after relocating.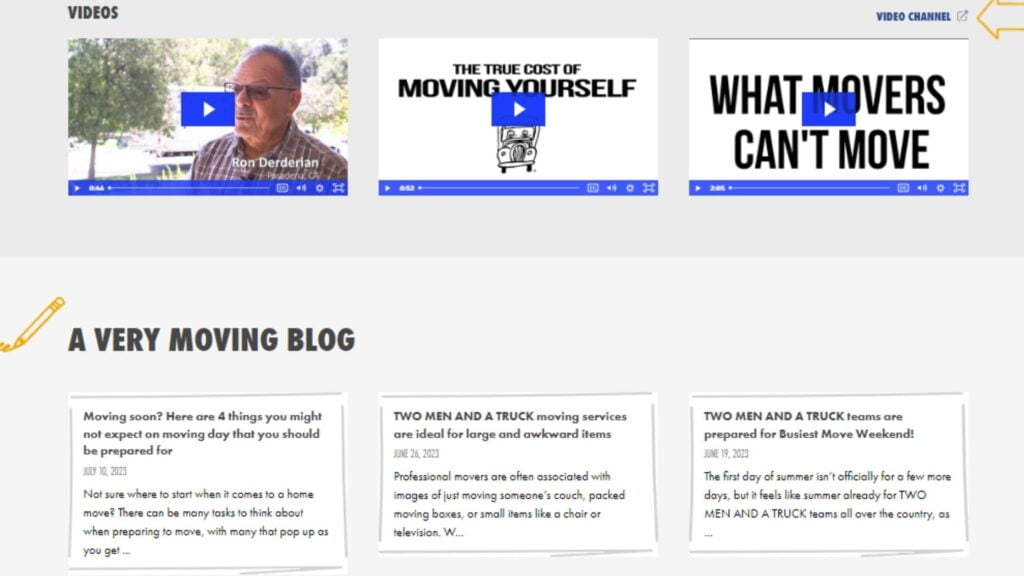 Here are some SEO-friendly blog topics to benefit your audience:
Frequently Asked Questions (FAQs): Address inquiries about the moving process, timing, and service details to provide instant solutions.
Packing and Moving Tips: Offer helpful tips, checklists, and advice for homeowners and businesses planning a move.
Case Studies: Share success stories and challenges overcome by previous clients, demonstrating your problem-solving abilities.
Unique Moving Stories: Highlight unusual moving demands or items requiring special care, engaging readers with real-life instances.
By consistently publishing informative and engaging blog content, you can attract more visitors, establish your company as a trusted resource, and boost your overall SEO efforts.
11.Take advantage of quora blogging
Utilizing Quora blogging effectively allows your moving company to expand its reach and engage with a broader audience. You can establish your company as a trusted industry source by sharing your expertise, answering relevant questions, and offering practical advice.
Engage with the Quora community, include links to your website, and maintain a consistent presence to increase visibility and solidify your reputation. Leverage the power of Quora blogging to connect with potential customers and enhance your company's online presence in the moving industry.
12.Social media is best choice for you
Social media is a powerful way to reach your target audience at a fraction of the cost. With over 4.6 billion people worldwide using social media and 63% relying on it to discover brands and products, it's a powerful platform for your business.
Engaging with followers on social media is effortless and cost-effective. Share team photos, provide helpful moving advice, and promote your services to the local community. The networking opportunities are endless, whether you leverage LinkedIn, Facebook, Instagram, or Twitter. Take advantage of social media's reach and accessibility to connect with your audience effectively.
What should we post on social media:
Do post about moving and storage topics: Share informative content about packing tips, moving hacks, and storage solutions to engage your audience.


Remember to share content: Regularly post updates, tips, and news about the moving industry to keep your followers informed and engaged.


Include customers and followers: Feature testimonials, success stories, and customer experiences to showcase your expertise and build trust with your audience.


Encourage engagement: Ask questions, run polls, and encourage your followers to share their moving experiences to foster interaction and create a sense of community.


Create the post scene with relevant hashtags: Use hashtags like #MovingTips, #StorageSolutions, or #RelocationAdvice to increase visibility and attract users searching for moving-related content.


Post continuously: Maintain a consistent posting schedule to stay on top of your followers' feeds and ensure your content remains fresh and relevant.
13.Claim google business profile
Google is the leading search engine for finding businesses. Having a presence on this platform is crucial, especially for location-based services like moving companies. With a Google business profile, you can manage your contact information, hours of operation, and other details that customers see when they search for moving companies.
When searching for "packers and movers near me" or "moving company near me" on Google, you'll see a map displaying nearby businesses among the top results. This map feature increases visibility and helps potential customers find you easily.
With a Google Business Profile, you can showcase customer reviews and promptly respond to them. This helps prospects gauge the quality of your services, building trust and credibility.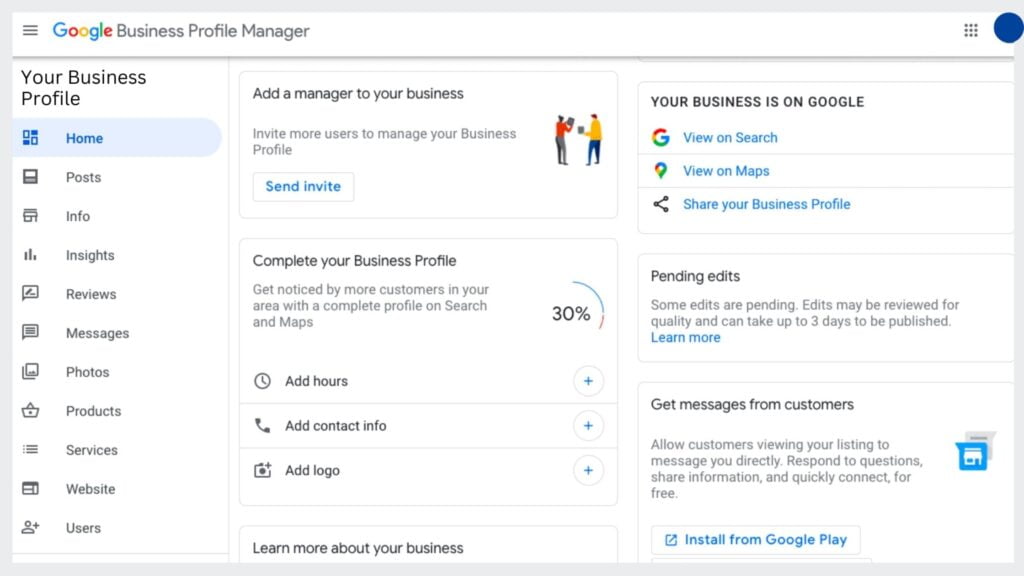 How to set up a google business profile?
Visit Google My Business: Go to the Google My Business website.
Sign in or create an account: Sign in using your existing Google account or create a new one if needed.
Start the setup process: Click the "Start Now" button to set up your business profile.
Enter your business name: Provide the official name of your moving company.
Choose your category: Select the appropriate category that best describes your business, such as "Moving Company."
Enter your business address: Input your company's physical address, including street, city, state, and ZIP code.
Specify your service area: If your moving company serves specific areas, indicate the regions or cities you cover.
Add your phone number and website: Include your business phone number and website URL for customer contact and information.
Verify your business: Follow the verification process, which may include receiving a verification code by phone or mail.
Optimize your profile: Enhance your Google Business Profile by adding details like business hours, photos of your moving services, and a brief company description, and encourage customers to leave reviews.
Manage your profile: Regularly update your profile with any changes to business information, respond to customer reviews, and utilize the tools and features in the Google My Business dashboard.
14.Build a referral program
Word-of-mouth referrals are a potent digital marketing strategy for moving companies. Implement a system that rewards current customers with discounts or incentives when they refer friends and family. People are more inclined to use services recommended by someone they know. Leverage this effective approach; you will be satisfied.
Leverage the power of your satisfied customers as influencers. Here are some ideas to encourage referrals and reviews:
Offer branded giveaways as incentives. These memorable tokens will leave a lasting impression on those who have availed of your services.
Conduct social media contests that encourage sharing. Engaging in "like and share" activities significantly boosts your business's visibility across various platforms.
Follow up with your customers through email. Send a message after they have settled into their new location, gently reminding them to acknowledge your exceptional work. Be patient and avoid rushing the process.
15. Start automation to increase user experience
Chatbots are cutting-edge additions to the marketing field, simplifying customer relationships and lead generation without substantial financial investment or costly upkeep. With their round-the-clock availability, chatbots can handle customer inquiries anytime and from any location, enhancing appointment scheduling accessibility and interactivity. The advantages of incorporating a chatbot into your packers and movers business encompass the following:
Automated booking and appointment scheduling.
Convenient data retrieval and access.
Efficient automation of customer service.
Enhanced customer engagement.
24/7 Availability.
We can apply chatbot in many channels for moving company:
1. Website chatbot: AI-powered tool on your website that assists visitors with queries, bookings, and scheduling.
2. Messenger automation: Automated responses on messaging platforms like Facebook Messenger for quick customer support.
3. Facebook Automation: Utilizing chatbots on Facebook to automate interactions, provide information, and enhance customer experience.
4. Instagram automation: Deploy chatbots on Instagram to engage with users, answer questions, and facilitate transactions.
5. WhatsApp automation: Leveraging chatbots on WhatsApp to automate conversations, handle inquiries, and enable seamless interactions.
16.Ask customers to reviews
Customer reviews for a moving company involve gathering customer feedback using the company's services. These reviews are typically obtained through various platforms such as websites, social media, or review websites. They serve as testimonials that potential customers can refer to when deciding.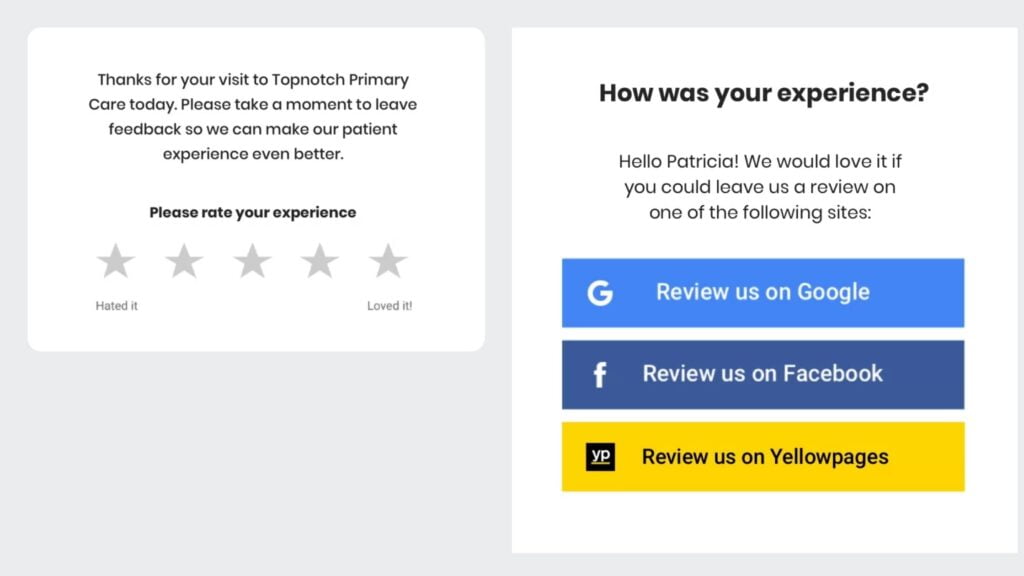 Positive reviews can enhance the company's reputation and credibility, while negative reviews can highlight areas for improvement. By actively encouraging and leveraging customer reviews, a moving company can build trust, attract new customers, and differentiate itself from competitors
What are the key success factors for moving companies?
When you are preparing for a move, there are several important factors that you need to keep in mind:
Efficient logistics
Streamlined processes and organized logistics ensure timely and hassle-free moves, providing customers with a smooth experience.
Experienced staff
A skilled team with expertise in packing, handling, and transporting ensures the safety and security of customers' belongings.
Excellent customer service
Responsive and friendly customer service that addresses inquiries, resolves issues promptly, and maintains clear communication.
Competitive pricing
Offering competitive rates and transparent pricing models to attract customers and provide value for their money.
Reliable equipment
Utilizing modern and well-maintained equipment, such as trucks and packing materials, to ensure the efficient execution of moves.
Positive reputation
Building a strong reputation through positive customer reviews, referrals, and testimonials that reflect the company's reliability and professionalism.
How can a digital marketing agency help moving companies?
A Digital Marketing Agency gathers information regarding your brand and target audience and develops marketing campaigns based on that data. They also enhance your target audience, manage website and social media updates, and optimize your email campaigns to expand your brand's reach.
Increased Online Visibility
A digital marketing agency can optimize a moving company's online presence to attract more customers.
Targeted Advertising Campaigns
A digital marketing agency can use data-driven strategies to create precise ad campaigns that reach the right audience.
Lead Generation
A digital marketing agency can generate qualified leads for the moving company through effective lead generation techniques.
Reputation Management
Digital marketing agencies can monitor and manage online reviews and brand reputation, boosting trust and credibility.
Social Media Engagement
Engaging social media strategies can help moving companies connect with potential customers and build a loyal following.
Website Optimization
A digital marketing agency can optimize the moving company's website for better user experience and increased conversions.
How to choose the best digital marketing agency for moving companies?
Here are some of the best ways to choose a digital marketing agency for moving companies:
Experience
Look for an agency with a proven track record in promoting moving companies effectively.
Industry Knowledge
Ensure the agency understands the moving industry's unique challenges and target audience.
Comprehensive Services
Choose an agency that offers a range of services like SEO, PPC, social media, and content marketing.
Customization
Opt for an agency that tailors strategies to meet your goals and objectives.
Reporting and Analytics
Select an agency that provides detailed reports and data analysis to track the success of your campaigns.
Client References
Check for positive reviews and testimonials from other moving companies to gauge the agency's credibility.
FAQ's
Q: How do I get customers to my moving company?
A: To attract customers to your moving company, utilize digital marketing strategies such as search engine optimization (SEO), pay-per-click (PPC) advertising, social media marketing, and online directories. Offer competitive pricing, excellent customer service, and leverage positive reviews to build trust.
Q: How do you create a digital marketing strategies for company?
A: To create a digital marketing strategies for company, start by defining your goals and target audience. Conduct market research, identify your unique selling proposition, and choose the most relevant digital channels. Develop compelling content, optimize your website for search engines, engage on social media, run targeted ads, and measure and adjust your strategy based on data and analytics.
Q: How do I promote my packers and movers business?
A: Promote your packers and movers business by implementing effective digital marketing tactics. Create a professional website with optimized content, utilize local SEO strategies, list your business on online directories, engage with customers through social media platforms, run targeted ads, and offer incentives or referral programs to attract new customers.
Q: How profitable is a moving company?
A: The profitability of a moving company can vary based on several factors, such as location, competition, pricing strategy, and operational efficiency. While the moving industry can be profitable, it's essential to carefully manage costs, provide exceptional service, and effectively market your business to maximize profitability.