Affordable

Social Media Marketing Services
Do you know? Over 3.4 billion individuals use social media platforms every day.
Rely on GoMaxoo's social media marketing services to help you leverage all social channels to grow your business.
We start with research and deliver comprehensive reports to our clients, ensuring they are informed at all times.
Why Our SMM Services are For
Your Business?
Build a brand reputation
Increase credibility, trust, and recognition through engaging content and positive interactions.
Increase engagement
Increase customer interaction and engagement for higher brand recognition.
Affordable budget
Begin strong without breaking the bank. Cost-effective strategies for small budgets.
Promote your business
Spread the word, attract potential clients, and expand your market reach.
Generate more leads
The vast reach of your brand through social media always keeps you on the hunt to generate more leads.
Increased brand activity
Create a vibrant online presence, sparking conversations around your offerings.
Explore Our
Social Media Services
A strong social media approach is diverse, adopting multiple channels to effectively engage potential customers. Various social media services include:
Profile Creation
Our first step is to create an impeccable profile on all popular social media apps.
Research & Analysis
At GoMaxoo, we manage campaigns, and we take every post as a piece to broader, better results.
Content Creation
We keep on with ongoing research for hashtags, content ideas, captions, and competitors.
Campaign Management
Seamlessly manage campaigns from start to finish, optimizing strategies for key results.
Content Publishing
Engaging content and its relevance lead us to create fantastic posts that people love.
Managing Engagement
We manage engagement and ensure that it remains positive throughout the campaign.
Proven Social Media
Track Records?
The internet has never been more competitive, which is why we've streamlined our processes to focus on operations that allow you to get real, measurable results. Our social media marketing framework is proven to work.
We have rigorously tested this approach many times and consistently get remarkable results. The image below displays the monthly organic traffic for one of our blogs, which shows the success we have achieved. This is just one example of our achievements.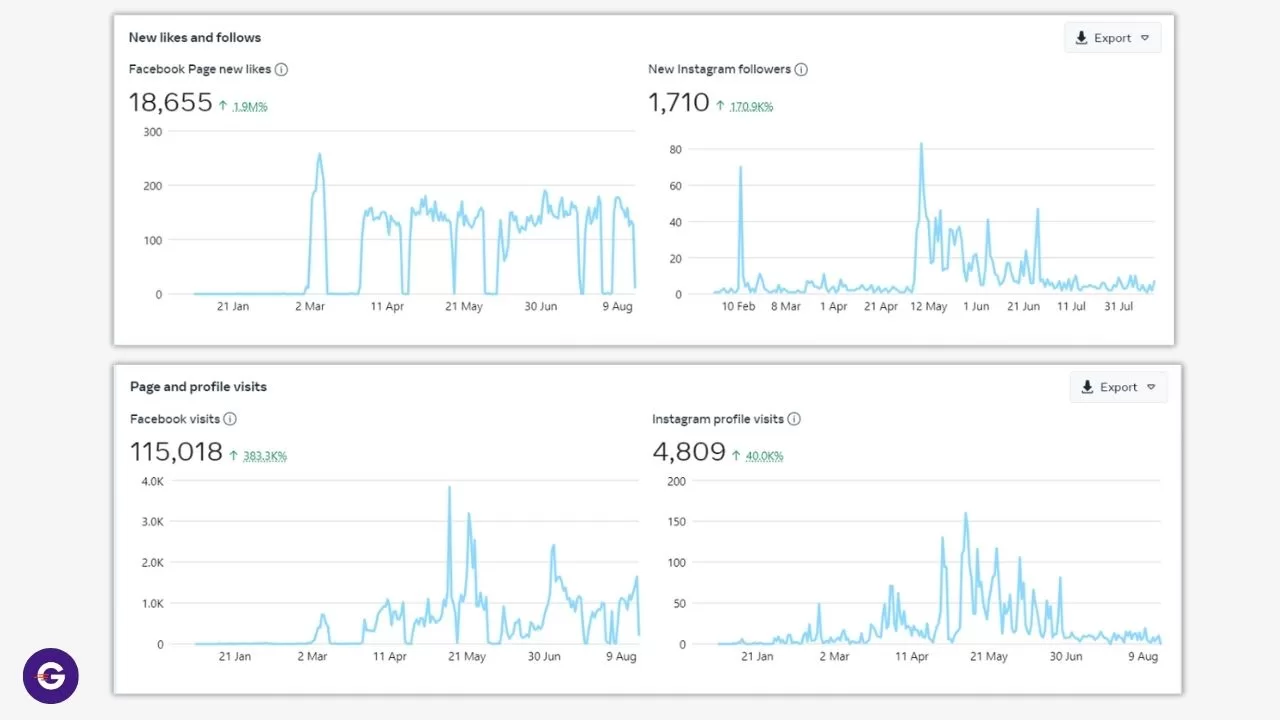 Proven Social Media
Content Strategy
We execute our 5-step procedure through brief "sprints," condensing a typical 12-month 'retention' task into 12 weeks.
After gathering all the necessary client information, we begin auditing their current online presence. This step provides insight into the required workload.
Post-audit, we deeply examine each client's market and audience. This collected data is then analyzed and applied in the subsequent stage to develop an effective strategy.
A vital facet of our cost-effective social media marketing services is meticulous planning. This phase outlines the entire route that steers us toward achieving client objectives.
An assigned team leader supervises the plan's execution, ensuring its timely completion. Comprehensive performance and outcome reports are shared with the client.
This phase involves closely monitoring our content's performance using analytics tools. We track likes, shares, comments, click-through rates, and follower growth metrics. By analyzing this data, we can assess the effectiveness of our strategy.
Some Words from
Satisfied Clients
I needed the best social media marketing for my Instagram and Facebook and I got it. It was a divine experience and I would recommend it.
Great work. Videos for social media were created exactly as we asked and fast. We will use your service again. Thanks for the great communication and great videos.
Excellent, on time, quality delivery. GoMaxoo pays great attention to details and feedback. He did very well in minimal revision. I would like to work again.
Why We Are Your Best
Digital Allies?
5 Years in the Industry
With over half a decade of industry experience, we've gained insight into what drives business expansion – this is excellent news for you!
Impressive Results
Recognizing the significance of your business, we're committed to producing favorable results as your digital marketing agency!
Communicate & Collaborate
You're an integral part of the entire process, maintaining the ability to engage with our digital marketing experts whenever you need!
Wide Range of Services
Your digital marketing aspirations might span wide, yet we're the all-in-one solution to fulfill each of them!
Targeted & Organic Traffic
Navigating through the vast online traffic, we assist you in attracting a clientele that aligns with your specific needs!
Reporting & Analysis
As collaborative partners, we ensure a consistent flow of reports with insights, enhancing outcomes for your next venture!
Claim Your Complimentary Consultation Now!
Some Frequently Asked Questions
Why should I choose GoMaxoo for my social media marketing needs?
The answer to that is pretty simple- our social media marketing specialists have years of experience in building great digital brands across platforms, which is why we should be your choice.
Are there some issues faced by businesses with their social media marketing strategies?
Yes, and no. Yes, if you choose the wrong or a less appropriate social media platform for your needs. 
No, if you understand that you need a good social media marketing agency to fulfill your marketing requirements. 
It's your choice where you want to head to.
What is the difference between an AD and a post?
In simple terms, a social media post is supposed to target organic followers and visitors. On the other hand, a paid ad targets an audience based on the preference set for more reach and engagement.
What metrics do you use in measuring your campaigns?
At GoMaxoo, we focus on some of the main aspects of our social media marketing campaigns:
Impressions
Engagements
Mentions
Followers
Page likes
You can connect with our experts to know more about these aspects in detail.
Has there been a change in marketing strategies before and after social media?
There has been a stark change in the way of marketing before and after the incoming of social media to the whole scenario. Whole strategies and content are now curated with social media marketing in the mind.