Google Ads

Management Services
At GoMaxoo, we specialize in providing top-notch Google Ads Management Services, helping businesses achieve exceptional outcomes through strategic and targeted Google Ad campaigns. Trust us to maximise your online presence and drive success with our expertly crafted solutions.
Why
Google Ads

Management Services?
Targeted Customer
Reach relevant customers with targeted ads when they search for someone like you.
Highly Cost-Effective
Google Ads has always been one of the most cost-effective digital marketing methods of all time!
Quick Results
Google Ads is known to generate quick results that are favorable to businesses of all scales.
Remarketing Tactics
Thanks to the virtue of remarketing by Google Ads that allow remarketing your brand for them
Brand Awareness
Better brand awareness is only going to take you ahead, after all!
Advertising Range
Google Ads offers a comprehensive suite of ad options that you can choose for the maximum impact.
Explore Our

Google Ads Management Services

Experience unparalleled growth with Gomaxoo's tailored Ads Management Services, designed for lasting success!
Google Search Ads
Drive targeted traffic to your website and boost online visibility.
Shopping Ads
Showcase your products directly in search results and attract online shoppers.
YouTube Ads
Engage your audience with captivating video content.
Display Ads
Reach your target audience across a network of websites and apps.
Local Ads Services
Connect with customers in your area and drive foot traffic to your store.
CRO Services
Optimize your website to maximize conversions and improve user experience.
Our Proven

Google Ad Strategy?

With our comprehensive 4-step process, we are confident in our ability to create and run successful Google ads that drive results and encourage potential clients to choose your services.
To run successful Google ads, thorough research and strategic planning are essential. We start by conducting in-depth market research to understand your target audience, their needs, preferences, and pain points. This enables us to tailor our messaging to resonate effectively with them.
Analyzing your competitors' ad campaigns is the next crucial step. By identifying their strengths and weaknesses, we can uncover unique opportunities and develop a strategy that sets you apart from the competition.
Once we have a solid understanding of your target audience and competitive landscape, we focus on crafting compelling ad copy and design. Our team of expert copywriters ensures that every word we write has a massive impact on your potential customers.
We create unique and persuasive content that speaks directly to your clients, addressing their pain points and offering solutions. Our language is carefully chosen to encourage them to choose your services over your competitors. The ad copy is crafted to be attention-grabbing, concise, and memorable.
To maximize the effectiveness of your Google ads, we conduct thorough keyword research. Our goal is to identify the keywords and phrases that your target audience is using when searching for products or services like yours.
By selecting the right keywords, we ensure that your ads are shown to the most relevant audience, increasing the chances of attracting qualified leads.
We optimize your ads with these targeted keywords to improve your ad's quality score and ad rank, leading to higher visibility and click-through rates.
Crafting a customer-focused SEO content strategy and roadmap that aligns with your business goals – generating more qualified traffic, leads, and customers crafting a customer-focused SEO content strategy and roadmap that aligns with your business goals – generating more qualified traffic, leads, and customers.
Our Google Ads
Track Records?
Discover the power of our proven PPC track records showcased on our case study page. Through meticulously crafted campaigns, we consistently achieve remarkable results for our clients, skyrocketing click-through rates, maximizing conversions, optimizing ad spend, and driving tangible business growth.
Witness the impact of our expertise and join the ranks of satisfied clients who have experienced the transformative effects of our PPC strategies.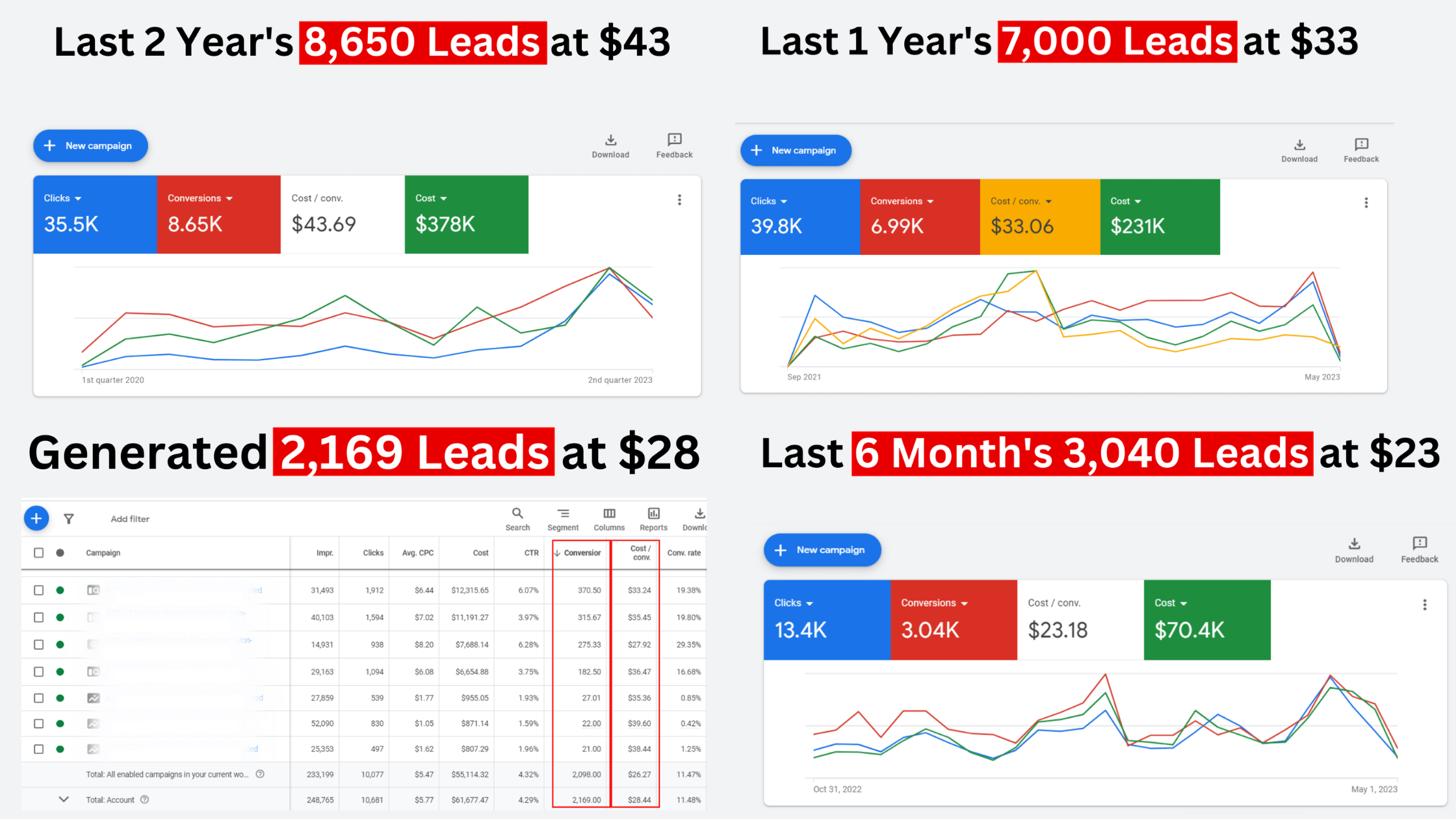 Why We Are Your
Best Digital Allies?
5+ Years in the Industry
We have been around for enough time to understand what makes businesses scale, and this is great news for you!
Impactful Results
We know what your business means to you, which is why we deliver positive results as your digital marketing agency!
Communicate & Collaborate
You are a part of the whole process, and you can connect with our digital marketing consultants at absolutely any time!
Wide Range of Services
You might have multiple digital marketing aspirations, but we are the one-stop shop for all of them!
Data Driven Approach
We take each decision data-driven so that any decision can make a massive impact.
Reporting & Analysis
When you become collaborators, we ensure that you get consistent reports with insights for better results the next time!
Claim Your Complimentary Consultation Now!
Frequently Asked Questions
(FAQs)
Is Google Ads just about Search Ads?
No. There's a lot more about Google Ads that is in store. In fact, it won't be inaccurate to think of Google Ads as a platform in itself. From display ads on search engines to other Google apps like YouTube, it's a big part of the digital ads ecosystem.
What is the difference between SEO and Google Ads?
The best difference between these two processes can be explained through the time they take for results to show- while SEO is a tactic more focused on the long run, Google AdWords is more targeted towards generating quick results with paid ads.
I could never make AdWords work for me. Why is that?
Usually, people don't take it into account, but Google AdWords is a very vast concept in itself. This is why it's better to outsource it to skilled Google Ads experts like GoMaxoo, so that you can save in the long run.
How can an agency help me with my Google Ads?
Full-fledged digital marketing agencies are your best choice when it is about taking care of your Google Ads campaign. This is where we at GoMaxoo also fit the bill perfectly. Our dedicated team of Google Ad specialists help you reduce your ad expenses by more than 50%!
What should be an optimal conversion rate from Google Ads?
While the conversion rate varies from one industry to the other, the average rate is somewhere around 2-2.5%. And it's good to be aware of it so that you can gauge the performance of your Ad campaign effectively.
Is there any difference between clicks and impressions?
Impression refers to the situation where a visitor views your displayed ad, while clicks refer to when a visitor checks out your ad and then enters into an interaction by either clicking on the link attached.