Nowadays, people search for plumbers on Google instead of trusting the yellow pages.
This implies that getting a place on the first page of Google is crucial to attract more customers to your plumbing business.
This set of SEO tips for plumbers will guide you through the entire process and help you achieve that goal.
What is SEO for Plumbers?
SEO for plumbers is the process of optimizing your plumbing business website and online presence for search engines like Google and Bing. The goal of SEO is to rank higher in the search results for keywords related to your services, such as "plumber near me" or "emergency plumber". By doing so, you can attract more organic traffic, leads, and customers to your business.
If you are not familiar with SEO, GoMaxoo specializes in plumbing marketing. This, in turn, generates targeted traffic to the website and increases revenue.
What are the SEO tips for plumbers?
1. Conduct Keyword Research for plumbers
People don't always just click on map pack results; They also interact with standard organic search results. Therefore, more than relying on your Google Business Profile is required to attract customers. It is essential to optimize your website for good ranking with relevant keywords.
By establishing a solid reputation and garnering valuable backlinks (more details to come), your homepage will ideally rank highly for specific terms like "plumber near me." However, it's important to note that only some looking for a plumber use this search type.
Some people will instead seek more specialized services such as "emergency plumber" or "drain unblocking."
Given this reality, creating complementary web pages on your site that cater to diverse customers searching for relevant services is advisable. You need to understand what potential customers are searching for to accomplish this.
Here's a simple two-step approach to accomplish this:
Identify service and industry keywords.
Put on your thinking cap and describe the services you provide. Here is an illustration:
Clear clogged drains
Boiler repair
Boiler installation
boiler maintenance
configure radiators
Then, enter this list into Google Keyword Planner. Choose your country, review the Matching Terms report, and then add the phrase "near me" to the Include filter. This will reveal other local services people are searching for that contain the terms on your list.
For example, if we enter the list mentioned below in Keywords Explorer, we find phrases like:
Drain Cleaning Near Me
Storm Drain Cleaning Near Me
Commercial Boiler Repair Near Me
radiator installation near me
Scan the results and add any services you offer but initially missed.
Assign keywords to pages.
Most service-related keywords deserve dedicated pages. However, it might be beneficial to group similar ones together if Google returns nearly identical results.
Take, for example, the results for "drain cleaning near me," "drain unblocking near me," and "drain cleaning near me." These produce the same information since they essentially mean the same thing.
You don't need to create multiple pages for each service in scenarios like these. A single page will suffice.
2. Create quality content to increase plumber SEO
Understanding which keywords to target is beneficial. However, conducting keyword research may not pay off much if you don't build pages to focus on those keywords. Also, there are a few other essential pages that you need to set up. Let's review all of them.
Focus on these four aspects:
Clarity: Help visitors understand if this service fits their needs by linking it to challenges they might encounter.
Coverage: Help visitors understand if you're serving their location through a map and location details.
Trust: guide visitors to understand why they should choose your business; Distinctive reviews, certifications, and outlets play a pivotal role here.
Contact: Inform visitors how they can initiate contact.
None of this requires complex knowledge. Better still, the only component that requires alteration between pages is the service description. You can reuse location, trust, and contact details between them.
Create an "About Us" page.
Most plumbers have an "About Us" page, even if they're not very into SEO. While these pages rarely appear prominently in search results, they serve as a valuable platform to showcase E-A-T.
E-A-T stands for Experience, Authority, and Reliability. While not a direct ranking factor from Google, the ranking factors align with these attributes.
Here are several concepts to highlight E-A-T on your "About Us" page:
Describe the start of the business
Detail the duration of the business operation and your experience in plumbing
Discuss your certifications and awards
Work out on your insurance and licenses
Show Reviews and Testimonials from Satisfied Customers
Generate "Location" Pages
This step may be optional for individual professionals serving only one region. However, if your plumbing company operates multiple locations nationwide, listing them on a designated location page is critical.
Consider creating separate pages for each location.
While there may be SEO advantages to having a dedicated page for each site, in most cases, a single comprehensive page covering all of them will meet the needs of most plumbers.
3.Write Blogs to get traffic
To improve plumber SEO, create top-notch, informative content that addresses your customers' questions and requirements. This encompasses blog posts, how-to materials, and videos addressing the most common plumbing concerns.
According to a recent study, the main objectives of companies when creating content are:
Amplifying sales
Improve brand recognition
Cultivate customer relationships
In addition, content marketing offers significant returns on investment. Generate three times more leads compared to conventional outbound marketing and incur 62% less cost.
4.Optimize the structure of your website
Ensure your website structure is properly organized and easy for prospects, customers, and search engines to navigate. Use distinct and concise page titles, headers, and URLs to improve clarity.
5. Make your website responsive
A mobile-friendly and responsive website maintains a consistent appearance on both laptops and smartphones. Remember, your website should have the following characteristics:
Accessible from all locations
Engaging visitors to the site
Adaptable to various traffic sources
For instance, desktops, mobiles, tablets, and more.
Over 70% of website traffic originates from mobile devices, which is steadily increasing. Additionally, 78% of adults expect a company's mobile website to be equal to, or superior to, their desktop version.
6. Optimize meta tags:
Creativity should be restricted when it comes to service and location pages (which carry weight). However, precision and charm are still crucial.
Title tags
The key is simplicity. Using mixed cases, combining your service and company name with a pip symbol often works.
Drain Plunger | [Business Name]
For location pages, add [location] to your leading service:
Plumber in Los Angeles | [Business Name]
For example, "Emergency plumbers in Los Angeles."
Meta descriptions
Here, too, there is no need to revamp things completely. Just offer more information about the service and your company.
Here's a solid example.
Do you have drainage problems? Roto-Rooter Plumbing Company can expertly troubleshoot and repair all issues. We are available 24/7 to help you.
Remember to limit them to approximately 160 characters to avoid truncation.
OG (Open Graphic) Labels
Make sure your OG tags are set up correctly to display accurate images, titles, and descriptions when shared on social media platforms. Use clear and relevant images.
Heading tags (H1, H2, etc.)
Organize your content with clear header tags. Use H1 for the main title and follow with H2, H3, etc. tags. relevant to create a hierarchical structure for better readability and SEO.
Remember, keeping your meta tags relevant, concise, and easy to use can significantly improve your page visibility and engagement.
7. Do internal linking for each page
Internal links link pages of a website together, helping SEO and conversions by guiding users through the content. Like the infrastructure of a house, they allow search engines to capture context and index pages efficiently.
The core of a website design lies in internal links. Optimized links improve user and search engine accessibility, while keywords maintain structure and aid navigation, which requires careful integration.
Identifying precise keywords and seamlessly integrating them, based on thorough research, strengthens internal linking. This process improves user targeting and helps search engines capture the essence of a website.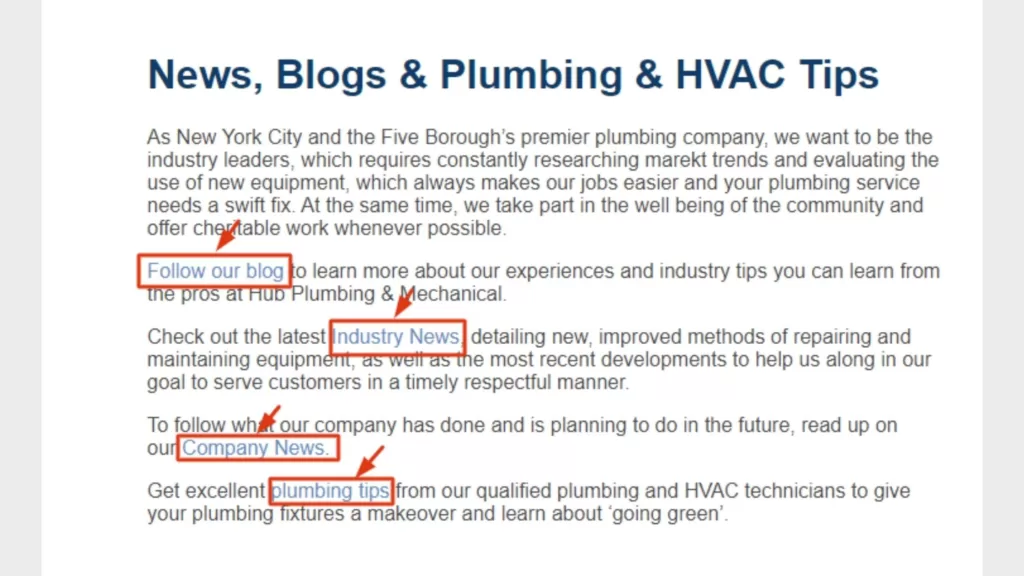 Advantages of internal links for plumbing websites:
Increase the usability of the site.
Internal links serve as navigational aids for search engines and visitors to your site. Each inner link should direct users to relevant, interconnected content that drives them toward their intended goals.
Amplify page views
As you weave connections between pieces of content, the time your audience spends interacting with your material naturally extends. This is because users interact with various amounts of content as they drill down into the information on your site.
Facilitate crawling and indexing.
Search engines use crawlers to navigate the web and index content. Establishing a solid and clever internal linking structure helps these bots dig deeper into your site's content, thereby helping to improve overall search engine rankings.
8. Create Schema markup for the plumbing website
For a plumber, the concept of structured data may not immediately resonate, but it is vitally essential for your SEO. Visitors who frequent your plumbing website perceive visible text detailing your services, location, contact details, and other similar information. However, what users need help seeing, but search engines like Google do, is structured data.
Incorporating structured data or schema markup (a variant of structured data) into your plumbing website improves your ability to convey your purpose to Google effectively. Additionally, this implementation enables the display of rich snippets on Google's search engine results pages (SERPs).
How to create schema markup for a plumbing website
Choose the relevant schema type
Select the type of scheme that suits your plumbing services, such as "Local Business" for your plumbing company.
Access an outline markup tool
Use an online schema markup generator tool, such as Google's Structured Data Markup Helper.
Enter the website URL
Enter your plumbing website URL into the tool to start branding.
Choose a scheme category
Choose the category that aligns with your business, for example, "Plumber" or "In-Home Service."
Add business details
Fill in accurate information such as company name, address, phone, business hours, and service areas.
Generate markup code
Click "Create HTML" or similar to generate the outline markup code.
Insert markup on the website.
Go to the HTML of your website and insert the markup inside the <script type="application/ld+json"> tags.
Validate and test
Verify the accuracy of the schema with Google's structured data testing tool. Make sure it displays correctly and provides the desired information.
9. Create multiple location pages
Crafting Location-Specific Pages proves to be a focused approach for plumbers aiming to optimize their online presence. By designing distinct pages for various service areas, you can effectively cater to local audiences and enhance your search engine visibility.
Each page should be tailored to showcase your plumber's services within a region, incorporating location-specific keywords to boost discoverability.
Developing pages specific to each location showcases your dedication to diverse communities and amplifies your relevance in local search results. This tactic can escalate organic traffic to your plumber website, facilitating connections with customers actively seeking services in their vicinity.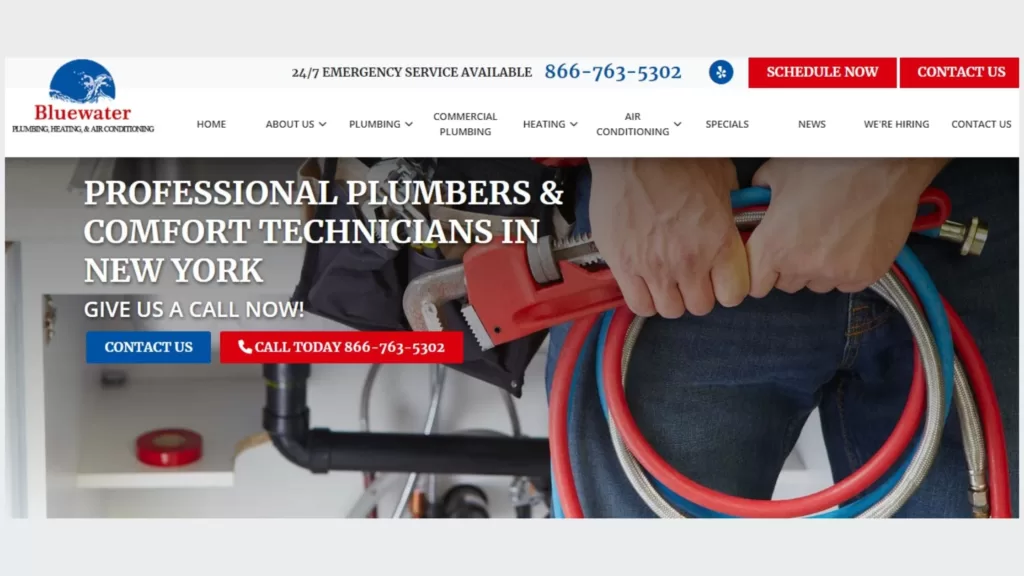 Here are some pointers for creating location-specific pages:
Integrate location-specific keywords consistently within the content to elevate local search visibility.
Spotlight on local occasions, venues, and trends to resonate effectively with your target community.
Incorporate a noticeable call-to-action that directs visitors to book appointments or inquire about services.
Utilize location-specific imagery to resonate with your target demographic and infuse authenticity.
Ensure a seamless mobile viewing experience for users searching via smartphones or tablets.
10. Fix Technical Issues
As a plumber, it's crucial to address and resolve any technical problems on your website actively. These issues can negatively impact your search engine rankings and user experience. Ensure your website loads quickly, has a mobile-responsive design, and is free of broken links or error pages.
Here are some tips for fixing technical problems with plumbers' websites:
Resolve loading issues: Identify and fix slow-loading pages, images, or scripts to improve the user experience.
Secure Data Handling: Implement strong encryption and security measures to safeguard user information.
Mobile Optimization: Ensure seamless site functionality on smartphones and tablets for broader accessibility.
SEO Improvement: Optimize content and meta tags for higher search engine visibility and organic traffic.
Fix Broken Links: Regularly scan and fix broken links to maintain site credibility and smooth navigation.
Upgrade Hosting: Switch to a reliable hosting service to avoid downtime and ensure constant site availability.
11. Create backlinks to improve plumber SEO
Backlinks (inbound links) refer to links from other websites that lead to a page on your website. High-quality backlinks from other respected websites improve your website's authority and ranking.
Explore a couple of effective methods to get backlinks:
Guest posting on other websites.
Web 2.o
Business Listing
Profile creation
Create shareable content that other websites would be interested in linking to.
12. Optimize your Google business profile
Google is the leading search engine for locating businesses. Establishing a presence on this platform is essential, especially for location-intensive services like plumbing companies. Through a Google Business Profile, you can monitor your contact details, operating hours, and other details to be visible to customers searching for plumbing services.
Putting "plumbers near me" or "plumbing companies near me" into Google brings up a map highlighting nearby businesses in the top search results. This map feature increases visibility and streamlines the process for potential customers to find your establishment easily.
With a Google Business Profile , you can submit customer reviews and provide instant feedback. This dynamic helps potential customers evaluate the quality of your service, building dependability and authenticity.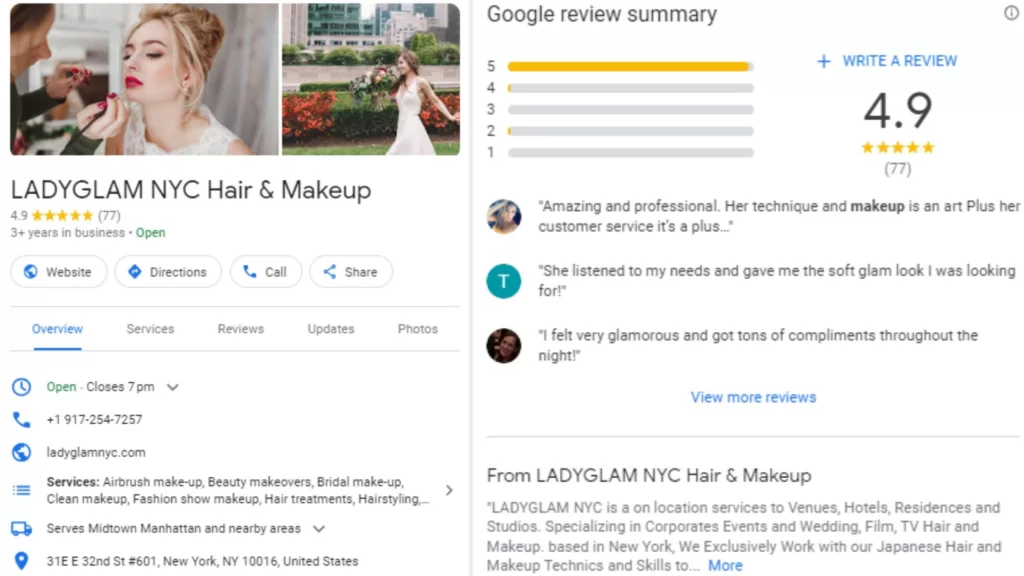 How to optimize the Google business profile
Claim Your Listing: Verify ownership of your plumbing business for a listing check.
Complete Information: Add accurate address, phone, and services for customers.
Visual Display: Share images of plumbing work, equipment, and completed projects.
Timely Hours: Update hours of operation to help customers communicate.
Service Highlights: Create a short and engaging description of the plumbing experience.
Positive Reviews: Encourage and engage with reviews from satisfied customers.
Regular Posts: Share plumbing tips, updates, and special offers.
Precise Categories: Opt for relevant categories to improve search visibility.
13. Get listed on local business listing sites to improve authority
Listing your company name, website, address, and phone number in web directories increases web traffic and visibility for potential customers.
Start with these steps for business listings:
Partner with your local Chamber of Commerce to attract customers in your service region.
Search for "business directories in your city" or use WhiteSpark or BrightLocal to identify local platforms to list your plumbing business.
14. Use social media for more engagement
Using social media as a plumber offers a cost-effective means of connecting with your target audience. With over 4.6 billion users worldwide and 63% relying on it to discover brands, it's a powerful business tool.
Engagement is fluid and inexpensive. Share team pictures, offer valuable advice, and showcase services in your local area. Networking opportunities abound on platforms like LinkedIn, Facebook, Instagram, and Twitter. Take advantage of the wide reach and ease of use of social media to make effective connections with your audience.
Benefits of social media for plumbers
Broader Reach: Access a huge audience (4.6 billion users worldwide) and increase the visibility of your plumbing business.
Cost Efficiency: Achieve your marketing goals with lower expenses than traditional methods.
Engagement: Connect personally with customers through posts, comments, and messages.
Branding: Cultivate a distinctive plumbing brand identity for lasting recognition.
Local targeting: Precisely target local customers and tailor content to their needs.
Feedback Loop: Receive feedback in real-time, improving services based on customer feedback.
15.Ask satisfied customers to leave a review
Accumulating a top-tier set of five-star reviews elevates your plumbing company in Google's local search rankings and sets you apart from other service providers in your vicinity.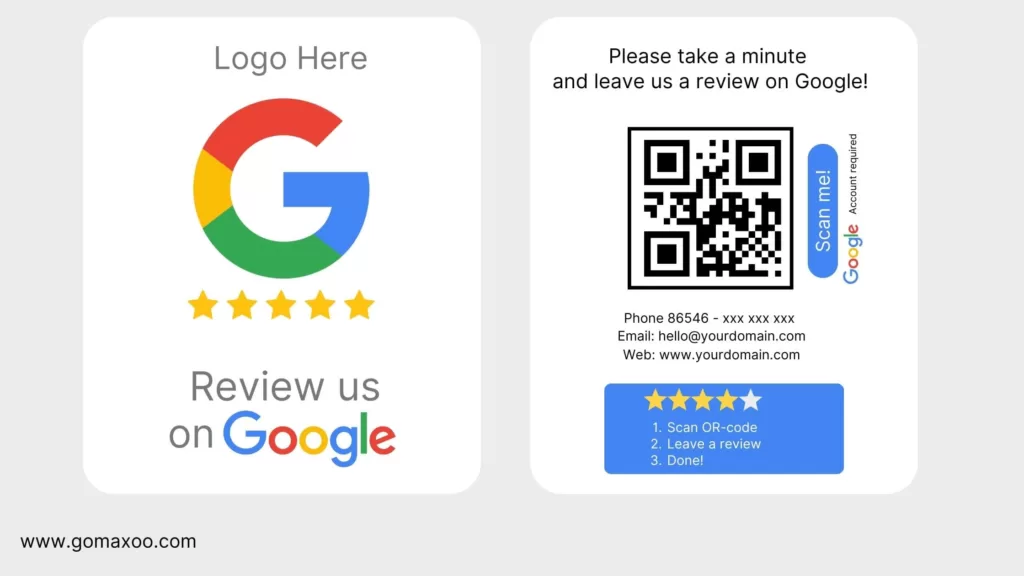 Take a look at these search results for plumbers in (your city) city:
Therefore, it is imperative to deliver excellent service consistently, offer exceptional customer support, and establish a streamlined approach to earning outstanding reviews that are rightfully yours.
Why is SEO important for plumbers?
Search Engine Optimization (SEO) is extremely important for plumbers as it increases their online visibility and business success. Below are the compelling factors that underline the importance of SEO:
Increase visibility: SEO increases the online presence of your plumbing business, making it easier for customers to find you.
Targeted Traffic: Attract potential customers actively seeking plumbing services in your area.
Credibility: Higher ratings indicate expertise and trustworthiness, which builds customer trust.
Competitive Advantage: Outperform competitors to capture more local plumbing leads.
Profitable: Long-term SEO strategies offer a better return on investment than traditional advertising.
Sustained Growth: Consistent SEO efforts lead to lasting online recognition and business growth.
FAQ's
How can I make my plumbing business successful?
To be successful, offer top-notch services, prioritize customer satisfaction, market online effectively, and build a strong online reputation.
Why hire a professional SEO?
Professional SEO ensures optimized online visibility, increased organic traffic, and higher search rankings, attracting more customers to your plumbing business.
How do I contact a good SEO?
Hire a reputable SEO agency or expert with a proven track record, transparent strategies, and a personalized approach to meeting your plumbing business needs.
Businesses of all sizes benefit from SEO, but local businesses like plumbers benefit significantly as it helps them target local customers accurately.
How to do SEO professionally?
Run professional SEO by conducting extensive keyword research, optimizing your website's structure and content, building high-quality backlinks, and staying up-to-date with search engine algorithms. Consider hiring experts for better results.