According to research, 88% of consumers, including those seeking plumbing services, contact a plumbing company after conducting an online search. Therefore, your online presence plays a vital role in attracting potential customers and increasing the overall profitability of your plumbing business.
Everyone locating plumbers through Google searches means no one uses the yellow pages anymore. If you aim to attract more customers to your plumbing business, securing a spot on the first page of Google is essential.
This comprehensive guide will walk you through the process from start to finish, empowering you to establish a strong online presence and propel your plumbing business to success.
What is digital marketing for Plumbers?
Digital marketing for plumbers represents advertising centered on bolstering brand awareness, generating leads, and maximizing profits through online-based digital technologies. This marketing approach utilizes search engines, social media, email, mobile communications, and websites.
According to Google's Keyword Planner, there are over 3,310,000 monthly searches for "plumber" in the U.S., including variations like "plumbers near me." However, if your phone remains silent and bookings are lacking, it's time for self-reflection. Despite the high search volume, your competitors are stealing the limelight by leveraging digital marketing for plumbers.
What are the benefits of digital marketing for Plumbers?
For plumbers and plumbing agencies, digital marketing plays a vital role in expanding their reach to a broader audience. Additionally, it offers the advantage of measuring and analyzing the effectiveness of marketing campaigns, enabling informed decision-making for future endeavors.
People rely heavily on Google to find relevant information and services in this digital era. Common searches involve "plumbers near me" or "plumbing agency in New York." You risk losing numerous potential clients if your plumbing agency isn't visible in Google search results.
Here are some of the top benefits of digital marketing for plumbers:
Generating Plumbing Leads: Reach more potential clients online, increase lead generation and grow your customer base.
Increased Visibility: Digital marketing boosts online presence, making plumbers more visible to potential customers.
Cost-Effective Advertising: Digital marketing offers better ROI and budget control than traditional methods.
Customer Engagement: Interact with clients through social media, emails, and chat, building trust and loyalty.
Performance Tracking: Access real-time data and analytics to refine strategies and optimize marketing efforts.
Competitive Advantage: Stand out from competitors, positioning your plumbing business as a top choice in the market.
What is the market trend of digital marketing for Plumbers?
In 2023, the United State plumbing fittings and fixtures market was valued at around $25.40 billion, while the global market amounted to approximately $81.8 billion. According to a global industry analysis by Report Linker, the latter is expected to experience a Compound Annual Growth Rate (CAGR) of about 4.4 percent, reaching $106.4 billion by 2026.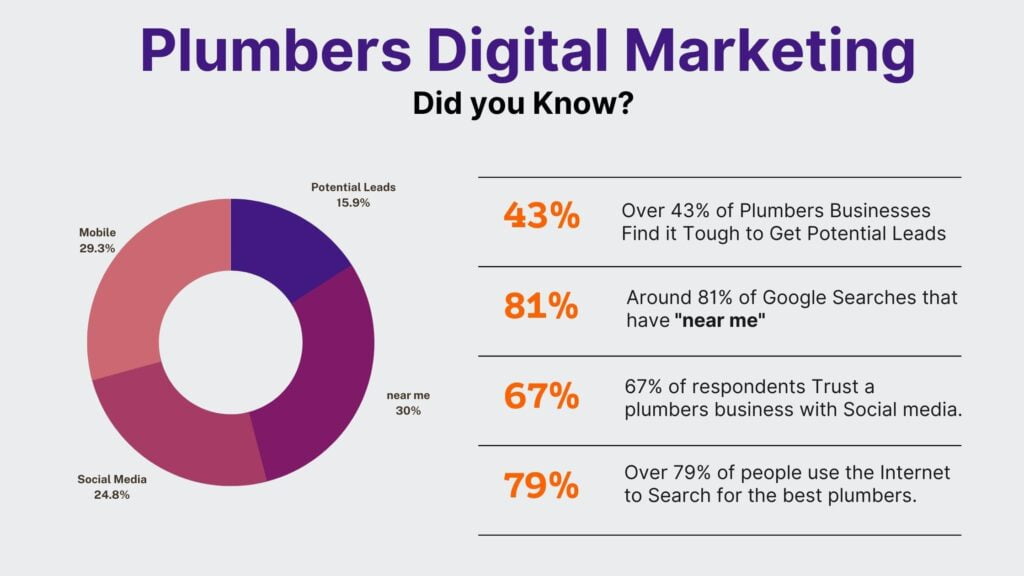 On the other hand, the North American market is projected to exhibit a higher CAGR of 7.5 percent until 2028, as per market research. Our custom market research team possesses the capability to delve deeply into the extent to which specific segments of the plumbing market are either growing or shrinking.
What are the digital marketing strategies for Plumbers?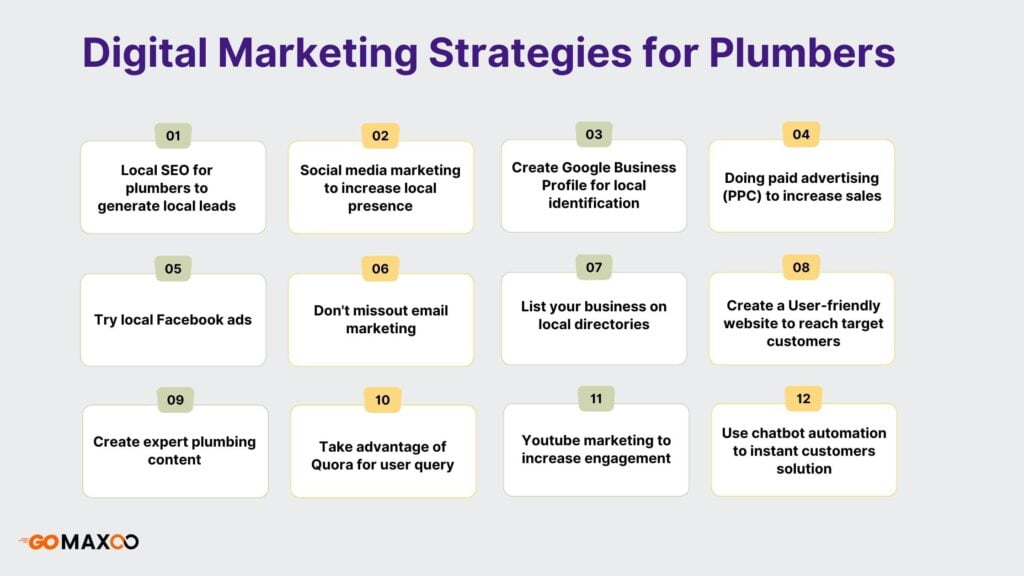 1. Local SEO for plumbers to generate local leads
SEO is most important for plumbers due to the numerous Google searches conducted by hundreds of thousands of people seeking local plumbing services every month. Specific types of plumbers, such as "emergency plumbers" and "local plumbers", are also highly searched for:
plumbers near me
emergency plumbers near me
local plumbers near me
Failing to appear on Google search results when potential customers in your area look for services you offer can result in missed business opportunities.
Let's reinforce this point with some vital statistics highlighting the essentiality of SEO for plumbers:
Globally, "plumbers near me" receives over 750,000 monthly searches.
Similarly, numerous searches are made every month for other plumbing services, like "emergency plumbers near me" and "local plumbers near me."
Benefits of search engine optimization (SEO) for plumbers:
Improved website visibility: SEO enhances your online presence, allowing potential customers to find you easily when searching for plumbing services in your area.
Increased targeted traffic: SEO helps attract highly relevant traffic to your website, increasing the chances of converting visitors into paying customers.
Higher search engine rankings: By optimizing your website, you can improve your rankings on search engine result pages.
Credibility & trust: Higher rankings establish trust with users, positioning you as a reliable and reputable plumber in your area.
Local reach: Local SEO tactics target users in your service area, driving local customers to your business.
Long-term results: Implementing effective SEO strategies ensures sustained online presence and continued business growth over time.
Local SEO services will help you implement the best practices on your behalf.
2. Doing paid advertising (PPC) to increase sales
PPC remains highly favored among local businesses due to its ability to generate rapid leads. However, plumbers find it expensive, as each click on Google demands payment, depleting budgets swiftly.
Although PPC provides swift outcomes, long-term ROI may not meet expectations. Properly allocate your budget to ensure optimal cost efficiency when investing in a PPC campaign.
Benefits of pay-per-click for plumbing business:
Fast Lead Generation: PPC delivers quick results by driving potential customers to your plumbing business with targeted ads.
Enhanced Visibility: Top ad placements on search engines make your business more visible to relevant audiences.
Geo-Targeting: Target specific locations to reach local customers in your service area, maximizing relevance.
Budget Control: Set daily or campaign budgets to manage costs effectively and avoid overspending.
Performance Tracking: Detailed analytics allow you to measure campaign success and make data-driven improvements.
Flexibility: Easily customize and adjust ad campaigns, enabling you to adapt to market changes and optimize outcomes.
3. Create a User-friendly website to reach target customers
Your company's website is often the first impression for new customers. Nowadays, consumers search for businesses like "plumber near me" on Google and explore websites until they find the right option. Plumbers listed top in search results are more likely to receive clicks and visits.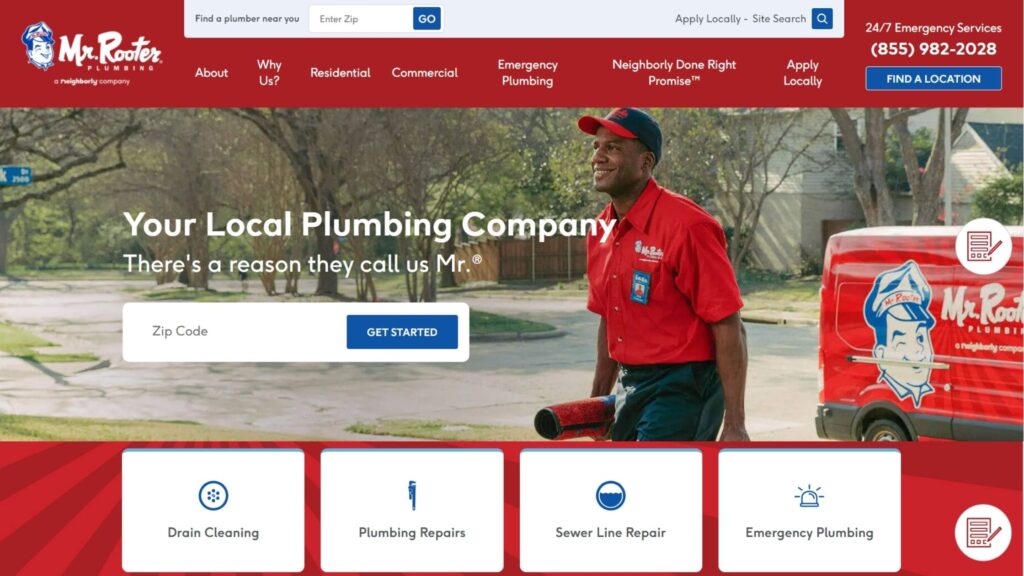 Having an exceptional website is vital to make a lasting impression on potential customers during Google searches. Your user-friendly website should have the following qualities:
Professional design
Visually appealing and uncluttered
Abundant information about your plumbing services
Easy navigation
Secure
Well-optimized to encourage visitors to share their information with you.
4. Social media marketing to increase local presence
In 2023, many of your existing and potential customers will be active on social media platforms. Engaging with them there is crucial, whether through Facebook advertising or sharing Instagram Stories.
Like Google Ads, Facebook Ads require click payment, and costs can escalate rapidly. However, well-planned ad campaigns on Facebook can yield excellent results in 2023.
What should we post on social media for best results?
Before-and-After Photos: Showcase your expertise by sharing transformational images of completed plumbing projects.
Plumbing Tips and Tricks: Offer practical advice to homeowners, such as DIY fixes or water-saving tips.
Customer Reviews: Highlight positive feedback from satisfied clients to build trust and credibility.
Behind-the-Scenes: Give a glimpse of your team and operations to humanize your brand and create a connection with your audience.
Seasonal Maintenance Reminders: Share timely reminders for routine plumbing maintenance to prevent issues.
Community Involvement: Display your engagement with the local community through charity events or sponsorships.
5. Create Google Business Profile for local identification
Google Business Profile offers plumbers valuable insights into how Google Maps users discover their business. It reveals the specific queries, like "plumber near me," that lead users to click on your Google Business Profile listing and track call frequency through your Google Business Profile.
Using these findings, you can improve your Google Business Profile listing by adding more images, quizzes, and Google posts to enhance engagement with potential customers.
Google presents three types of results for local queries like "plumbers near me":
map pack result
local search advertising
Organic results
You can rank for both, but to rank in the Map Pack, it's necessary to claim and customize a free Google Business Profile.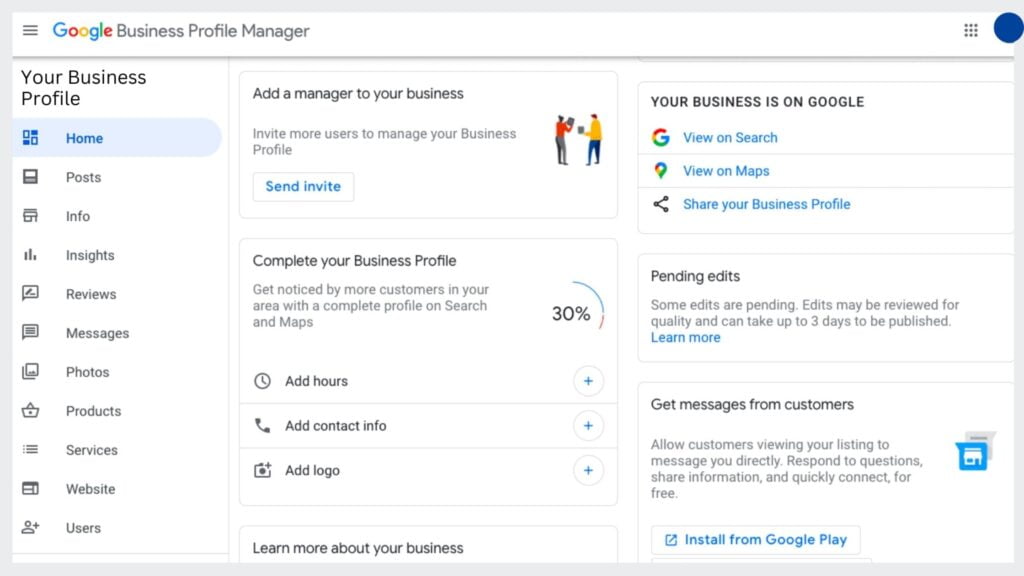 Let's find out how to do this:
Visit Google My Business: Go to the Google Business Profile website (google.com/business) and click on the "Manage now" or "Start now" button.
Sign in or Create an Account: Sign in to your existing Google account or create one if you don't have one.
Enter Your Business Name: Enter the name of your plumbing business. If it appears in the suggested list, select it; otherwise, proceed to create a new listing.
Choose Business Category: Select the most appropriate category for your plumbing services.
Add Location: Provide your business address. If you offer services at a specific location, check the box "I deliver goods and services to my customers" and enter the areas you serve.
Contact Details: Include your phone number and website URL, if applicable.
Verify Your Business: Google may need to verify your business's authenticity. Verification can be done through a postcard sent to your business address, a phone call, or an email.
Complete Your Profile: Fill out all relevant information, such as business hours, service descriptions, photos, and any additional details that will make your profile attractive to potential customers.
Publish Your Profile: Once your profile is complete and verified, click "Publish" to make it visible to users searching for plumbing services.
6. Try local Facebook ads
Local facebook ads can significantly impact your plumbing business as a potent marketing tool. With easy tracking and precise interest-based targeting, they can help you stand out, connect with customers, and expand your business.
While some plumbers aim to convert customers directly on Facebook, others face lead losses when redirecting to websites or landing pages. Facebook Lead Ads offer a streamlined solution, simplifying the process for better results.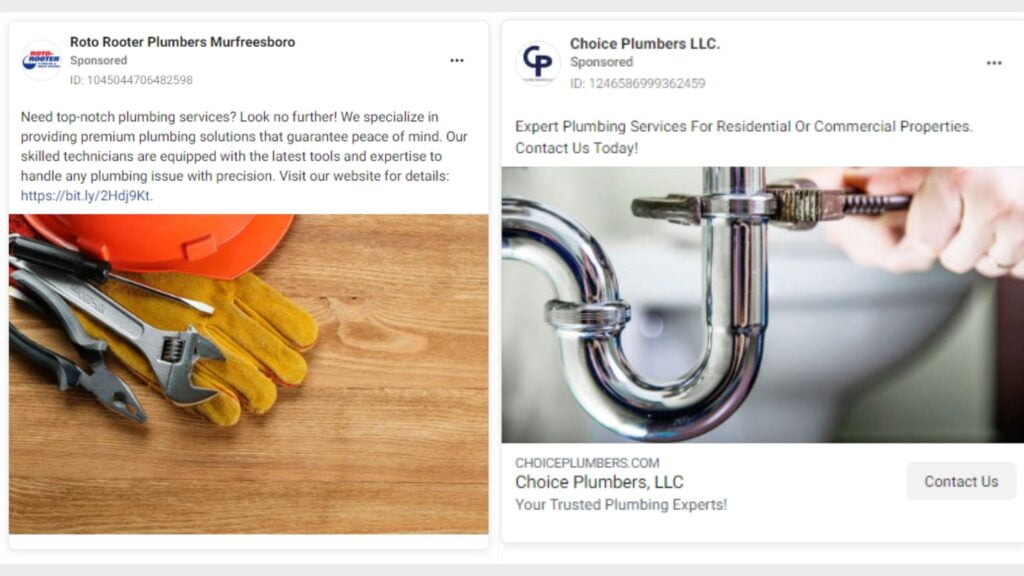 Let's know how can you do this:
Define Your Target Audience: Identify the demographics and location of your ideal customers to target them accurately.
Compelling Ad Copy: Craft engaging ad copy highlighting your plumbing services' benefits and solutions.
Eye-Catching Visuals: Use high-quality images or videos to capture users' attention and showcase your work.
Call-to-Action (CTA): Include a clear CTA, like "Call Now" or "Book an Appointment," to encourage immediate action.
Landing Page: Direct users to a dedicated landing page on your website with relevant information and a seamless conversion process.
A/B Testing: Test different ad variations to determine what resonates best with your audience.
Budget Optimization: Allocate your budget strategically to maximize reach and results.
By running local Facebook ads, you can increase brand visibility, generate leads, and grow your plumbing business within your target market.
7. Don't miss out email marketing
Having prospects in your sales funnel is excellent, but email marketing lets you leverage your contact list by promoting services through email. Email marketing solutions simplify email creation with templates and image imports for swift and efficient email crafting.
Explore promoting seasonal discounts or specials and embrace automated emails based on responses and behaviors to enhance your marketing strategy.
How to create an email marketing strategy?
Define Goals: Clearly outline your objectives, whether driving sales, increasing website traffic, or building brand loyalty.
Know Your Audience: Understand your target audience's preferences, interests, and pain points to personalize your emails effectively.
Build a Quality Email List: Focus on growing an organic and engaged subscriber base to ensure higher open and click-through rates.
Choose an Email Service Provider (ESP): Select a reputable ESP that suits your needs, offering features like templates, automation, and analytics.
Craft Compelling Content: Create valuable, relevant, and engaging content that aligns with your audience's interests and addresses their needs.
Use Eye-Catching Designs: Design visually appealing emails with a clear call-to-action (CTA) and responsive layout for all devices.
Segment Your List: Divide your subscribers into segments based on demographics, behavior, or engagement levels to send targeted content.
Test and Optimize: A/B tests elements like subject lines and CTAs to determine what resonates best with your audience.
Automate Email Campaigns: Set up automated emails based on triggers like welcome emails, abandoned carts, or milestone celebrations.
Analyze Results: Regularly analyze email performance metrics (open rates, click-through rates, conversions) to refine your strategy for better results.
8. List your business on local directories
Listing your business on local directories is a crucial tactic in digital marketing for plumbers. Local directories are online platforms that display business information, such as name, address, phone number, and website, to potential customers searching for plumbing services in their area.
By having a presence on popular directories like Google Business Profile, Yelp, Bing Places, and Yellow Pages, you increase your online visibility and make it easier for local customers to find and contact your plumbing business.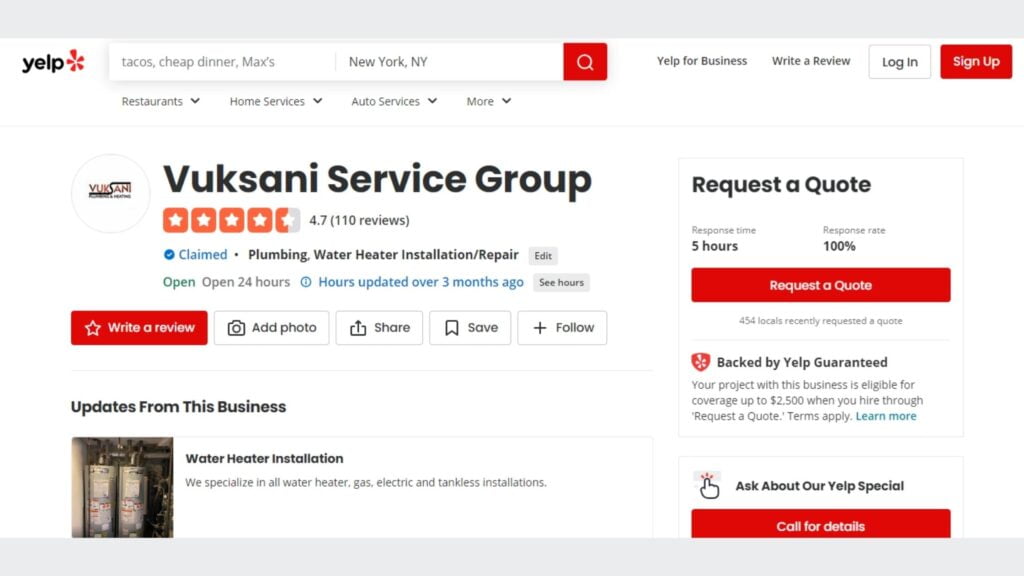 Local directories improve your search engine rankings and enhance your credibility and trust among the local community.
Additionally, it allows you to provide essential details about your services, opening hours, and customer reviews, influencing customers' decision-making process positively. Overall, listing your plumbing business on local directories effectively connects with your target audience and drives more leads and customers to your business.
9. Create blog content for plumbing
Content marketing proves to be very effective in reaching your target customers and creating a positive impression without being overly commercial.
Combining quality content creation with keyword research makes your message accessible and understandable.
A blog section on your website is essential, and if outsourced to an agency, they will conduct competitor analysis and identify hot topics and common plumbing queries to cover.
Beyond blogging, explore various content formats, such as videos, infographics, and graphics, and promote them through the right channels for a broader reach. Use content marketing tools to ensure resonance with your audience.
10. Take advantage of Quora for user query
Leveraging Quora for your plumbing business can be a valuable strategy to connect with potential customers and establish your expertise.
Here's how to take advantage of Quora:
Answer Plumbing Questions: Monitor relevant plumbing-related questions on Quora and provide helpful, informative answers. Showcase your knowledge and build credibility.
Include Relevant Links: When answering questions, you can link to relevant blog posts or resources on your website to drive traffic and promote your services.
Address Common Concerns: Identify common plumbing queries on Quora and use them as inspiration to create content on your website or social media platforms.
Engage with the Community: Interact with users, upvote helpful answers, and participate in plumbing discussions to build relationships and gain visibility.
Promote Your Business Ethically: Avoid excessive self-promotion on Quora. Focus on offering valuable insights and let your expertise speak for itself.
11. Youtube marketing to increase engagement
Video advertising has become a powerful means of conveying your plumbing business's message, products, or services. Prospective clients favor videos for their entertainment, engagement, and easy-to-digest nature. Meanwhile, plumbing marketers love it due to its high Return on Investment (ROI) across various channels.
Video marketing for plumbers involves using video content to market and promote your company's services, brand, or products. With the right approach, resources, and strategy, your plumbing business's video marketing campaign will captivate your audience with original and engaging content, generating more leads and increasing conversions.
12. Use chatbot automation to instant customers solution
In today's fast-paced world, nobody likes to wait for solutions. When customers encounter issues, their patience wears thin if the problem needs to be resolved promptly, especially in the case of plumbing companies, where urgent assistance is often required. Lead generation chatbots come to the rescue by proactively engaging customers, delivering quick responses 24/7, leading to satisfied and happy customers.
In the digital age, exceptional customer service is vital for business success. One effective way plumbing companies can enhance customer service is by implementing an AI chatbot.
Here are some benefits chatbot specific to plumbing companies:
Improve customer experience: Personalized assistance for plumbing queries and concerns, leading to higher satisfaction.
Decreased response time: Swiftly address customer inquiries, fostering quicker issue resolution.
Enhance online conversion: Engage and convert website visitors into potential plumbing service customers effectively.
Increase lead generation: Attract more potential clients and capture their information for follow-up.
Cost-effective solution: Economic tool to streamline customer support and increase business opportunities.
13. Ask for reviews from satisfied customers
Customer testimonials and reviews hold immense significance as they are beyond your control, making them even more crucial for potential customers.
As a plumbing business owner, it's vital to motivate customers to rate and review your services on your website and social profiles.
The greater the number of positive reviews and ratings you accumulate, the higher the likelihood of increasing conversions.
Here's how to get more reviews for your plumbing business:
Utilize Google's Business Profile Manager to create review links for happy customers.
Print the review link as a QR code on your business card.
Personally call previous customers and request their valuable reviews.
Display the review link prominently on your website.
14. SMS marketing to increase customers attention
SMS marketing is a powerful strategy for plumbers to capture customers' attention and boost business:
Personalized offers: Send tailored promotions based on customer preferences to drive customer interest.
Timely reminders: Share maintenance tips and appointment reminders to stay top-of-mind.
Exclusive deals: Offer special discounts or limited-time offers to entice potential customers.
Quick communication: Reach customers instantly with important updates and emergency services.
Opt-in convenience: Ensure customers willingly subscribe to receive messages for better engagement.
By leveraging SMS marketing, plumbers can connect with their target audience and attract more customers.
15. Create a referral program
Word-of-mouth remains a powerful tool for plumbers seeking to expand their customer base in the digital age. Referral programs are a proven digital marketing strategy designed to harness the potential of satisfied customers, turning them into brand advocates who actively promote the plumber's services within their social circles.
A referral program is a marketing initiative to encourage existing customers to refer new customers to a business in exchange for rewards or incentives. In the context of a plumbing business, it involves encouraging satisfied clients to recommend the services to their friends, family, or colleagues who might also require plumbing services.
What are the key success factors for plumbers?
Discover the essential keys to plumbing success! From technical expertise to customer service acumen, discover the key factors that lead plumbers to success.
Expertise: Plumbing skills and knowledge are crucial for efficiently delivering top-notch services and solving complex issues.
Reliability: Being punctual and dependable builds trust with clients, fostering long-lasting relationships.
Communication: Clear and courteous communication ensures clients understand the problem, solutions, and cost estimates.
Quality Tools: Utilizing modern and quality tools enhances efficiency and ensures accurate craft.
Customer Service: Exceptional customer service and addressing concerns promptly lead to satisfied and loyal clients.
Adaptability: Adapting to different situations and staying updated with industry trends ensures success in a dynamic market.
How to choose the best digital marketing agency for plumbers?
In the digital landscape, finding the ideal marketing agency for plumbers is critical to success. Explore these essential tips to make wise choices and take your plumbing business to new heights!
Experience: Look for a digital marketing agency with a proven track record in promoting plumbing businesses.
Specialization: Opt for an agency with expertise in digital marketing tailored specifically for plumbers.
Client Reviews: Check testimonials and reviews to ensure the agency delivers results and satisfies customers.
Transparent Reporting: Choose an agency that provides clear and regular campaign performance reports.
Custom Strategies: Select an agency that tailors marketing strategies to fit your plumbing business's unique needs.
ROI Focus: Prioritize agencies that maximize your return on investment to boost your bottom line.
Can someone do this for me?
At GoMaxoo, we understand the significance of digital marketing in today's competitive landscape. Our team of skilled professionals is dedicated to helping businesses like yours succeed online. Whether you're a small local plumbing company or a larger plumbing service provider, we have the expertise to create and execute customized digital marketing strategies that align with your business objectives and drive real results.
Tailored marketing: Custom strategies for brand, leads, sales. Increase awareness, engage customers.
SEO: Rank higher on Google, attract plumbing clients with optimized content and keywords.
PPC Ads: Targeted campaigns, maximize ROI by optimizing ad copy and bidding.
Social Media: Engage, build loyalty, boost brand presence through engaging content and ads.
Content Marketing: Position as industry authority with valuable blog posts, articles, and videos.
Email Marketing: Stay connected with engaging newsletters, promotions, and updates.
Transparent Reporting: Data-driven decisions, optimize campaigns, and improve performance.
Industry Experience: Expert team with years of digital marketing know-how.
Dedication to Success: We prioritize your plumbing business's growth and measurable results.
Partner with GoMaxoo today, and let us handle your digital marketing needs while you focus on providing exceptional plumbing services to your valued customers. Together, we'll take your business to new heights in the digital realm. Contact us now to discuss your requirements and get started on your journey to digital marketing success!
FAQ's
What are digital marketing strategies for plumbers?
Digital marketing strategies for plumbers include website optimization, local SEO, Google My Business (GMB) listing, content marketing, social media marketing, online reviews, PPC advertising, and email marketing.
How do I advertise my plumbing work?
You can advertise your plumbing work through various digital marketing channels, such as creating a professional website, running local ads on Google, using social media platforms, sending targeted email campaigns, and getting positive online reviews.
What is the best platform to advertise a plumbing business?
The best platform to advertise a plumbing business is Google Ads, which allows you to target users actively searching for plumbing services. Google's local search and PPC advertising can help you reach potential customers who need plumbing help the most.
Do Facebook ads work for plumbers?
Yes, Facebook ads can work for plumbers. While not as targeted as Google Ads, Facebook allows you to reach a broader audience with specific demographics and interests. Engaging ad content and proper targeting can generate leads and brand awareness for your plumbing business.