Hey, did you experience that your potential customers regularly search online for a "salon near me", but couldn't find you? If you are wondering how you can rank locally and get more leads, so here your patience has ended. With the right digital marketing strategies for salons, you can rank and get leads.
This quick guide will help introduce all the terms and strategies to grow your salon business.
Let's dive in…
What is digital marketing for Salons?
Digital marketing for salons is the use of online strategies like websites, organic search, paid advertising social media to promote salon services, attract customers, and build brand awareness. It helps salons reach a wider audience and engage with potential customers in the digital space.

Take a second to do a quick Google search for "salon + your city" or "hair salon + city in your service area." What do you see? If your company isn't at the top of the search results, you might as well be invisible—especially if one of your competitors ranks higher than you.
What are The Different Types of Marketing for Salons?
Search Engine Optimization (SEO):
Improve the salon's online visibility for higher search engine rankings.


Social media marketing:
Promote salon services, engage with customers, and build brand awareness through social media platforms.


Email marketing:
Send targeted promotional messages and updates to salon subscribers via email.


Marketing (SMS marketing):
Reach customers directly through text messages to promote offers and appointments.


Online advertising:
Use platforms like Google AdWords and Facebook ads to reach a wider audience and drive traffic to the salon's website.


Reputation management:
Monitor and respond to customer reviews on platforms like Yelp and Google to maintain a positive online reputation.


Why do you need Digital Marketing for Salon?
The hair and Beauty Salon Market was valued at USD 153 Billion in 2021 and is expected to reach USD 250 Billion by 2027, growing at a CAGR of 5.83% during the forecast period 2022-2027.
Over 37% of Salons Businesses find it tough to get potential leads.
Around 88% of Google Searches have the "near me." 62% of respondents trust a Salon with Social Media.
Over 77% of people use the Internet to search for the best salons.
26% use mobile search to compare offering other facilities
What is the Importance of Digital Marketing for Salons?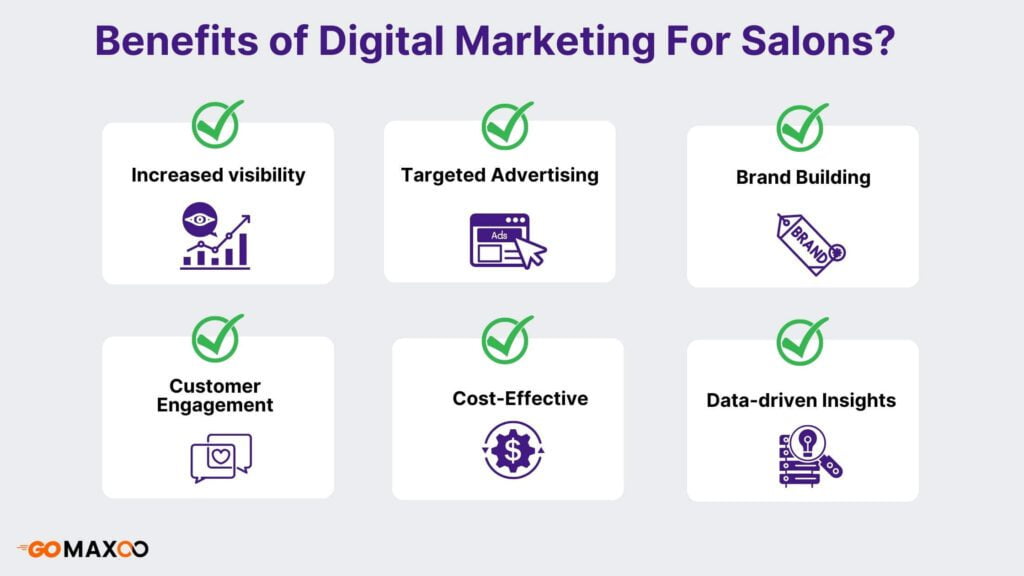 Nowadays, people first search on Google for any services or related query. Many people search for specific types of salons, like salons near me and beauty salons near me. If your salon is not on the Internet, you can lose many customers.
But more than making a website for your salon is required; you have to be aware of all the trends in this industry and tackle them, which is possible only with the help of digital marketing.
Here are some of the key reasons why need for digital marketing strategies for salons
Increased visibility:
Digital marketing helps salons reach a wider audience online.


Targeted advertising:
Salons can reach their ideal customers through precise targeting options.


Brand building:
Digital marketing allows salons to create a strong and recognizable brand identity.


Customer engagement:
Digital platforms enable salons to interact and engage with customers.


Cost-effective:
Digital marketing offers a more affordable option than traditional marketing.


Data-driven insights:
Digital marketing provides valuable data for analyzing and improving salon marketing strategies.

15 Digital Marketing Strategies for Salons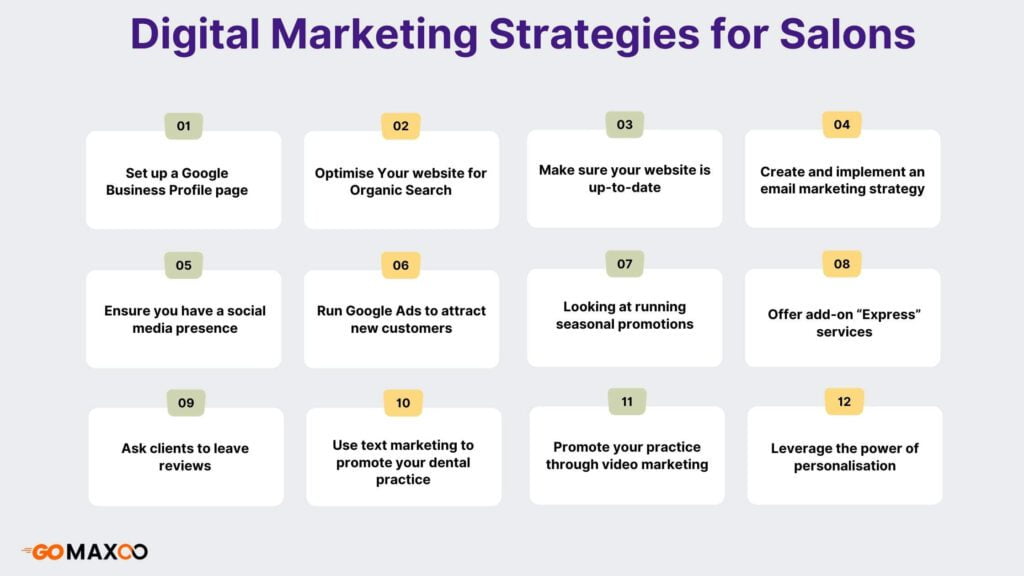 Let's take a look at 15 different salon marketing ideas that can help you get more clients.
1. Set up a Google Business Profile page
Google profile increases visibility, provides important information such as directions to your salon and opening hours, builds trust through positive reviews, and drives website traffic. And you publish posts and run ads on your Google profile the same way as on other social channels.
Google shows three types of results for local queries (e.g., "salons near me"):
Map pack results
Local Search Ads
Regular organic results
You can rank in both of them. but to rank in the map pack, you need to claim and optimize a free Google Business Profile.
Let's explore
How to claim a Google business profile for salons?
Sign in or create a Google account:
If you already have a Google account, sign in with your credentials. Otherwise, click the "Create account" option to set up a new Google account.


Enter your business name:
Type in the name of your salon business. If you find a company with a similar name already exists, select the appropriate option or click "Add your business.


Specify your location:
Provide the address of your salon. If you offer services at customer locations and don't have a physical address, you can check the box that says, "I deliver goods and services to my customers.


Choose a business category:
Select the category that best represents your salon business if you specialize in a particular area. Examples include:
Hair Salon
Beauty Salon
Add contact details:
This helps customers understand if you are the right solution. Essential components include their opening hours, phone number, and website. Add photos of completed plumbing work, as well—the more complete your profile, the better.

Verify your business:
Google will send a verification code to the address you provided for your salon. Choose the best verification method that suits you: mail, phone call, or email. Follow the instructions to verify your business.


Optimize your profile:
Once your business is verified, you can enhance your Google Business Profile by adding details such as business hours, photos, and a description. Provide as much information as possible to help customers learn about your salon.


Manage your profile:
Regularly check and update your Google Business Profile. Respond to customer reviews, post updates or offers, and ensure that all the information is accurate and current.


Encourage customer reviews:
Ask you're satisfied customers to leave reviews on your Google Business Profile. Positive reviews can help attract more customers to your salon.
2. Make sure your website is up-to-date
Before clients visit your salon, your website is your shop window. It's often the first impression for new customers, so leaving a good first impression is essential.
If your website looks tired, outdated, and unprofessional, these thoughts and feelings may translate to the thoughts and feelings of your business as a whole.
Here we can help you to design a website that looks good at an affordable price.
What should a hair salon website include?
Branding
Your salon branding will make up the foundation of the website.


About Section
Provide information about your salon's background and philosophy.


Services & Price List
Display the services offered and their corresponding prices.


Your Work
Showcase examples of your hairstyling expertise and previous clients.


Your Salon
Highlight the unique features and ambiance of your salon.


Booking Link and Contact Details
Enable visitors to book appointments and easily find your contact information.


Cancellation Policy
Clearly state your salon's policy regarding appointment cancellations.
3. Optimize Your Website for Organic Search
Once you've set up your website and are pleased with the overall look and feel, consider optimizing your website for organic search.
Using Search Engine Optimisation (SEO) best practices, you can improve your chances of being visible for keywords and phrases your target audience uses.
Have an excellent solid homepage, contact, and about page.

Include full NAP on the contact page.

Add a Google Map to the Contact page.

And make sure NAP is consistent.

Make certain people can get to your location pages.

Use clickable phone numbers on mobile

Ensure your website offers a good user experience

Optimize your metadata.

Use optimized images.

Add Schema to your pages.

Local SEO services will assist you in implementing best practices on your behalf.

4. Create and implement an email marketing strategy
Email marketing is the best tool for building and maintaining customer relationships.
It can also help you capture data from new prospective clients and nurture them through a journey to becoming your loyal customer.
To create an email marketing strategy, you'll want to:
Choose an email marketing platform.

Build your email list.

Segment your email list.

Create compelling content.

Design professional email templates.

Set up automated campaigns.

Craft clear subject lines.

Test and optimize campaigns.

Comply with regulations.

Monitor and analyze results.
5. Ensure you have a social media presence
Social media can be a lucrative platform for hair salon owners when used correctly. They can promote their content by posting images and videos about their work and running Facebook ads to reach more people.
Many individuals turn to the likes of Instagram, Tik Tok, and Facebook for inspiration on the latest hair and beauty trends and to find local businesses that can help them achieve their inspiration.
What should you post as a hair salon?
Before And After Posts
Showcase the transformation and results of your clients' hairstyles.


Post About Your Team And Biographies
Introduce your salon team and share their professional backgrounds.


Inspirational / Daily Quotes
Share uplifting quotes about hair, beauty, and self-confidence.


Video of Transformation
Upload videos that capture the process and outcome of hair transformations


Testimonials
Share positive feedback and testimonials from satisfied clients.


Live Stream Q and A
Host live question-and-answer sessions with your audience.


Daily question
Pose daily questions to encourage interaction and gather insights from your followers.


Product Posts And How to Get Perfect Results
Feature haircare products and provide tips on achieving desirable results.

Social media services will assist you in implementing best practices on your behalf.

6. Run Google Ads to attract new customers
Google Ads enables you to create online ads to reach people exactly when they are interested in your products or services.
Google Ads operates under a pay-per-click (PPC) model, which means you can target a specific keyword and make bids for that keyword.
When setting up your Google Ads, you'll want to be as specific as possible. When a user sees and clicks on the ad, you'll pay a fee for that click. That's why it's essential to get your targeting right, so you are only targeting genuinely qualified traffic likely to result in a sale.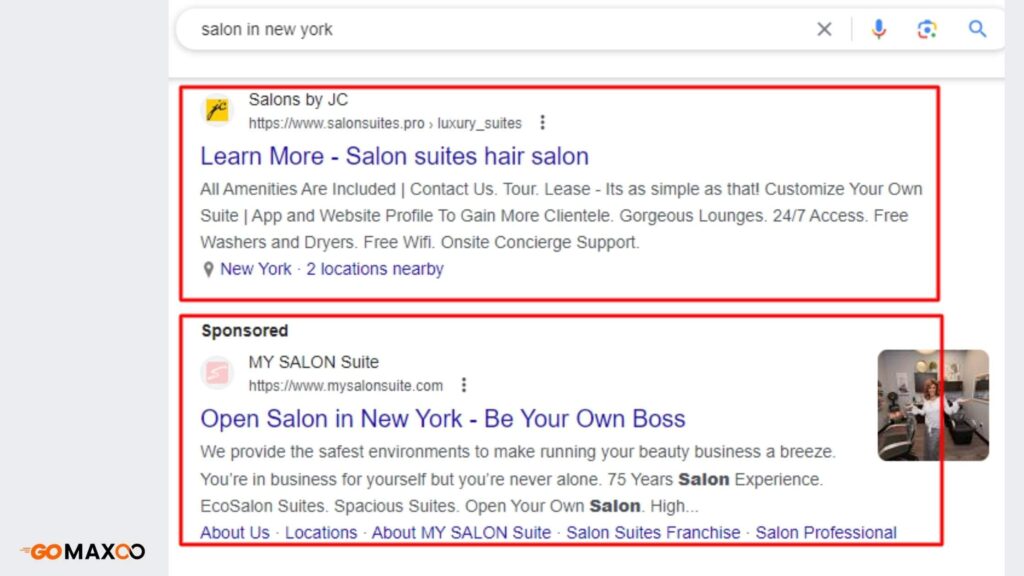 Let's know how to set up Google Ads
Create a Google Ads account
Sign up with your business email to access the platform.

Define campaign goals
Determine objectives like increasing salon bookings or promoting specific services.

Select campaign type
Choose options like Search Ads, Display Ads, or Video Ads based on your target audience.

Choose target locations
Specify regions where you want your ads to appear.

Set a budget
Decide on a daily or monthly budget for your advertising campaigns.

Design compelling ad copy
Craft concise and attractive messages highlighting your salon's unique selling points.

Select relevant keywords
Identify relevant search terms that potential customers may use to find salon services.

Set bid strategy
Decide how much you're willing to pay for clicks or conversions.

Create landing pages
Develop optimized web pages that align with your ads and encourage conversions.

Monitor and optimize
Regularly review performance metrics, adjust bids, and refine ad content to maximize results.
Google ads services will assist you in implementing best practices on your behalf.
7. Looking at Running Seasonal Promotions
Seasonal promotions are an excellent way to promote your services.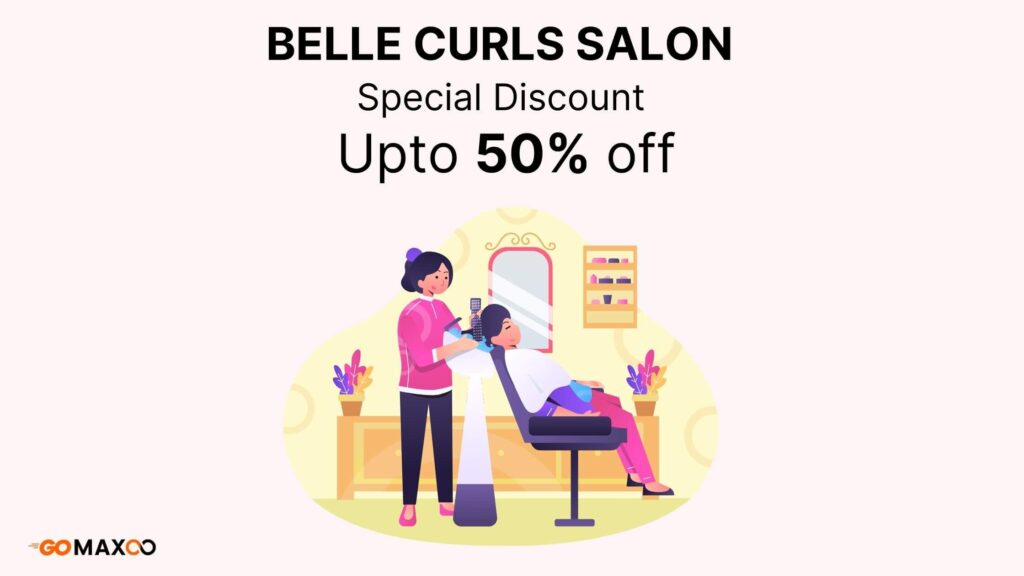 For example, you may want to run offers and discounts on these seasonal times of the year:
Black Friday & Cyber Monday

Christmas

Mother's Day

Father's Day

Valentine's Day

Halloween

Easter
8. Offer add-on "Express" services
A clever way to increase spending and generate revenue is to offer add-on "express" services. This will help to increase the amount each client spends during their salon visit.
Add-on "express" services should only require little or no additional time to perform. Similarly, your "express" service should be lost regarding product users to maximize your chances of increasing profit.
Add-on express services include:
Hair treatment
Tinting
Nail art
Hand mask
Upselling and cross-selling are highly effective ways to increase your salon's profit.
9. Maximise loyalty schemes
Loyalty schemes or "new friend" discounts are a great way to generate revenue from your existing and new clients.
Be aware it always costs less to retain existing clients than it does to attract new clients.
An easy way to retain your existing clients is by incentivizing them to keep coming back for their treatments.
For example, the most commonly used loyalty schemes are a discount or a free service after X amount of treatments.
"new friend" discounts are also an excellent way to attract new clients. Your existing client will also receive a discount for referring their friend, so it's a win-win for everyone involved.
10. Ask clients to leave reviews
As we first mentioned, word of mouth is a huge marketing tool in the hair and beauty industry.
If you have a good amount of reviews for your salon on Google and Facebook, this helps to build your brand image and instill a sense of trust and confidence in your work.
There is no shame in asking your customers to leave reviews at the end of their appointment, or you could use your email marketing platform to send customers a friendly reminder to leave a review.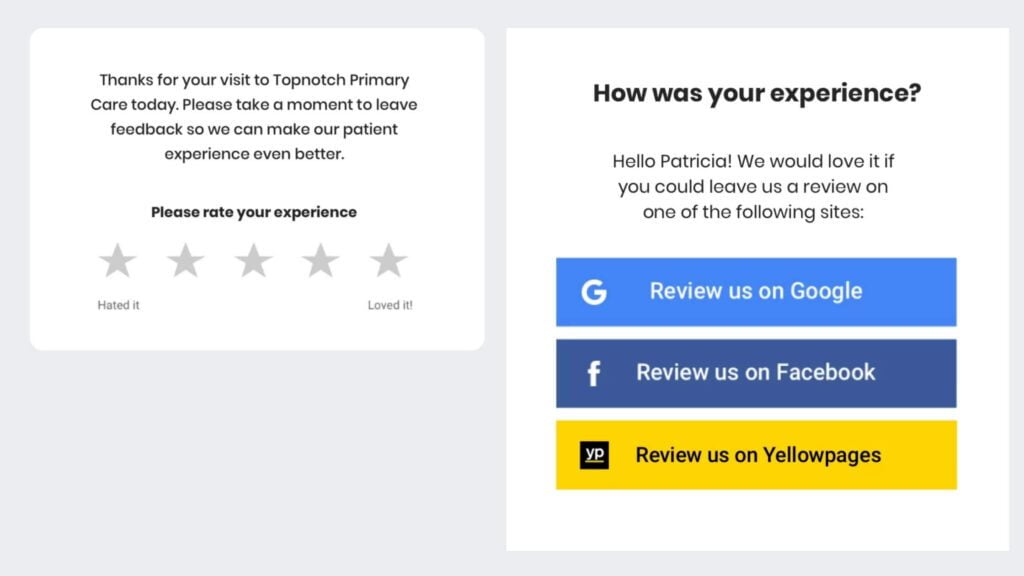 How to create a link for customers to write reviews on Local Services?
Sign in to your Local Services Ads account.
Select the menu Nav icon in the top left.
Select Business Verification.
Select Customer Reviews.
Under "Get verified reviews (optional)," click See link options.
Choose your desired vanity link.
Click the Select Review link.
11. Offer gift cards
Gift cards are a great way to generate income during seasonal promotions and attract new customers.
Many will look at thoughtful ways to gift, particularly around Christmas time, one of which may be with gift cards for a pampering session.
12. Work with other local businesses
Working with other local businesses in the area will help to build relationships that can have a beneficial impact on your business.
For example, local businesses will help to promote your business through word of mouth, distributing your marketing materials, or helping you in other ways.
13. Leverage the power of personalization
Personalization can help a lot when it comes to building relationships with your customers. Ensure your records are current, including name, birthday, email address, phone number, and marketing preferences.
For example, sending a discount offer or a promotion to a client around the time of their birthday can help to develop the relationship and increase your profits at the same time.
Another element of personalization to consider is during consultations. Clients want to feel like you're taking the time to get to know and understand their wants and needs. Ensure this is reflected in your body language and the recommendations you provide your customers.
14. Opportunity to sell products
Lastly, look at ways to offer retail products that your clients can take home with them. This is an excellent form of upselling.
Many clients will be looking to achieve the same look and feel at home as they receive in the salon. This can be done via the products used during their service.
If you can stack anything from shampoo and conditioner to straightening serums and heat protectors, this could go a long way in helping you to generate more revenue.
15. Local Social Media Ads?
You can promote your salon business with effective local social media ads. Reach your target audience and increase bookings with engaging content and attractive offers.
Targeted advertising
Reach potential customers in your local area based on demographics, interests, and behaviors.


Eye-catching visuals
Capture attention with high-quality images showcasing your salon's services, ambiance, and satisfied customers.


Compelling Offers
Create irresistible discounts, promotions, or package deals to entice customers to book appointments.


Call-to-action buttons
Add clear and visible buttons to book an appointment or contact your salon.


Testimonials and Reviews
Highlight positive customer experiences to build trust and credibility.


Seasonal campaigns
Tailor your ads to different seasons or holidays, offering relevant services and promotions.


Engagement opportunities
Encourage audience interaction through polls, contests, or giveaways to generate buzz and increase brand awareness.


Influencer Collaboration
Partner with local influencers or beauty experts to promote your salon and reach their engaged followers.


Behind-the-scenes content
Share glimpses of your salon environment, talented staff, and behind-the-scenes processes to build a connection with your audience.


Customer Education
Educate your audience on the latest trends, hair care tips, or styling advice to establish your salon as a trusted authority.
How To Start A Digital Marketing Campaign For Salons?
Starting a digital marketing campaign for salons requires careful planning and execution to reach and engage with your target audience effectively. Here are some steps to get started:
Define goals
Determine campaign objectives like brand awareness, website traffic, leads, or bookings.

Identify audience
Understand target customers and create buyer personas.


Build website
Create a visually appealing, mobile-friendly site with service details and contact information.


Implement SEO
Optimize the website with relevant keywords for better search engine visibility.


Develop content
Create informative blogs, articles, and videos showcasing expertise and customer testimonials.


Leverage social media
Establish a strong presence, share visual content, engage with the audience, and run targeted ads.


Manage online reputation
Monitor and respond to reviews, encourage positive feedback, and address negatives promptly.


Implement email marketing
Collect customer emails and send personalized newsletters with valuable content and promotions.


Run paid ads
Use platforms like Google Ads and social media ads to reach a wider audience.


Monitor performance
Track metrics using analytics tools and adjust data-based strategies.
How A Salons Marketing Agency Can Help Your Business
Differentiate from competitors
A Salons Marketing Agency can help your salon differentiate from competitors by communicating what makes your salon stand out. By defining your brand identity, you can establish a reputation for providing a specific experience or service that sets you apart from others.


Attract and retain customers.
When customers can identify and connect with a salon's brand identity, they are more likely to choose that salon over others. A well-defined brand identity can also help build customer loyalty, as customers are more likely to return to a salon they feel connected to.


Build trust and credibility
A solid and consistent brand identity can help build customer trust and credibility. When a salon has a clear brand identity, it communicates that the salon knows who it is, what it stands for, and what it offers. This can help customers feel confident in their choice of salon and the services they receive.


Guide decision-making
A Salons Marketing Agency can also guide decision-making for the salon. When decisions about branding, marketing, and customer experience are aligned with the salon's brand identity, it helps ensure consistency and authenticity across all touchpoints.


Enhance customer experience
By defining your salon's brand identity, you can ensure that the customer experience is aligned with the salon's values and messaging. This can help create a more cohesive and enjoyable customer experience, leading to increased satisfaction and loyalty.

Factors To Consider When Choosing A Salons Marketing Agency
Location
Choose an agency that is conveniently located near your business to minimize travel costs and inconvenience.


Compatibility
Ensure that the agency's mission, objectives, and views align with your and your salon's values.


Background
Conduct a background check to assess the agency's personnel, financial position, and managerial capabilities.


Clientele
Evaluate the agency's list of clients to gauge their level of credibility and the quality of their work.


Budget
Assess your financial position and the agency's pricing to ensure they fit your budget constraints.


Credibility
Consider the agency's authenticity, integrity, and overall reputation. Look at their records and client testimonials for insights.


Expertise & Experience
Determine the agency's level of experience and knowledge in salon marketing. Look for agencies that specialize in your industry or have a proven track record of successful marketing campaigns.


Management Skills
Ensure the agency has practical management skills to handle its operations and maintain a strong client relationship.
How To Measure The Success of A Digital Marketing Campaign For Salons?
1. Measure your client's performance.
Your salon till software should run most of these reports at the click of a button. Ensure your figures are always net of vat so you compare like with like.
How many new salon clients gained in this period?
How many of these returned for a 2nd salon visit?
Total service sales (i.e., everything except retail sales)
Your average services invoice (net of vat). Remember to exclude retail sales.
Retail product sales (net of vat) for the current period.
2. Is your spa or salon website earning its keep?
Measuring these will stop you guessing:
Moving up or slipping down Google for your top keywords?
How many online bookings?
How many sign-ups to your e-newsletter?
Use Google Analytics (it's free and easy) to measure:

How many visitors did you have in the period?
How long did they stay on your website?
The Bounce Rate (did they visit more than one page or leave)?
3. Is your social marketing a roaring success?
Are your Calls To Action falling on deaf ears, or are your followers hanging on your every word?
Find out by measuring how many:
Enter your salon competition via social.
Sign up for a newsletter.
Use online booking.
Quote offer code.
Visit your website from social media.
Engage (e.g., share, RTs, like, follow, reply, etc.)
Of course, you could measure plenty of other statistics, but you can go overboard on collecting figures and feel overwhelmed.
Want to boost your salon's social media engagement? Try these three free tools.
4. It's easy to measure your email marketing
Three quick, simple measurements here:
How many open your email marketing?
How many click through?
Is your email list growing every week?
Need to be happier with your results? Read my tips on getting your email marketing open and read here.
5. Are your salon advertising campaigns hitting the mark?
Online marketing: If you buy banner ads on 3rd party websites, Google Adwords (PPC), or advertise on Facebook, Twitter, and Instagram, they all give detailed feedback on the audience reached and response rates. Combine this feedback with your own Google Analytics statistics and booking information for the complete picture.
Frequently Asked Questions (FAQs)
Q1: How can digital marketing help my salon business?
Digital marketing enhances your salon's online presence, attracts new customers, and strengthens brand recognition by utilizing social media advertising, SEO, and email campaigns.
Q2: Which social media platforms should I focus on to promote my salon?
Consider Instagram and Facebook for visual showcasing, Pinterest for inspiration, and YouTube for tutorials. Tailor your choice based on your target audience demographics and preferences.
Q3: How can I leverage customer reviews and testimonials to attract new clients?
Encourage customers to leave reviews on platforms like Google, Yelp, and social media. Share positive testimonials on your website and profiles. Promptly respond to reviews to show your commitment to excellent service.
Q4: What role does content marketing play in salon promotion?
Content marketing establishes your salon as a beauty authority. Create valuable blog posts, articles, and videos to address beauty concerns, offer styling tips, and showcase trends. Position yourself as a go-to resource for potential clients.
Q5: How can I measure the success of my digital marketing efforts for my salon?
Monitor website traffic, conversion rates, social media engagement, email open and click-through rates, and online bookings. Use analytics tools such as Google Analytics and social media insights to evaluate your campaigns.