When you search "salon near me" or "beauty salons near me" on Google today, you'll likely find a list of nearby salons in your area.
Are you able to see your salon on the first page right away?
I don't need to explain why it's crucial to be visible in search results nowadays. We all know that's how people discover salons these days, and almost 99% click on one of the salons on the first page.
You should see your salon in the results if you are close to your salon while performing this search. If not, we'll address that issue today.
What is SEO for salons?
SEO, or search engine optimization, helps your salon business appear in search engine results when people search for keywords such as "salon near me," "hair stylist," "haircut and color", and other hair-related terms. Services like cut, color, perm or straightening of hair.
Top 15 SEO tips for salons in 2023

1. Finding the Right Salon Keywords for Your Salon
Your salon's keywords hold significant importance and are crucial to your search engine optimization strategy. Essentially, they comprise a list of words you want people to use to find your salon on Google. For most salons, these keywords will typically include phrases like:
"Hair Salon New York", "Hair stylists in New York", "Best Facial New York", "The best facial in NYC", and so on.
To identify the best keywords to target, Google's Keyword Planner can be an invaluable tool.
The most vital keywords should be those related to the services you offer, coupled with your geographic area. Include those in your keyword list if your salon serves multiple regions or provides various services.
2. Need to update your salon website
Maintaining an up-to-date branded website is crucial, as it aids 85% of consumers in discovering local businesses. If you desire potential customers to quickly locate and engage with your hair and beauty salon, craft a modern website for your salon business and optimize it to rank well in relevant local searches.
Not all hair salon owners may have the necessary resources to develop a customized website. Still, if you manage to do so, it will give your business a competitive advantage over others.
Let us have a look at some of the tips to optimize your user-friendly website
Tips to Optimize Your Website for High Ranking:

Keyword Optimization: Keywords play an essential role in your website. This involves optimizing critical elements like title tags, URLs, heading tags, meta descriptions, etc.
Content Optimization: High-quality content is among the most significant local SEO ranking factors. Thus, devise a strong content marketing strategy that supports your SEO efforts.
Technical Optimization: This aspect encompasses optimizing your website for site security, page load speed, structured data, sitemap, robots.txt, and crawl errors.
Improve Page Experience: Page experience has become crucial for Google's website ranking. Since the update, Google has offered a timeline for web admins to comply and prepare their websites for improved page experience. Ensure your website meets the necessary page experience metrics, including Core Web Vitals.
3. Create Relevant Content for Your Website
Even the top brands utilize content marketing to achieve their SEO objectives, a strategy you should also embrace. Crafting unique, high-quality, relevant content that aligns with your hair salon brand can work wonders for you.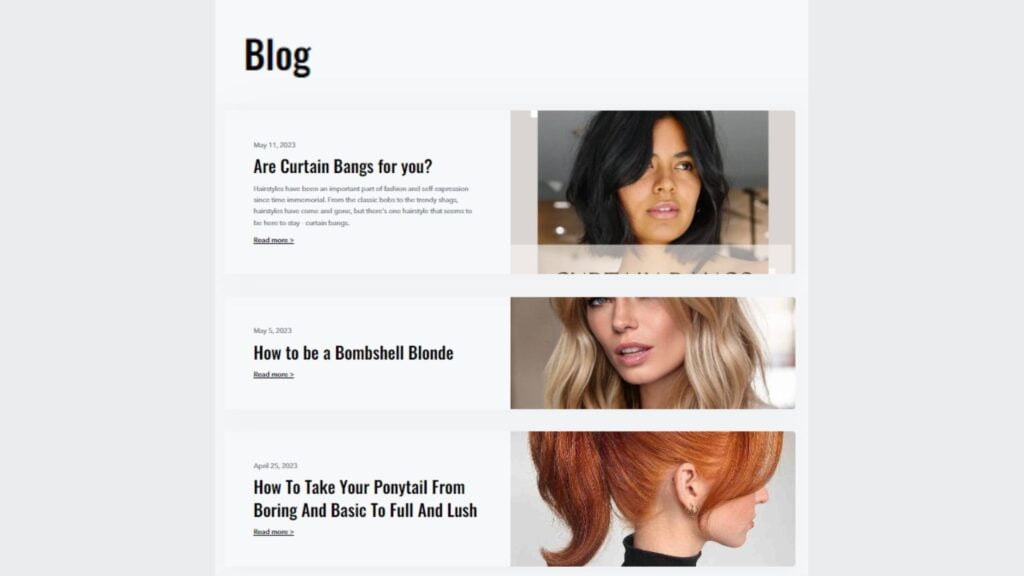 Here are some tips on how to approach content marketing for your brand:
Don't confine yourself to creating content solely about your hair or beauty services. Explore diverse ideas and content types that resonate with residents.
Develop expert local guides to help your customers navigate through your area. Publish guides on the best places for them to visit and spend time with their family or loved ones.
By doing so, you can enhance the visibility of your local hair/beauty brand.
Consistently create blogs, expert guides, videos, vlogs, and other forms of content to engage your audience.
4. Improve internal linking
Internal linking refers to pages that link strategically within your website to create a harmonious structure. This helps both search engines and visitors to navigate your site more effectively.
For a salon website, you can link the related pages, such as services, pricing, portfolio and contact information. Internal linking distributes authority and ranking power on your website, ensuring that each page has the chance to rank in search results.
Here are some tips to improve internal linking:
Add internal links wherever it helps your readers
Links between pages in the body of the article
Link from high authority pages to pages that rank almost as high
Link from high traffic pages to pages with high conversion rates
Use descriptive (and keyword-focused) anchor text in the link text
Make sure there is a call to action on every sales page
Find and fix broken internal links
Do follow links are used in internal links to keep the links flowing
Reduce the bounce rate
Links at the top of the content are valuable
5. Add Schema markup
Schema Markup is structured data you can add to your website code to provide search engines with detailed information about your salon business. This search helps the engine to understand your content better and can lead to the performance of rich snippets in the search results.
For a salon, you can use the schema markup to specify your business name, address, phone number, operating hours, services, customer reviews, and more. This data enhances your discovery appearance and the possibility of appearing in relevant local discoveries, eventually driving more potential customers to your salon.
6. Make sure that your website is mobile optimized
Is your website mobile-friendly? If not, it could significantly harm your Google search ranking. With over half of Google searches coming from smartphones, it's crucial to ensure your site displays well on mobile devices.
Visitors are likely to leave your site if it doesn't appear properly on their phones, leading to missed opportunities for engagement. Moreover, Google considers mobile optimization as a ranking factor for websites.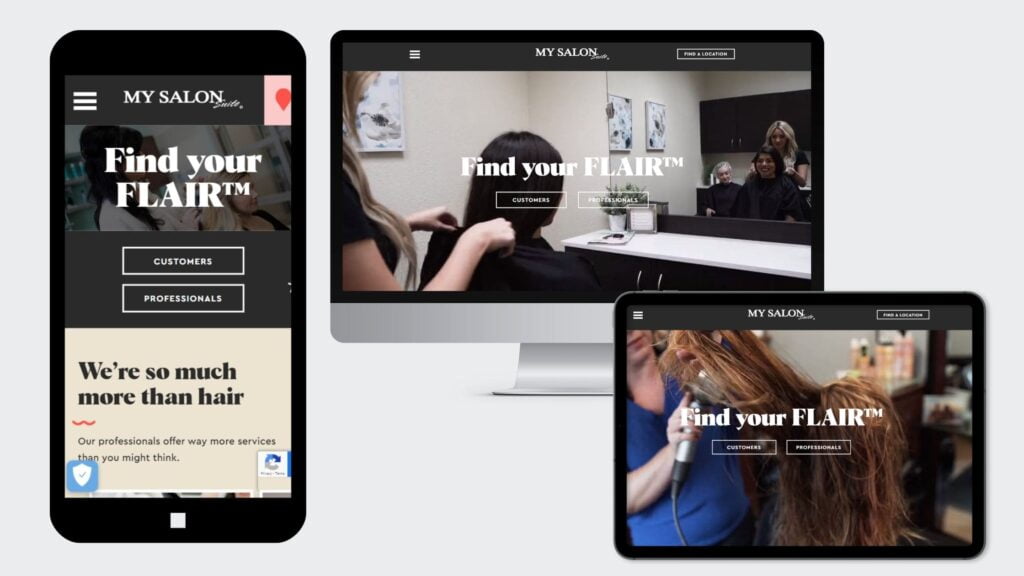 7. Make your salon website fast and secure
A loading screen exceeding three seconds can be detrimental to your salon website's success. According to Google's research, a slow-loading page increases the likelihood of users leaving by 32%. It is essential to prioritize fast loading times to retain clients and ensure a positive user experience.
Furthermore, Google favors websites that load quickly because they deliver a more valuable user experience. Therefore, optimizing your salon website's loading speed can also improve its search engine rankings.
If you notice that your salon website is sluggish and not due to the internet provider, consider checking your website hosting and the size of the images. Large image files can significantly slow down your site's loading speed.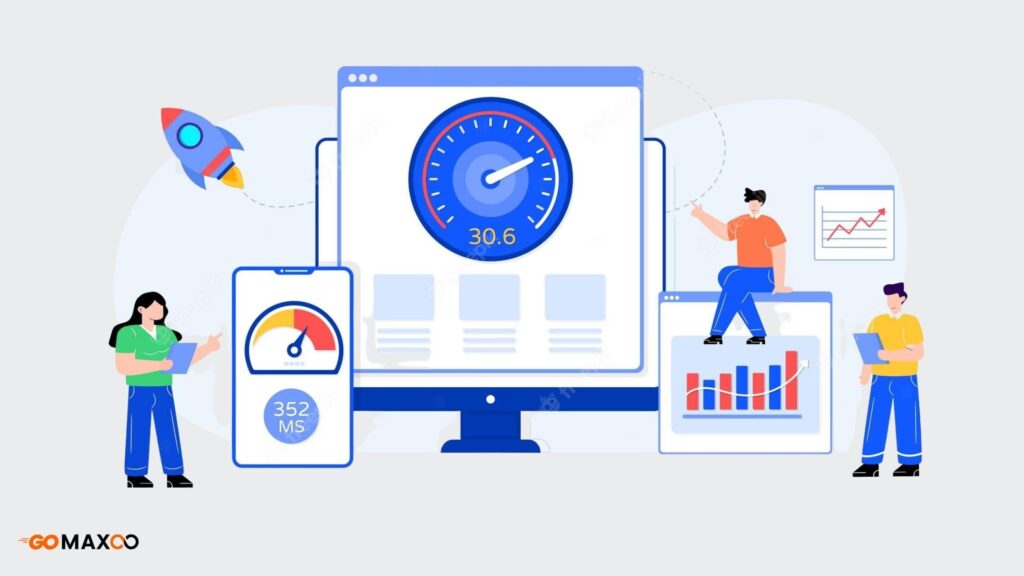 Another crucial aspect valued by Google is website security. To guarantee your clients' safety and gain Google's favor, you can obtain a security certificate free of charge. Secure websites are identified by URLs that start with "https://" instead of "http://" and may display a padlock icon next to the web address.
8. Optimize your local landing pages
Improve and make the most of the webpages on your salon's website that are specifically designed to target and engage potential customers in your local area.
To put it simply, local landing pages are pages on your website that are tailored to appeal to people searching for salon services in your specific geographical location.
Here are some SEO tips to optimize these pages:
This includes using the ingredients' page titles, heading, meta details, and space-specific keywords.
Include accurate and up-to-date contact information, business address, and operating hours.
Be sure to display customer reviews and fans, as positive responses may promote your local reliability.
Additionally, consider embedding Google Maps to help potential customers find your salon easily.
By optimizing local landing pages, you increase the possibility of being displayed in local search results, attracting nearby customers to your salon.
9. Link-Building for Your Salon
After creating top-notch and pertinent content, the next step is to focus on building a substantial number of backlinks. Backlinks refer to hyperlinked mentions from other relevant websites that direct users to your hair/beauty salon website.
These backlinks serve as a vote of confidence for your brand, coming from other websites within the industry. However, acquiring quality links isn't a walk in the park, but you can start with the following tips:
Tips for Establishing Links for Your Hair Salon Brand:
Identify and reach out to relevant industry publishers and guest bloggers, offering them free content in exchange for mentioning your salon brand.
Engage in more PR outreach and analyze your competitors' backlink profiles to discover additional link-building opportunities.
Another practical approach to building links is creating link-worthy, high-quality content that others want to refer to and mention your brand.
By implementing these strategies, you can cultivate trust for your salon brand in the eyes of both clients and search engines like Google.
10. Optimize your Google Business Profile
Another powerful SEO tip for salons is to list your business on Google Business profile, which increases your visibility significantly. The best part is it's entirely free, bringing you closer to potential clients without any cost.
Register your salon with Google, and you can provide essential information for Google Maps, Search, and other Google services. This setup is accessible from your desktop browser, Android, or iOS.
Ensure you include all the necessary details and fill in all the required information when registering. Taking full advantage of Google's visibility can help attract more clients and maximize your salon's online presence.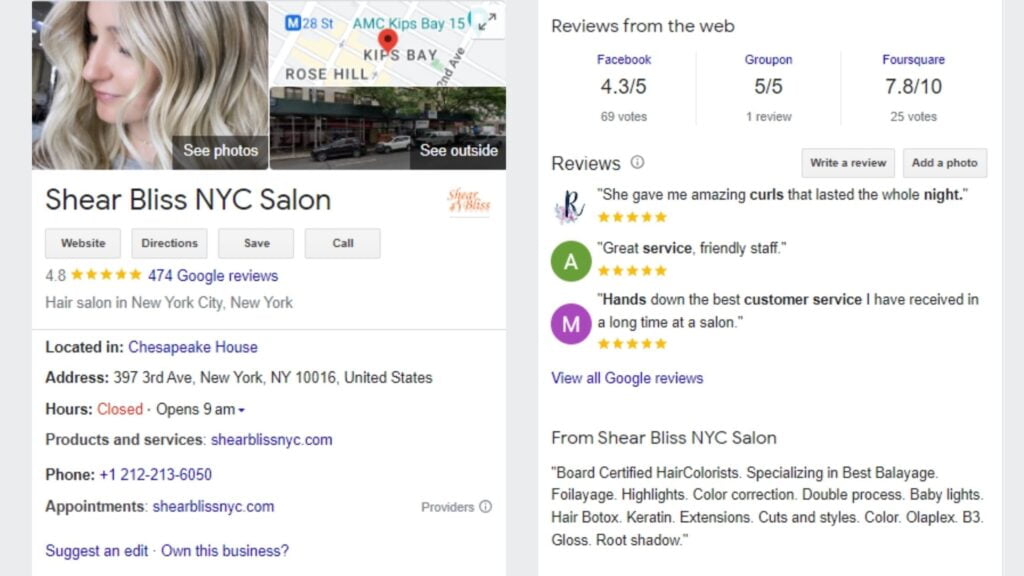 Let us know how to update Salon Business on Google Business Profile:
Sign in to Google My Business.
Locate your Salon Business in the dashboard.
Click on "Info" to edit business details.
Update salon name, address, phone number, and website URL.
Add or update business hours, including special hours.
Showcase services and offerings in the "Services" section.
Upload high-quality photos of your salon.
Respond to customer reviews in the "Reviews" section.
Utilize Google Posts to share promotions and updates.
Monitor Insights to analyze customer interactions.
Verify changes to ensure they appear on your profile.
11. Get Listed Local Business Listing Sites
Google holds the utmost authority in the realm of listings. However, aside from Google, many other websites exist where you can advertise your business for free. Among them are prominent platforms like Yelp, TripAdvisor, The Business Journals, and Apple Maps, to name a few.
These websites function as general directories, allowing you to list your business. Yet, beyond these, you can explore more localized directories by searching for the top local directories specific to your location.
In the context of local directories, Yellow Pages assume a pivotal role in bolstering your salon's online visibility. Individuals within your local area can quickly discover your services, contact information, and other pertinent details. Listing your salon on Yellow Pages heightens the likelihood of attracting local customers who depend on such platforms to find nearby salons.
12. Check your listings' accuracy
You should list your business on Google and other local directories and ensure consistent information across all listings to get your local NAP SEO right.
NAP stands for Name, Address, and Phone number, and maintaining uniformity throughout all listings is crucial when optimizing your website.
Google considers the consistency of the information you provide. If all listings convey the same details about your salon, you will be seen as trustworthy, and Google will prominently display your business in search queries.
13. Build social media presence
Social media platforms boast many users and followers, making them the backbone of many small and local brands' marketing plans. Establishing a presence on these platforms offers numerous advantages, including the opportunity to showcase social proof.
Social proof reflects other customers' experiences with your hair and beauty salon brand. To optimize your social presence and build social proof, here are some valuable tips:
Tips for Cultivating Social Proof & Enhancing Social Presence:
Foster excellent customer service to elicit more social proof. Kindly request customers leave reviews or testimonials on platforms like Google, Yelp, and other business listings.
Aim for high rankings in your hair & beauty salon's listings by encouraging customers to leave positive ratings and reviews.
Address negative reviews promptly and investigate their root causes. Additionally, encourage customers to leave reviews regularly, ensuring a steady stream of new reviews for searchers to see on your listings.
Establish a robust social media presence on platforms such as Instagram, Facebook, YouTube, TikTok, etc., to foster high interactivity and engagement among local users.
Utilize local hashtags and terms to facilitate easy discovery and engagement with your brand by local users on social platforms.
14. Install Google Analytics and Google Search Console
Google measures and rewards you based on the effectiveness of your website. However, determining user behavior on your site, such as browsing duration, visited pages, and device type, can be challenging. Fortunately, Google Analytics provides comprehensive insights into all these aspects and more.
With Google Analytics, you can gain valuable user interaction and engagement data to understand their browsing habits better. This information helps you identify areas for improvement and opportunities to enhance your website's performance.
Additionally, Google Search Console goes beyond standard analytics by providing detailed search data for your website's visibility on Google. You'll get valuable information on the search terms users employ to find your site, the frequency of clicks, and more. Such insights are indispensable for refining your Search Engine Optimization (SEO) strategies and boosting your online presence.
15. Ask for Google Reviews from Your Past Customers
Another great thing about this SEO technique for your hair salon is that your clients can leave reviews, which will be visible directly in the search results.
A massive 7% of your Google ranking is determined by your reviews on Google, Facebook, Yelp, and others, which ultimately makes sense. Why would Google want to show a salon with terrible customer service and bad reviews above another salon that clients love?
Getting lots of positive reviews should be a marketing priority for your business for SEO and general marketing purposes.
Did you know? Studies show that 76% of consumers will read up to 5 to 6 reviews before deciding whether to visit your salon.
Do salons need SEO?
Absolutely, Salons Need SEO! Here's Why:
Visibility & Ranking: SEO enhances your salon's online presence, ensuring higher search engine rankings and making it easier for potential customers to find you.
Local Targeting: By optimizing for local keywords, you attract nearby clients actively seeking salon services, boosting foot traffic and conversions.
Competitive Edge: Outrank competitors in search results, gaining a competitive advantage and becoming the top choice for potential customers.
Increased Traffic: Implementing SEO strategies drives organic traffic to your salon website, increasing opportunities for bookings and sales.
Enhanced Credibility: A well-optimized web presence builds customer trust and credibility, leading to more positive reviews and repeat business.
Long-term Growth: SEO lays the foundation for sustainable business growth, establishing a strong online presence that yields ongoing benefits.
How can an SEO agency help salons business?
An SEO Agency Impact on Salon Businesses:
Improved Online Visibility: SEO experts optimize your salon's website, increasing its visibility in search results and attracting more potential customers.
Local SEO Strategies: Specialized local SEO techniques target nearby customers, driving foot traffic and boosting local salon bookings.
Keyword Research: SEO agencies identify relevant keywords, ensuring your salon appears in searches by your target audience.
Content Optimization: They create and optimize engaging content, attracting and retaining visitors and increasing conversions.
Google My Business Optimization: Agencies optimize your GMB listing, enhancing your online presence and improving local search rankings.
Performance Analytics: SEO agencies measure campaign success utilizing data analytics, allowing informed decisions for continuous improvement.
FAQ's
How do I attract more customers to my salon?
To attract more customers, focus on providing exceptional services, offer promotions or discounts, use social media to showcase your work, collect positive reviews, and collaborate with local businesses for cross-promotion.
How do I promote my salon business?
Promote your salon business by creating a professional website, utilizing social media platforms for regular updates and engagement, offering referral incentives to existing customers, distributing flyers or brochures in the local area, and participating in community events or charity functions.
How do I get my salon on Google?
Create a Google My Business listing with accurate salon information.
Optimize the listing with relevant keywords, images, and opening hours.
Encourage satisfied customers to leave reviews on your Google My Business page.
How do I become a successful salon owner?
Focus on providing exceptional customer service to build a loyal clientele.
Stay updated with industry trends and continually improve salon services.
Network with other salon owners and professionals for insights and support.