For dental practices to grow, it's crucial to get new patients consistently. A report from Advisors suggests that each dentist needs around 22 new patients every month for business success. So, where can dental practices find these new patients?
One effective way is by focusing more on digital marketing for dentists.
Many people looking for a dentist go online nowadays, so having a strong digital presence is key. This includes your website, listings, and social media. A recent Pew Research report found that 77% of people search online for dentists and dental treatments. Most of these searches, around 84%, happen on mobile devices.
Whether you're just starting or already have some digital presence, we've gathered our top 10 dental marketing strategies based on our experience in the field.
Let's dive in…
What is Dental Marketing?
Dental marketing means the ways dentists or dental offices try to get new patients, keep in touch with current ones, or make someone new to the practice become a loyal, long-term patient.
There are different things involved in dental marketing, like:
Pay-per-click advertising
Writing blogs
Using social media
Sending emails
Doing in-person marketing
Using printed materials
Many practices use a mix of these digital dental marketing methods to connect with possible patients. The goal is for online marketing for dentists to be successful when it brings in more value (return on investment or ROI) than what was spent on it.
What Are the Best Dental Marketing Strategies?
Effective dental marketing is crucial for attracting new patients and building a successful dental practice. Here are some marketing strategies for dental practices to consider: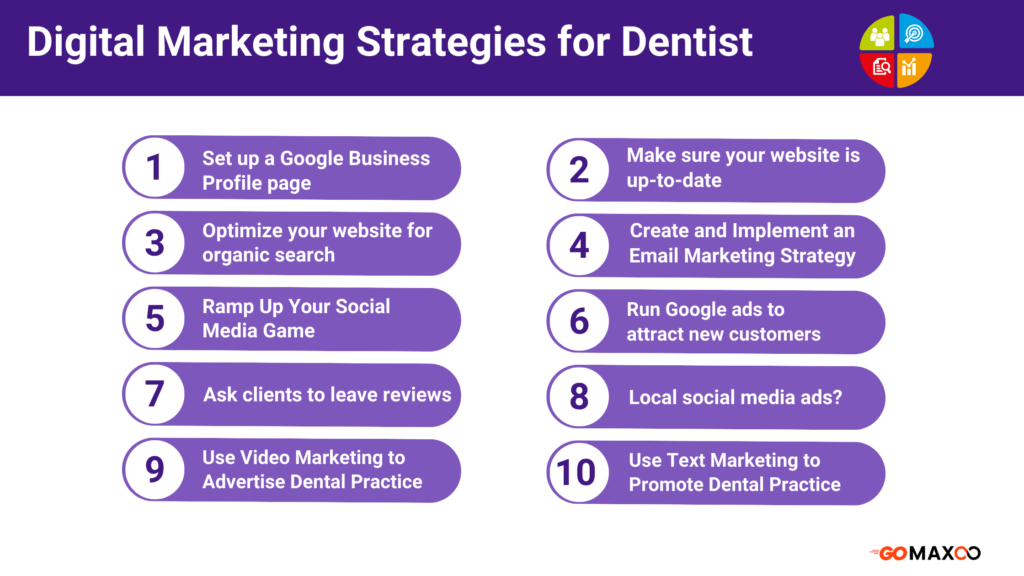 1. Set up a Google Business Profile page
Kicking off with a Google Business Profile (GBP) account is a great start for dental marketing tactics. Make your GBP listing the focal point of your local SEO plan. It's a verified spot for info about your dental spot – where it is when it's open, and some cool pictures. Google takes this info to help people find you when they're on the hunt for a dentist. So, having a detailed GBP listing boosts the chances of your practice popping up when someone is looking for a dentist.
When users search for local services such as a "dentist near me", Google provides three types of results.
Map pack results
Local Search Ads
Regular organic results
You can rank in all of them. But to be eligible for the Maps package, you need to claim Google Business Profile.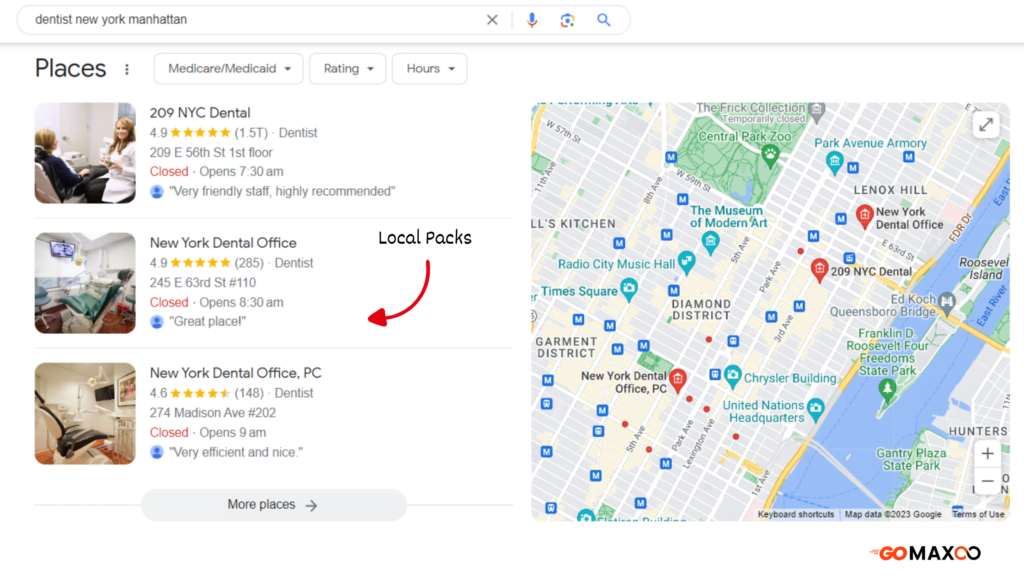 Let's explore
How to claim a Google Business Profile for a Dentist?
Visit Google Business Profile
Go to the Google Business Profile website by typing "Google Business Profile" in your preferred search engine or by visiting the URL: https://www.google.com/business/.
If you already have a Google account, sign in with your credentials. If you don't have an account, click on the "Sign In" button and create a new Google account.
Use the search bar to find your dentist's business after signing in. Please enter the name of the dental practice and the city or address where it is located. If your business appears in the search results, select it. If not, click on "Add your business to Google.
Verify your connection to the business
Google will prompt you to confirm your relationship with the business. Select the appropriate option, which will likely be "I am the business owner.
Enter your business information
Fill out the required details about your dental practice, including the name, address, phone number, and category of your business Eg: "Dental Clinic". It is important to provide accurate and up-to-date information.
Google will offer different methods for verifying your business. The most common method is verification by postcard. You'll be prompted to enter the mailing address where you would like to receive the postcard. Google will send a postcard containing a verification code to that address within a few weeks. Once you receive the postcard, follow the instructions to verify your business.
After verifying your business, you can enhance your Google Business Profile. Add additional information such as business hours, website, photos, and a description of your dental services. Provide accurate and engaging content that helps potential patients learn more about your practice.
Regularly update your profile
Keep your Google Business Profile updated with any changes in your business information, services, or operating hours. This helps patients find accurate information and improves your online visibility.
Ask your satisfied patients to leave reviews on your Google Business Profile. Positive reviews can help attract more patients to your clinic.
2. Make sure your website is up-to-date
Even if your dental office looks fantastic, having a great website is crucial. Your website is usually the first way patients interact with your clinic, and they decide what they think about it based on how the website looks and works.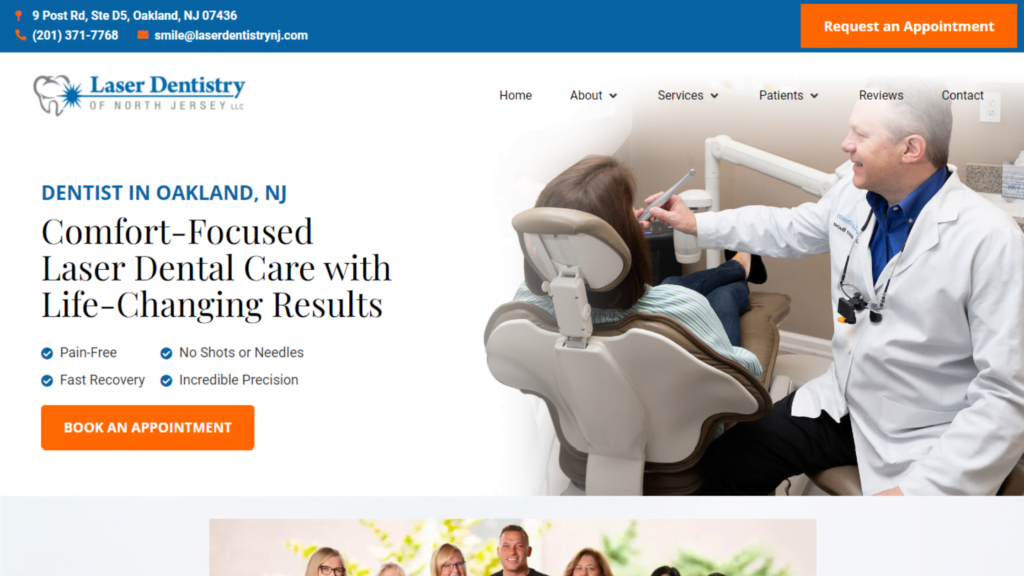 That's why making sure your website design is top-notch is crucial. You want your clinic's website to excel in a couple of key areas:
Make it easy for folks to find what they're looking for.
Share important info about your services without using fancy words.
Keep the design simple and easy to use.
Share trustworthy tips for keeping teeth healthy.
Introduce your dentists, staff, and where you work.
Help people easily schedule appointments online.
Share cool pictures and videos that teach and entertain.
Share what other people say about your clinic.
Let people pay bills, renew prescriptions, and manage accounts online.
Allow quick communication with the dentist through online chat and messaging.
3. Optimize your website for organic search
Once your website is ready and looks good, it's time to make sure people can find it easily on search engines.
Here's a simple guide for dentists to improve their website's visibility:
Make sure your website has important pages like Home, Contact, and Information.
On the Contact page, include your full details – Name, Address, Phone.
Put a Google map on the Contact page to show where you are.
Keep the same details (Name, Address, Phone) consistent on all pages.
Ensure that your location pages are easy for search engines to find.
Use phone numbers on your site that can be clicked on by people using phones.
Make sure your website is easy to use and gives a good experience.
Improve the titles and descriptions on your site to match what people search for.
Use pictures that load quickly on your site.
Add extra information to your pages using Schema markup.
If it all seems too much, think about getting help from local SEO experts.
If you find all of this a bit overwhelming, consider getting help from local SEO services. These experts can handle these tasks using the best practices to make your website more visible online.
Website Case Study: Smile Dental

Smile Dental was having difficulty getting new patients and leads due to big players in the market. Through offline marketing channels, they were unable to attract patients. In just 3 months, we helped this business bring in 160 new customers and 2820 Organic Traffic using SEO. Make a decision to skyrocket your clinic business by checking out the full case study. Learn more
4. Create and Implement an Email Marketing Strategy
For any business, having an email list is a great way to do online marketing. Emails let you directly reach your important customers without getting lost in crowded online spaces. Unlike other methods, emails don't depend on algorithms, so you have more control. Email marketing helps find new customers and stay connected with the ones you have.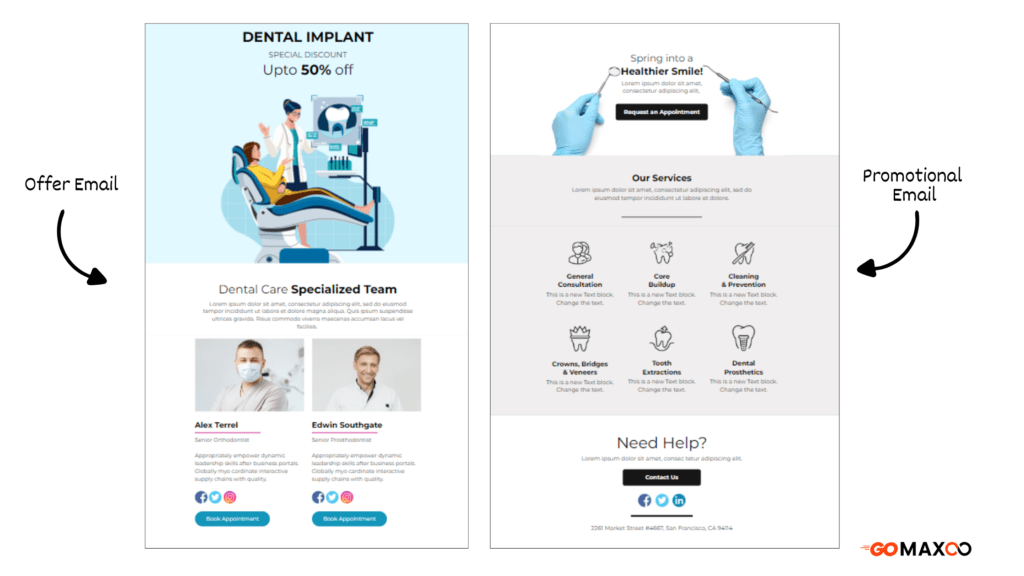 To set up an email marketing plan, follow these steps:
Pick an email marketing platform.
Collect email addresses to build your list.
Divide your list into different groups.
Make interesting content for your emails.
Design good-looking email templates.
Arrange automated campaigns for efficiency.
Craft clear subject lines for your emails.
Test and improve your campaigns.
Stick to the rules and guidelines.
Keep an eye on and understand the results.
5. Ramp Up Your Social Media Game
With over 3.5 billion active users on social media and 54% using it to research products before purchasing, leveraging these platforms is a smart dental marketing move. Notably, Facebook alone has 1.79 billion daily users.
Now, let's explore some suggestions to enhance your social media channels.
Tell people to use the dental benefits they're paying for. Lots of folks with dental insurance don't know about all the benefits, like cleanings and check-ups. This can bring in more patients and money for your practice.
Share small pictures with interesting facts that might grab someone's attention.
Make videos showing your dental work and what patients think. It proves you're good at what you do.
Show off pictures and videos of how people looked before and after getting cosmetic dentistry or braces.
Use client reviews, FAQs, and pictures of your team for posts on social media.
Put up ads on social media that target specific groups in certain places. Facebook made a lot of money from ads in 2019, so it's worth trying.
6. Run Google ads to attract new customers
Google Ads helps you create online ads that target people interested in your products or services. This works on a pay-per-click (PPC) model, where you choose specific keywords and bid on them.
For an effective Google Ads campaign, it's crucial to be highly specific. You pay a fee each time someone views and clicks on your ad. Therefore, accurate targeting is essential to focus on qualified traffic that is more likely to convert into a sale.
Related: Google Ads for Dentists in 2023 – Get More New Patients
Learn how to set up Google Ads.
Create a Google ads account
Go to the Google Ads website (ads.google.com) and sign in with your Google account.
Provide your billing information and choose your preferred payment method.
Define your campaign goal
Determine the objective of your advertising campaign, such as increasing website traffic, generating leads, or boosting sales.
Select the campaign type that aligns with your goals, such as Search, Display, Video, or App. Set the campaign name, budget, location targeting, language, and other relevant settings.
Create ad groups within your campaign to organize ads by themes or target audience segments.
Identify relevant keywords that users might search for when looking for products or services similar to yours.
Craft engaging and concise ad text that highlights the unique selling points of your products or services; include a strong call to action.
Determine how much you will pay for each click or conversion. Choose a bidding strategy that suits your goals, such as manual CPC (Cost Per Click), automated bidding, or target CPA (Cost Per Acquisition).
Develop dedicated landing pages on your website that are relevant to the ads you create. These pages should provide a seamless user experience and encourage visitors to convert.
Set up conversion tracking
Install conversion tracking codes on your website to measure the effectiveness of your ads. This will help you track conversions, such as purchases, form submissions, or newsletter sign-ups.
Review your settings, ad copy, and targeting options to ensure everything is in order. Once ready, click the "Launch" button to start running your ads.
Regularly review your campaign performance metrics, such as click-through rate (CTR), conversion rate, and return on ad spend (ROAS).
PPC Case Study: Ridge Top Dental

Ridge Top Dental was having difficulty getting new patients and leads due to big players in the market. Through offline marketing channels, they were unable to attract patients. In just 3 months, we helped this business bring in 21,00 new Leads using Google Search Ads. Make a decision to skyrocket your clinic business by checking out the full case study. Learn more
You have the option to engage the services of the top PPC Agency for Dentists.
7. Ask clients to leave reviews
If you've seen our digital marketing tips, you know we think online reviews are really important. Reviews and ratings from real patients are like valuable coins that show both people and search engines how good our practice is.
Getting and responding to reviews regularly is not always easy. Some dental practices just ignore their reviews. But having lots of recent positive reviews is like getting free advertising.
A lot of people, about 80%, trust online reviews as much as they trust recommendations from friends and family. And get this, almost half of patients would pick a dentist with great reviews even if they are not in their insurance network.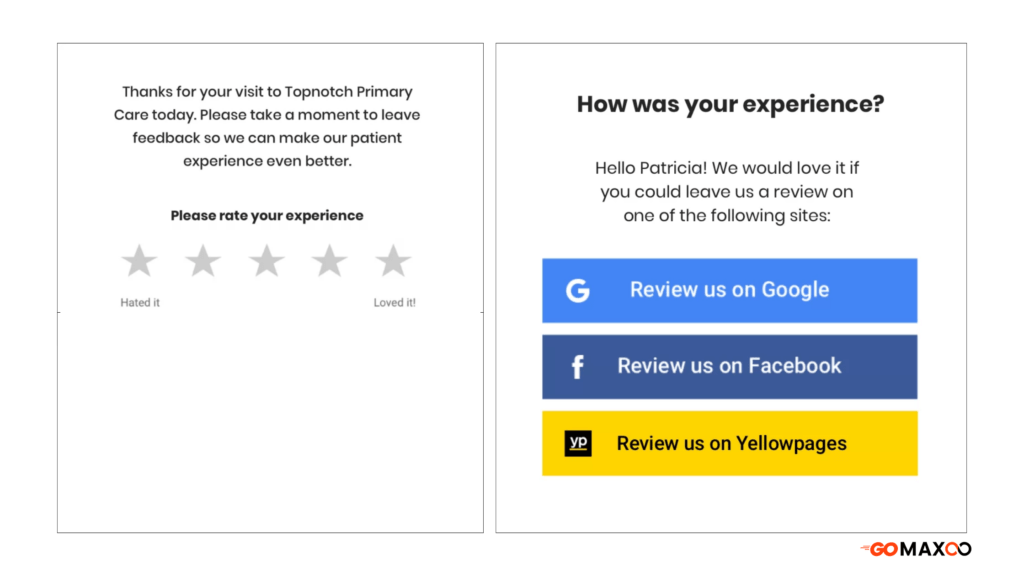 The Best Way to Generate Consistent Reviews
Just ask! It's okay to ask for reviews and make it normal for your staff to do so.
Find good times during the patient journey to ask for feedback.
Ask right after the patient visit when it's still fresh in their memory.
Send the request where people spend a lot of their time, like on their phones.
Make it super easy for patients to leave feedback.
Personalize the request with the patient's name and the name of the practice.
Ask for reviews on the platforms you want to improve the most and focus on sites patients actually use.
Plan how you'll respond to both good and not-so-good reviews.
Share positive reviews on social media and your website.
8. Local social media ads?
Social media advertising is a cost-effective digital marketing strategy that offers a great return on investment compared to traditional advertising channels.

It allows businesses to create and run ads on social platforms, such as Facebook, Instagram, Twitter, LinkedIn, YouTube, and TikTok, to reach their target audience.
These ads can be highly customized to reach specific audience segments and can be optimized for various objectives, such as lead generation, and website traffic.
Social media advertising ensures precise control over ad placement, timing, and audience segmentation, delivering immediate visibility and engagement with the audience
Some Core Benefits:
Targeted reach: Reach potential patients in your local area precisely and accurately.

Cost-effective: Maximize your marketing budget by focusing on a specific geographical area
Local brand awareness: Build a strong brand presence among local communities and foster trust.
Target users within a specific radius of your dental practice, ensuring your ads reach the right audience.
Remarketing opportunities
Retarget users who have shown interest in your services, increasing the chances of conversion.
9. Use Video Marketing to Advertise Your Dental Practice
Making videos is a fast way to connect with people. If you're not sure, we've talked about it a lot in our guide on how healthcare marketers can use video better. Let's look at some important points:
About 75% of people in the US use social media to watch videos.
Every day, around 60 billion people in the US watch YouTube.
About 56% of people who use the internet watch videos on platforms like Facebook, Twitter, Instagram, or Snapchat every month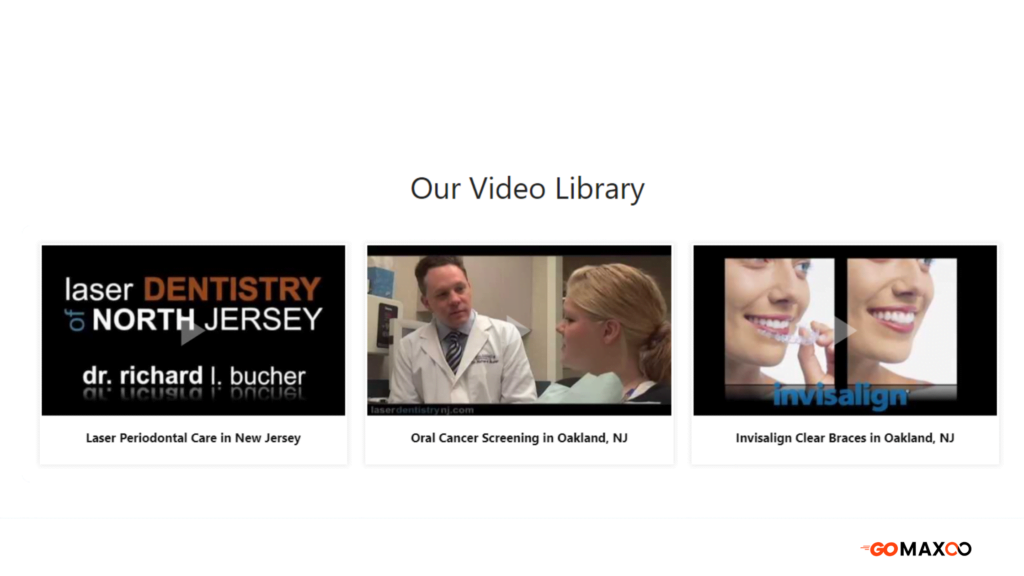 How to Make Videos and Where to Put Them
Making videos is important, but it can take time and resources. However, you don't need fancy equipment; a tripod, microphone, and a modern smartphone will do. Keep video editing simple, and if needed, hire a professional.
Remember user-generated content (UGC)! You can easily share content about dentistry by interacting with posts from your patients. Engage with posts where patients tag you to make the content work for you.
Focus on four main channels for your videos:
Facebook
Instagram
YouTube
TikTok
10. Use Text Marketing to Promote your Dental Practice
Using text marketing to promote your dental practice involves sending promotional messages, appointment reminders, and care information to your patients via SMS.
This strategy can help:
Increase patient engagement.
Improve communication, and
Attract new patients to your practice.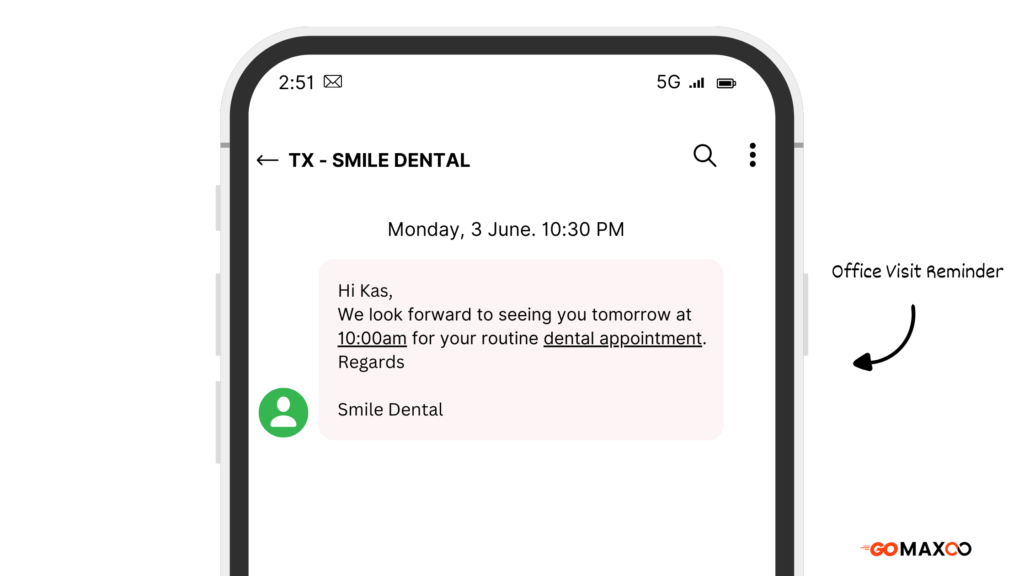 Text marketing allows you to quickly share updates, offer special deals, and prompt patients to focus on preventative dental care.
It's a highly effective and convenient way to reach and engage with your patients, with open rates of 98% and an open rate of 98%. By leveraging text marketing, you can enhance patient communications, improve satisfaction, and grow your dental practice effectively.
Why Digital Marketing is Important for Dental Practices
Wondering why digital marketing matters, especially if you're already using traditional methods? Well, it's the way to go now and in the future. If your dental practice isn't using digital marketing, you might be falling behind others in your area.
Over 70% of consumers prefer learning about products through digital content, not traditional ads. Also, digital marketing leads to about 50% more interactions with patients compared to traditional methods.
Marketing for dentists is a more cost-effective and successful strategy. While both techniques have their benefits, focusing on digital marketing can keep you from losing patients to other dental practices and help your practice keep growing and succeeding.
Here we have listed some of the top reasons why digital marketing is important for dentists.
With digital marketing, dentists can be easily found online, making it simple for people to learn about their services.
Digital marketing lets dentists reach the right audience by using tools that focus on specific groups, making their advertising more effective.
Dentists can engage with patients through social media marketing, like Facebook and Instagram, by sharing helpful content and building a community.
Share Useful Information:
By creating and sharing informative content online, dentists can showcase their expertise and build trust with patients.
Positive online reviews, encouraged through digital marketing, can enhance a dentist's reputation and attract new patients.
Digital marketing is cost-effective, offering alternatives to expensive traditional advertising methods.
Easy Appointment Booking:
Online tools make it convenient for patients to schedule appointments and receive timely reminders.
Embracing digital marketing gives dentists a competitive edge, keeping them ahead in a changing market.
In short, digital marketing helps dentists connect with patients, build credibility, and grow their practice in today's digital age.
What Are the Marketing Facts for a Dentist?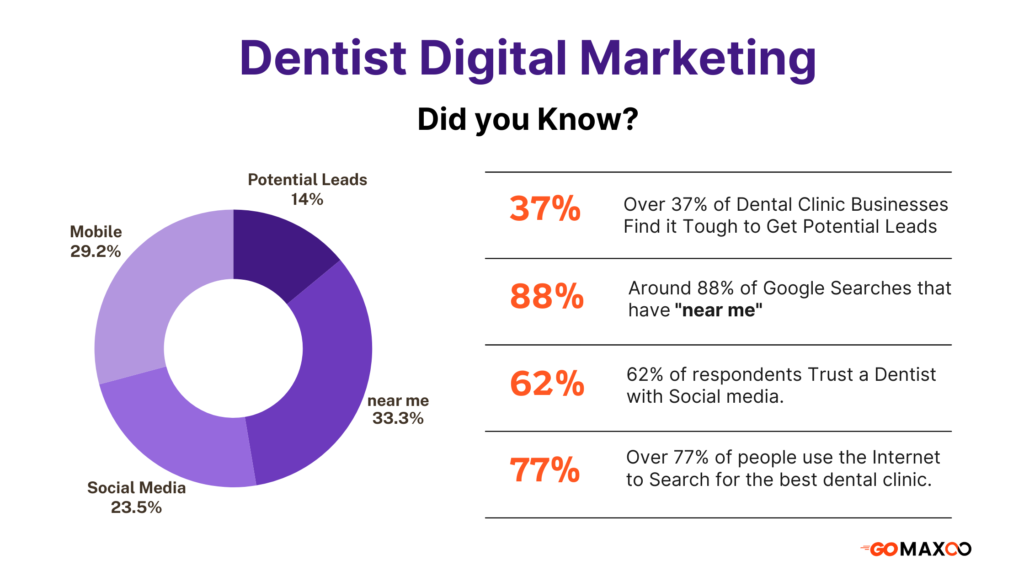 Digital marketing is crucial for businesses, including dental clinics, to succeed.
Research shows that more than 37% of dental clinics face challenges in attracting the right traffic and generating leads.
About 77% of patients now use the internet to find trustworthy dental clinics.
Nearly 88% of Google searches include the keyword "near me."
Embracing digital marketing strategies is increasingly important for dental clinics to thrive in the digital era.
How a Dentists Marketing Agency Can Help Your Business
A dentist's marketing agency can optimize your website, improve its visibility on search engines, and employ social media strategies to attract more patients, increasing your Local online presence and credibility.
Targeted advertising campaigns
With a deep understanding of your ideal patient demographics, a dental marketing company creates targeted advertising campaigns. By reaching the right audience through platforms like Google Ads and social media, they generate quality leads, increasing the likelihood of new patient appointments.
Engaging content creation
A skilled dental marketing agency develops compelling content that educates and engages potential patients. Producing informative blog posts, captivating social media posts and interactive videos establishes your expertise, builds trust, and encourages patient engagement.
Online reputation management
Reputation is crucial in the healthcare industry. A dental marketing agency monitors and manages your online reputation by responding to patient reviews, promoting positive feedback, and addressing any negative feedback promptly. They help maintain a positive image, fostering patient trust and loyalty.
Through advanced analytics tools, a dental marketing company provides valuable insights into the performance of your marketing campaigns. They track key metrics such as website traffic, conversion rates, and patient demographics, allowing you to make informed decisions and optimize your marketing strategies for better results.
Key Considerations Before Choosing a Dentists Marketing Agency
Expertise: Look for a digital dental marketing company with a proven track record in the dental industry.
Targeted strategies: Ensure the agency understands how to reach and engage your target audience.
Reputation: Consider the agency's reputation and patient testimonials to gauge their credibility and satisfaction.
Dental industry knowledge: Prioritize an agency that understands the unique challenges and trends in the dental field.
Customization: Opt for an agency that tailors their strategic dental marketing to meet your dental practice's specific needs and goals.
Analytics and reporting: Ensure the agency provides detailed analytics and reports to track the effectiveness of its marketing efforts.
Cost-effectiveness: Evaluate the agency's pricing structure to ensure it aligns with your budget while delivering quality marketing results.
How does Google Ads work for attracting new patients to dental practices?
Google Ads helps dental practices display targeted ads to potential patients based on keywords, location, and demographics, driving traffic to their websites.
What are the key platforms for sharing dental-related videos?
YouTube and social media platforms like Instagram and Facebook are effective for sharing dental-related videos, reaching a broad audience and engaging potential patients.
How can dentists improve their website's visibility on search engines?
Dentists can enhance website visibility by optimizing content with relevant keywords, improving site structure, ensuring mobile-friendliness, and obtaining backlinks from reputable sources.
What are the common challenges dental clinics face in marketing?
Dental clinics often face challenges in online competition, patient trust-building, effective content creation, and navigating advertising regulations.
How soon can I expect to see results?
The speed at which you see results will depend on a number of factors, including your individual goals, your starting point, your level of effort, and your consistency. However, in general, you can expect to see some results within a few weeks, and more significant results within a few months.