Digital marketing is essential for lawyers to generate client leads and expand their law firm's business. You could overlook significant online marketing opportunities if you only depend on attorney referrals to acquire more clients.
Keep reading to discover further insights into digital marketing strategies for lawyers, their significance, and how to implement them to achieve your objectives effectively.
This concise guide will give you an understanding of the diverse digital marketing strategies tailored specifically for lawyers.
let's get start
What is digital marketing for lawyers?
Digital marketing for lawyers involves implementing established best practices to enhance the visibility of your law firm and website online. Its objective is to attract new clients, strengthen relationships with existing clients, encourage repeat business, and expand your reach in the digital ecosystem.
Online marketing is significant in mature, competitive markets like major metropolitan areas. In such markets, when potential clients search for a law firm in your practice area, they are met with numerous options, possibly dozens or even hundreds. If your firm doesn't appear at or near the top of the list alongside other successful businesses, the likelihood of earning their business becomes minimal.
Please take a moment to perform a quick Google search for "Law firm + your city" or "Lawyers + city in your service area." If your business doesn't appear at the top of the search results, there's a considerable risk of being completely overlooked, especially if your competitors outperform you.
What are the benefits of digital marketing for lawyers?
Lawyers use digital technologies to generate income and streamline operations. Digital marketing has changed how businesses operate, giving law firms new opportunities
In the digital age, individuals heavily rely on Google to find relevant information or services. They frequently search for specific lawyers or law firms, using phrases like "lawyers near me" and "law firm near me." You risk losing many potential clients if your law firm isn't visible in Google search results.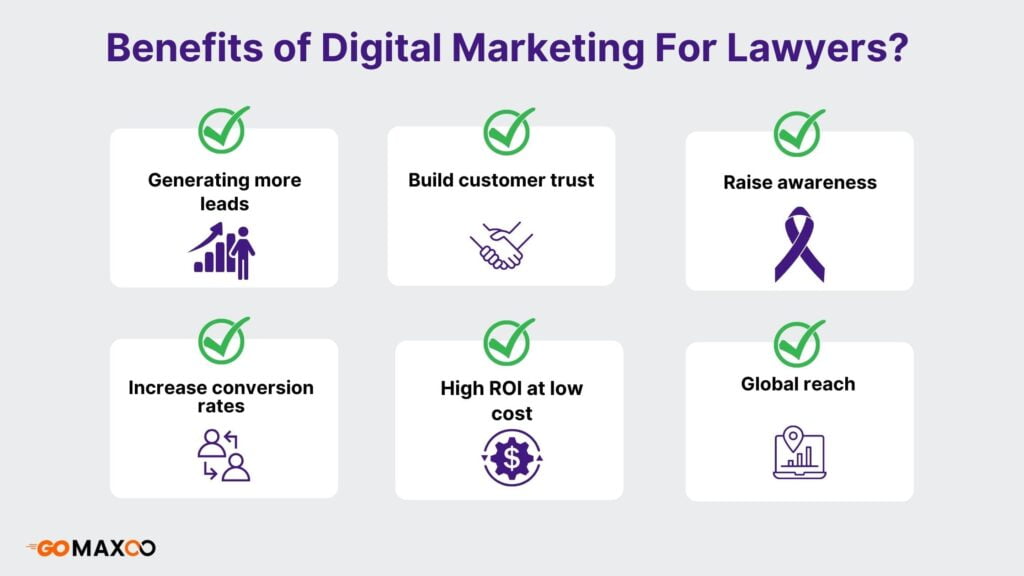 Here are some benefits of digital marketing for lawyers:
Generating more leads: Digital marketing helps lawyers attract and connect with potential clients, increasing their chances of obtaining new cases.
Build customer trust: Establish credibility and confidence among potential clients through digital marketing strategies.
Raise awareness: Increase the visibility and recognition of your law firm and services online.
Increase conversion rates: Optimize digital campaigns to convert prospects into clients effectively.
High ROI at low cost: Achieve significant returns on investment with cost-effective digital marketing tactics.
Stay ahead of the competition: Embrace digital marketing to outperform competitors in the legal industry.
Efficiently monitor campaigns: Easily track and analyze the performance of digital marketing efforts.
Global reach: Extend your law firm's reach beyond borders and attract international clients through digital marketing.
What are the digital marketing strategies for lawyers?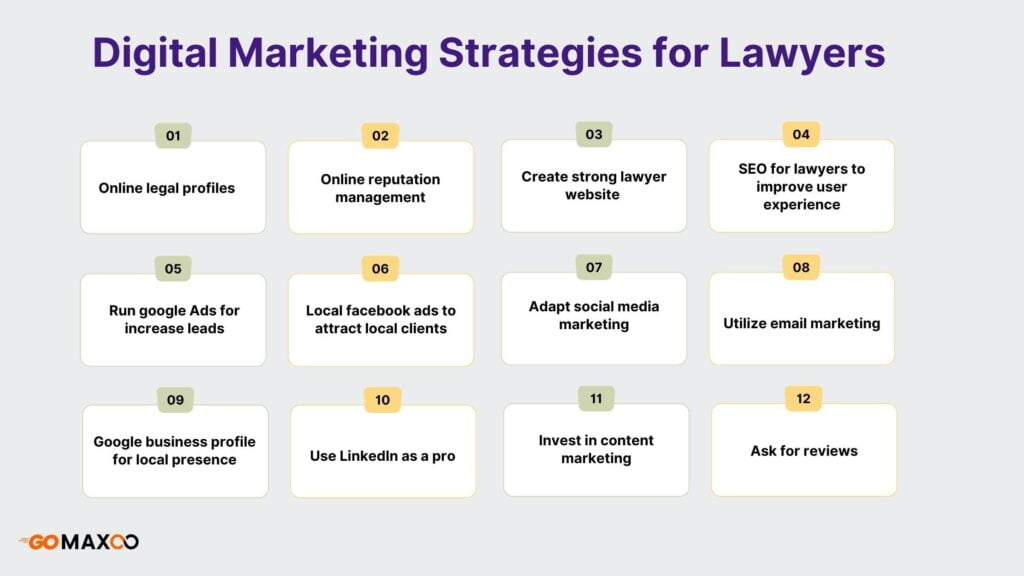 1.Online legal profiles
The benefits are immense when potential clients find your legal profile in search results on various lawyer directories, such as:
Lawyers.com
lawrato.com
vakilsearch.com
pathlegal.in
superlawyers.com
lawtendo.com
A clear and unique online presence can significantly increase new clients searching for legal advice, presenting a great opportunity to attract fresh business. Online legal directories receive millions of monthly visits from consumers seeking legal assistance.
2. Online reputation management
Maintain consistent messaging; use the same tone as your website. A compelling online profile can attract new clients seeking legal help. Millions visit legal directories monthly, presenting ample opportunities to gain clients.
In the past, prospective clients sought legal services by calling local law firms, making hiring decisions based on that interaction. Nowadays, clients rely on the Internet and online reviews.
Did you know? About 90% of consumers make decisions based on these reviews
If your law firm has negative reviews, clients may hesitate to do business with you. On the other hand, positive five-star reviews build confidence in your ability to handle their legal needs.
Hence, managing your law firm's online reputation is crucial. Reputation management is vital to legal SEO, pay-per-click ads, and other outreach efforts.
3. Create strong lawyer website
In the growth strategies of lawyers, law firm websites are of utmost importance. A good user friendly website website should work seamlessly across different platforms and should incorporate effective search engine optimization techniques. Without a searchable lawyer website, all efforts become futile.
Below are the criteria used to identify the best law firm websites:
Website Design and Branding: Initial impressions determine whether potential customers stay, explore more pages, and reach you or leave for competing sites.
Website UI/UX: User interface includes the interaction between visitors and the system, while user experience includes overall satisfaction with the brand.
SEO Performance: SEO measures the visibility of a law firm's website in search engines. Missed business opportunities by not appearing on the first page of Google for relevant searches.
4. SEO for lawyers to improve user experience
At the core of most digital marketing strategies lies search engine optimization (SEO). It involves enhancing your website's quality and user experience to achieve higher rankings on search engine results pages (SERPs) like Google's.
Why is this crucial?
Did you know? Studies suggest that around 96% of consumers use search engines when seeking legal services, with Google accounting for approximately 90% of online searches.
Gone are the days of consulting Yellow Pages for lawyers; prospective clients now search online, and most do not go beyond Google's first page. Your law firm website must rank on Google's first page to maximize digital exposure and generate significant web traffic.
THE ANATOMY OF GOOGLE'S FIRST PAGE:
When entering a search on Google, you'll encounter three main elements:
Paid Ads: These top spots are obtained through the Google Ads auction system and are marked with an "Ad" box next to the URL.
Local Pack: Appears on searches with local intent and features a map with relevant local businesses. (e.g., "lawyers near me" or "personal injury lawyer")
Organic Results: These results are most relevant to users' queries, and higher-ranking pages are up to 35% more likely to get clicks than lower-ranking ones.
Ranking on the first page leads to increased website traffic, more leads, and a higher caseload for your law firm.
5. Run google Ads for increase leads
Pay-per-click (PPC) is an online advertising method where businesses pay the host (e.g., Google) for ad clicks on their platform.
There is a fee for each click, but no clicks means no cost.
Google Ads is the leading PPC platform.
On Google:
63,000 searches per second
3.8 million searches per minute
228 million searches per hour
5.5 million searches per day
These numbers indicate consumers actively search for information, products, and services online using keywords. Your law practice can leverage PPC to target relevant keywords and reach potential clients searching for legal services in your area.
PPC campaigns place your ads at the top of search results, providing valuable exposure. You only pay when users click your ad, making it an efficient and cost-effective digital advertising approach.
How to run google ads?
Set Up a Google Ads Account: Go to Google Ads (ads.google.com) and sign in or create a new account.
Define Campaign Objectives: Determine your advertising goals, such as increasing website traffic, generating leads, or promoting specific services.
Target the Right Keywords: Conduct thorough keyword research to identify relevant search terms for your law firm's practice areas.
Create Compelling Ad Copy: Craft persuasive ad text that includes keywords and highlights your unique selling points.
Set Budget and Bidding Strategy: Decide on your daily or monthly budget and choose a bidding strategy that aligns with your objectives.
Choose Geographic Targeting: Specify the locations where you want your ads to appear, targeting relevant local or regional areas.
Create Landing Pages: Develop dedicated and user-friendly landing pages on your website that align with your ad content.
Utilize Ad Extensions: Enhance your ads with extensions like call extensions, site links, and location extensions to provide additional information to users.
Monitor Performance: Regularly analyze your ad campaign's performance to identify opportunities for improvement.
Optimize and Refine: Based on data and insights, make necessary adjustments to your keywords, ad copy, and targeting to optimize your campaign's effectiveness.
Comply with Legal and Ethical Standards: Ensure your ads adhere to legal and ethical guidelines for lawyer advertising in your jurisdiction.
A/B Test: Experiment with different ad variations and landing pages to identify the most effective combinations.
6. Local facebook ads to attract local clients
Using local Facebook ads is an effective way for lawyers to attract local clients. Facebook Ads Manager offers valuable tools to create targeted ads with specific objectives, demographics, and locations. You can set daily or lifetime budgets to monitor your ad spending, making it a cost-effective advertising method.
With Facebook ads, you can reach a defined audience and track clicks efficiently.
To attract local clients for lawyers using local Facebook ads, follow these steps:
Define Your Target Audience: Identify the specific demographics and location of your ideal local clients, such as age, gender, interests, and geographic area.
Set Up a Facebook Business Page: Create a professional and informative Facebook page for your law firm.
Choose Ad Objective: Select a Facebook ad objective that aligns with your goals, such as "Reach," "Local Awareness," or "Lead Generation."
Geo-Target Your Ads: Use Facebook's location targeting to focus your ads on the desired local area where you offer legal services.
Craft Compelling Ad Content: Create engaging ad copy and visuals highlighting your law firm's expertise, services, and unique selling points.
Utilize Call-to-Action (CTA) Buttons: Include clear CTA buttons in your ads, such as "Contact Us," "Learn More," or "Call Now."
Select Ad Placement: Display your ads in the Facebook News Feed and on Instagram, reaching a wider local audience.
Set Budget and Schedule: Determine your daily or lifetime budget and schedule the ad's duration to align with your marketing strategy.
Monitor and Optimize: Regularly analyze ad performance metrics, such as reach, engagement, and conversions. Optimize your ads based on the data to improve effectiveness.
Engage with Potential Clients: Respond promptly to comments, messages, and inquiries from potential clients on your Facebook page.
Use Local Testimonials and Case Studies: Share success stories from satisfied local clients to build trust and credibility.
Follow Legal Advertising Guidelines: Ensure your ads comply with the legal and ethical standards for lawyer advertising in your jurisdiction.
7. Adapt social media marketing
Many lawyers are familiar with social media but fail to realize its business potential fully. Social media for attorneys is a crucial element of online marketing that's here to stay. If you're not active on social media, observe your competitors' channels to learn from their interactions with audiences.
Did you know? "Around 70% of Americans are on social media, with increased usage among older adults."
Lawyers can leverage social media in various ways, such as sharing information, engaging with the community, and participating in groups.
The benefits of using social media for lawyers include:
Engaging in dialogues with the community and prospective clients.
Building brand awareness.
Publishing unique content.
Driving traffic to the law firm's website.
Sharing news and commentary.
Promoting community involvement and charitable activities.
Connecting with potential clients.
How to Success in Social Media:
Start by auditing your Facebook, Twitter, LinkedIn, and Instagram platforms. Implement social media best practices to maximize your law firm's online presence, including:
Publish regularly: Consistent posting keeps your audience engaged and informed about your legal services and expertise.
Interact with your social media audience: Respond promptly to comments, messages, and inquiries to build relationships and trust.
Create unique content that offers value: Share informative and valuable content, showcasing your legal knowledge and addressing client concerns.
Use humor occasionally and carefully: Inject humor sparingly, ensuring it aligns with your brand identity and doesn't detract from your professionalism.
8. Utilize email marketing
Lawyer email marketing can sometimes be overlooked amidst modern online marketing strategies. However, it remains an essential aspect of brand building.
Email campaigns offer a straightforward and effective means to connect with clients. Using customer relationship management tools, you can create customized email lists, automate messages, and foster trust with your target audience. Follow up with past clients, send birthday wishes, or prompt site visitors to schedule consultations through email marketing.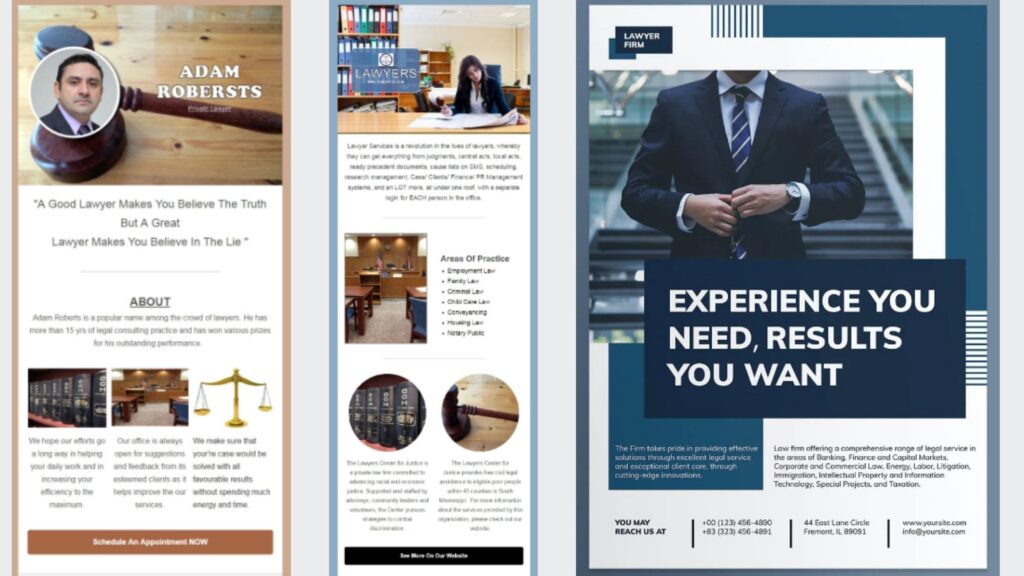 Benefits of email marketing for lawyers:
Effective communication: Email marketing lets lawyers stay in touch with clients, providing updates, news, and valuable information.
Building trust: Consistent email communication fosters trust and credibility with the audience, leading to better client relationships.
Customization: Lawyers can create personalized email lists and tailor messages based on clients' interests and needs.
Automation: Automation tools enable scheduled and timely email delivery, saving time and effort in managing campaigns.
Client retention: Email marketing helps retain clients by nurturing ongoing relationships and encouraging repeat business.
Increased referrals: Satisfied clients may forward emails to others, leading to potential referrals and expanding the client base.
Cost-effective: Email marketing is a cost-efficient way to reach a wide audience compared to traditional advertising methods.
Measurable results: Email marketing platforms offer detailed analytics, allowing lawyers to track open rates, click-throughs, and campaign success.
9. Register in google business profile for local presence
Google Business Profiles simplify the management of law firms' listings in Google search results. An important factor for local visibility is ensuring you have a consistent company name, address and phone number on your website and across the web. Any discrepancy will prompt Google to rank them separately, reducing consistent web visibility and cumulative gains.
Consider the following scenario: You need a local attorney or law firm in your city. What steps will you take?
If you're like me, you input "lawyer near me" or "law firm in New York" into a Google search. Then, Google works its magic and displays the results as follows:
Let's see how to set up a Google Business Profile for lawyers:
Sign in to google: Use your Google account to access Google Business Profile (GMB).
Create a new business profile: Enter your law firm's name, address, phone number, website, and other relevant details.
Choose a business category: Select the category that best represents your legal services.
Verify your business: Google will prompt you to verify your law firm's listing through a postcard, phone call, or email.
Provide accurate information: Ensure all details, such as your name, address, and phone number, match your website and other online platforms.
Add essential information: Include your law firm's hours of operation, accepted payment methods, and service areas.
Upload Photos: Add high-quality images of your law firm, team, and office to enhance your profile's appeal.
Monitor and Engage: Regularly check your Google Business Profile, respond to reviews, and engage with potential clients' inquiries.
10. Use LinkedIn as a pro
LinkedIn is a platform for business professionals designed to enhance your professional brand and connect with the legal and business communities of your choice.
Enhance your LinkedIn profile with eye-catching graphics (matching your website), references, case history and successful decisions to attract referrals and ensure your firm is memorable when seeking legal services.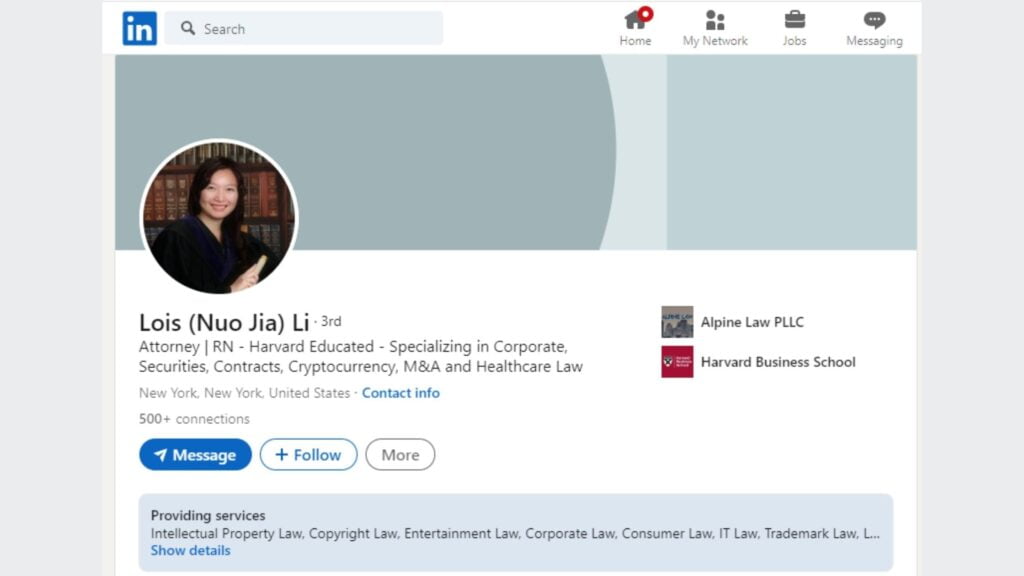 For an effective profile, follow these techniques:
Maintain a professional LinkedIn profile.
Use a concise and informative headline.
Craft a compelling summary (often the first thing seen).
Opt for professionally shot profile photos matching your website.
Learn from other successful LinkedIn legal professionals.
Join relevant LinkedIn groups, such as the American Bar Association.
Connect with all your professional contacts.
Utilize the mobile app, as mobile use has surpassed desktop.
Avoid labeling yourself as a specialist or expert to comply with ethics guidelines.
11.Lawyers chat services for potential clients
Numerous business and professional websites now utilize live chat services to convert online visitors into potential customers. Live chat is an automated chatbot available 24/7, addressing visitors' inquiries promptly.
You engage with potential customers through live chat as they browse your website. Pop-up chats display visitors' interest levels, potentially converting them into paying customers.
Benefits of chat bot for lawyers:
Improved Client Engagement: Chatbots enhance interaction with website visitors, providing quick responses to their queries, increasing engagement, and fostering a positive user experience.
24/7 Availability: Chatbots operate round-the-clock, ensuring clients receive instant assistance and information anytime, regardless of office hours, enhancing customer satisfaction.
Time and Cost Efficiency: Chatbots streamline communication processes, saving time and resources by handling routine inquiries and freeing up lawyers to focus on more complex matters.
Personalized Responses: Chatbots can be programmed to provide personalized responses based on visitors' needs, creating a tailored experience that resonates with potential clients.
Lead Generation: Chatbots can collect essential contact information from users, enabling lawyers to nurture leads and turn them into potential clients through targeted follow-ups.
Increased Conversion Rates: By promptly addressing clients' concerns and guiding them through the initial stages of their legal journey, chatbots contribute to higher conversion rates and successful client acquisitions.
12.Invest in content marketing
Amid the pandemic, law firms adopted digital marketing and invested in content marketing due to limited facetime with clients. Concerned about maintaining connections, they turned to digital strategies for effective client engagement.
Now, law firms are questioning, "Is this content suitable?" "What is the ROI of our content?" and "How can we ensure it aligns with our client's preferences?"
Content marketing presents chances to draw new traffic and leads to your law firm, directly influencing search engine optimization (SEO).
Content marketing for law firms aids lawyers in connecting with their local community and generating leads through valuable insights and practical advice.
Through blogs, social media, video channels, newsletters, and more, content can attract new audiences, showcase successes, and boost your caseload.
When individuals face legal issues or have doubts about the law, they seek out experts, and Google is often their first stop. Content marketing for law firms plays a vital role in addressing these needs.
"Enhance your content's SEO by increasing word count and publishing informative pieces covering topics comprehensively. If competitors create 3,000-word pages, Google may rank your content upper."
13.Youtube marketing
YouTube marketing has evolved into a crucial channel for capturing prospective clients' attention, utilized by various businesses, including law firms.
Depending on your approach, legal video marketing on YouTube can be free or cost-effective. Moreover, it offers a high ROI, making it a profitable strategy for law firms.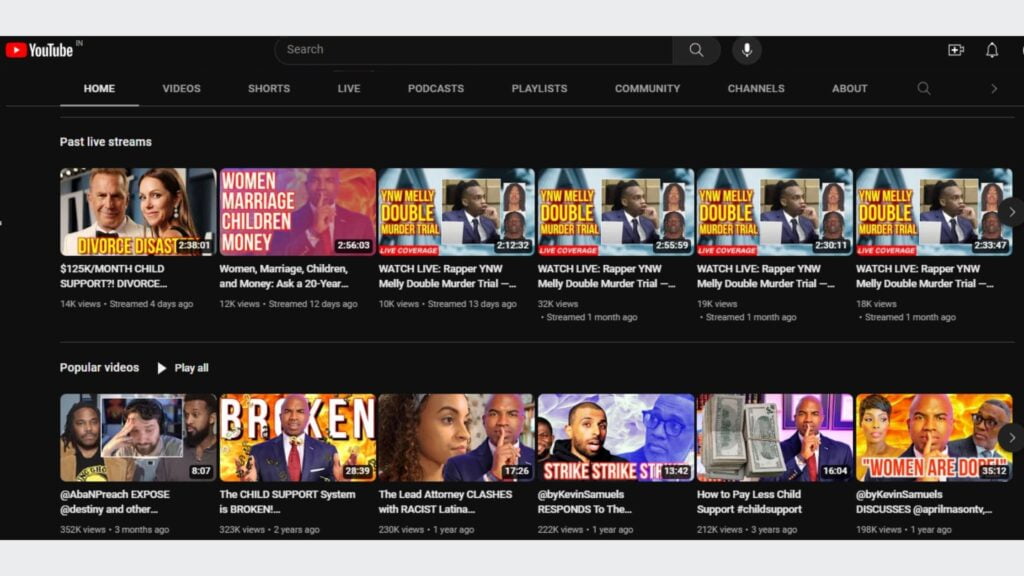 Legal video marketing on YouTube offers multiple benefits:
Enhances brand awareness and conversion rates
Attracts more leads
Makes your law firm more approachable
Persuades potential clients you're the right firm for the job
Improves your search engine ranking
The most successful law firm video marketing campaigns feature:
Explainer videos: Concise videos simplifying complex legal concepts, like "What does probate mean?"
Testimonials: Videos of satisfied clients sharing how the firm resolved their legal issues.
Need-to-know advice: Educational videos addressing crucial aspects of specific legal scenarios, such as why you need a lawyer if you've been arrested.
Branded/commercial videos: Traditional advertisements showcasing your firm's expertise and strengths.
Your digital marketing agency can assist in conducting competitive research to develop a strategy based on the success of other firms' video concepts.
14.Ask for reviews
Positive reviews on lawyer review sites are crucial for online and local businesses, acting as potent social proof and an effective marketing tool. Prospective clients gain confidence in your ability to handle legal challenges when they see positive feedback from previous customers. To acquire more reviews, simply ask satisfied clients to share their experiences on Google or your preferred platform, allowing others to see their feedback.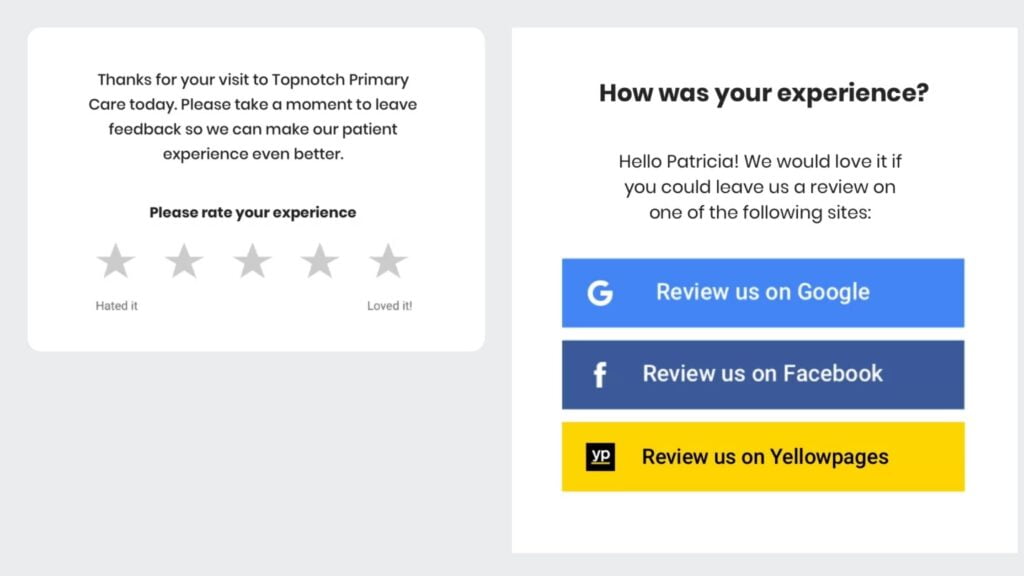 The solution is straightforward: Just ask. When concluding business with a satisfied client, request them to leave a review on Google or your chosen platform to share their positive experience with others.
15. Clients referral
Client referrals are when satisfied clients recommend or refer a lawyer's services to others. This form of word-of-mouth marketing is highly valuable for lawyers, as it can lead to new clients and increased business opportunities.
When clients have a positive experience with a lawyer and are happy with the services they receive, they may refer their friends, family members, or colleagues who need legal assistance.
This type of referral marketing is powerful because it comes from a trusted source and can build a lawyer's reputation and credibility within their community. Lawyers can encourage client referrals by providing exceptional service, maintaining strong relationships with clients, and actively seeking feedback and testimonials from satisfied clients to showcase their expertise and success in their practice areas.
Why do lawyers need a digital marketing agency?
Lawyers need a digital marketing agency to leverage the power of online platforms and grow their practice. Here are some strong reasons to consider partnering with a digital marketing agency:
Expertise: Agencies have specialized knowledge and experience in legal marketing, ensuring effective strategies.
Time savings: Delegating marketing tasks to professionals lets lawyers focus on core legal work.
Targeted campaigns: Agencies can create precise campaigns to reach the right audience at the right time.
Competitive advantage: A well-executed digital strategy can help lawyers stand out in a crowded market.
Measurable results: Agencies provide analytics to track the performance of marketing efforts accurately.
Adaptability: Digital agencies can adjust strategies quickly to respond to changes in the legal landscape.
How can a digital marketing agency help lawyers?
A digital marketing agency can be a game-changer for lawyers by leveraging cutting-edge strategies to enhance their online presence and attract a wider clientele. Here are some strong points illustrating how such an agency can help lawyers succeed in the competitive legal landscape:
Targeted Advertising: Precise online ads based on demographics and behavior ensure reaching potential clients effectively.
SEO Optimization: Improving website rankings in search engines increases visibility and drives organic traffic.
Content Marketing: Crafting compelling legal content establishes expertise and fosters trust among prospects.
Social Media Management: Engaging social platforms build a loyal following and foster meaningful connections.
Online Reputation Management: Handling reviews and feedback ensures a positive image and boosts credibility.
Conversion Rate Optimization: Optimizing website elements enhances conversions, turning visitors into clients.
How to choose the best digital marketing agency for lawyers?
Selecting the right digital marketing agency is crucial for lawyers to thrive in the competitive landscape. Consider these strong points to make a choice:
Expertise: Look for agencies with a proven legal marketing track record and industry understanding.
Specialization: Prioritize agencies that focus on serving law firms to ensure tailored strategies.
Client Reviews: Check testimonials and reviews to gauge the agency's reputation and client satisfaction.
Transparency: Choose an agency that communicates clearly, providing insights into their methods and results.
Data-Driven Approach: Opt for agencies that use data analytics to make data-backed decisions for optimal outcomes.
Customization: A good agency will offer personalized solutions that align with the law firm's unique goals and needs.
Can someone do this for me?
At GoMaxoo, we understand the importance of digital marketing in today's cut throat competition. Our skilled team is dedicated to helping businesses like yours thrive online. Whether you are a local attorney or a large law firm, we are equipped to design and execute custom digital marketing strategies tailored to your goals to deliver real results.
Join GoMaxoo today, and let us handle your digital marketing needs while you focus on providing exceptional legal services to your esteemed clients. Together we will elevate your business to the digital landscape. Get in touch now to discuss your needs and begin your journey towards digital marketing success!
FAQ"s
What is digital marketing law?
Digital marketing law refers to the legal regulations and guidelines that govern advertising and marketing practices in the digital realm. It includes compliance with data protection, privacy, advertising, and consumer protection laws.
Do lawyers need digital marketing? 
Yes, lawyers can benefit significantly from digital marketing. It helps them reach a wider audience, build their brand, attract potential clients, and stay competitive online.
What is the best form of advertising for a lawyer? 
The best form of advertising for a lawyer depends on their target audience and goals. Online strategies like search engine optimization (SEO), pay-per-click (PPC) ads, and content marketing effectively reach potential clients.
What are the types of legal advertising? 
Legal advertising includes online methods like:
Search engine optimization
social media marketing
email campaigns
Pay-per-click