Google Ads (PPC) can be a powerful marketing strategy for dentists to attract new patients. Dentists can use Google Ads to target people searching for dental services in their local area. They can also use Google Ads to target potential patients based on their interests, symptoms, and research phase. 
With proper guidance and the precise configuration of advertising campaigns, your practice can establish a significant advantage over local competitors.
Google reigns supreme, encompassing approximately 75% of all internet searches, surpassing competitors like Bing and Yahoo. Leveraging this vast user base, your dental practice can tap into a substantial market and expand your patient roster.
By employing Google Ads, your practice can secure top positions in search results for vital search terms. This boosts awareness of your dentistry practice and connects you with an entirely new audience.
What are Google Ads for dentists?
Google Ads for Dentists is a specialized online advertising platform designed to help dental practices effectively connect with potential patients. It offers a range of tools to enhance visibility and drive new patient acquisition. Dentists can strategically target keywords and locations, ensuring their ads are displayed to individuals actively seeking dental services in their area.
This advertising solution enables dentists to create compelling ads that highlight their services, expertise, and unique offerings. With control over budgets and access to performance analytics, dental practices can optimize their campaigns, attract more patients, and grow their online presence, ultimately establishing a stronger foothold in the competitive dental industry.
How do Google Ads model work for dentists?
Google Ads works on a unique auction model.
Google Ads for dentists use a pay-per-click (PPC) model. Dentists create ad campaigns with keywords related to their services, and when users search these terms on Google, their ads show up.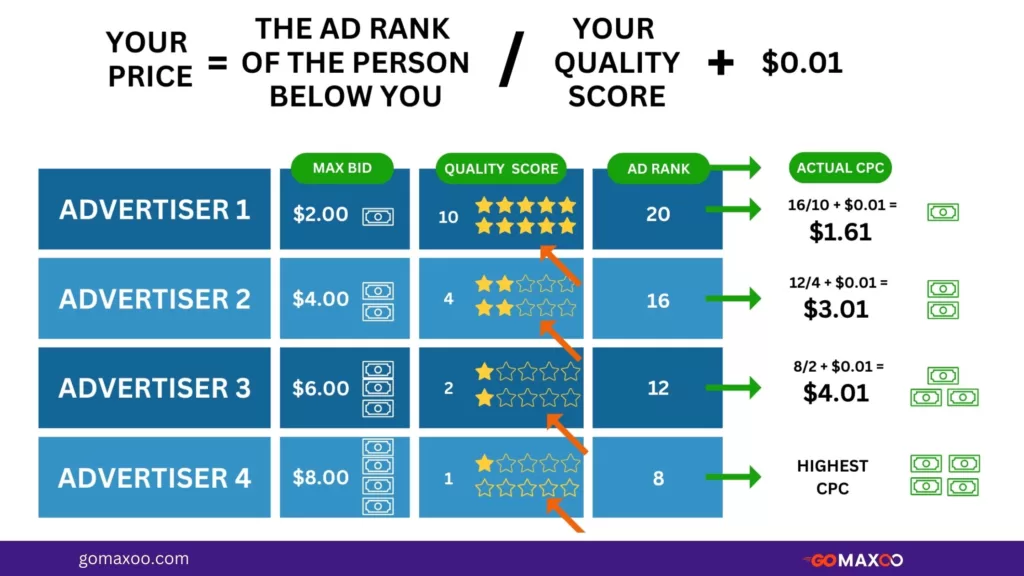 Dentists only pay when someone clicks their ad, making it cost-effective. Geographic targeting and budget control help attract local patients and manage expenses. Tracking tools provide insights, refining strategies for better results and aiding dental practices in growing efficiently through Google Ads.
Benefits of Google Ads for your dental practice?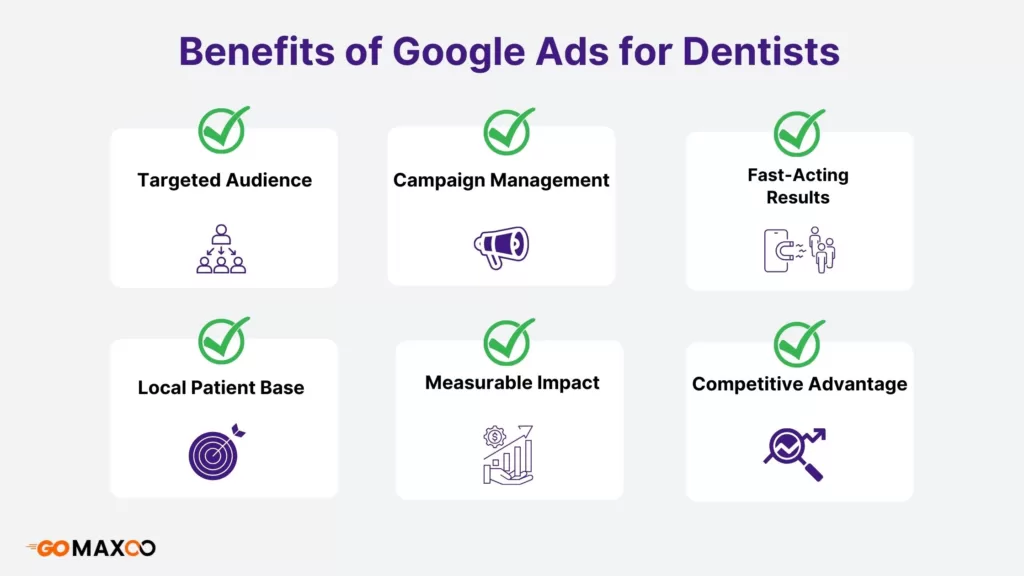 These are some of the important benefits of Google Ads for dentists:
Attracting Your Targeted Audience: Google Ads lets you reach potential patients actively searching for dental services, ensuring your ads are seen by the right people.
Fast-Acting Results with Low Risk: Google Ads offers immediate visibility without breaking the bank. You have control over your budget, so you pay only when users engage with your ads.
Local Patient Base: Use geographic targeting to draw in local patients, which is ideal for dental practices looking to serve their community.
Measurable Impact: Track ad performance metrics like clicks and conversions, allowing you to assess your advertising's effectiveness and make data-driven improvements.
Competitive Advantage: Outshine competitors by consistently appearing at the top of search results, attracting more patients and establishing your practice as a trusted choice.
Flexible Campaign Management: Adjust your ads, budgets, and targeting as needed to optimize your strategy, making Google Ads a versatile tool for dental practice growth.
Creating your first Dentistry Search Ad Campaign
To begin, you need a Google Ads account. After creating one, you'll be prompted to select your primary PPC advertising goal. Instead of choosing from the three options presented, scroll down to "Switch to expert mode" for greater control over your ads.
Next, specify the type of dental PPC campaign you intend to run. To capitalize on Google's extensive search traffic, opt for the search ad campaign type.
While there are other options like display and video, our focus is on dominating search results and securing the top position for Google Ads for dentists.
1. The Campaign Settings
In the campaign settings, you'll establish your inaugural dental PPC campaign. Consider using a broad title like "Dental Services", under which you can create multiple ad groups. This offers flexibility for future ad groups, such as those for teeth cleanings and x-rays.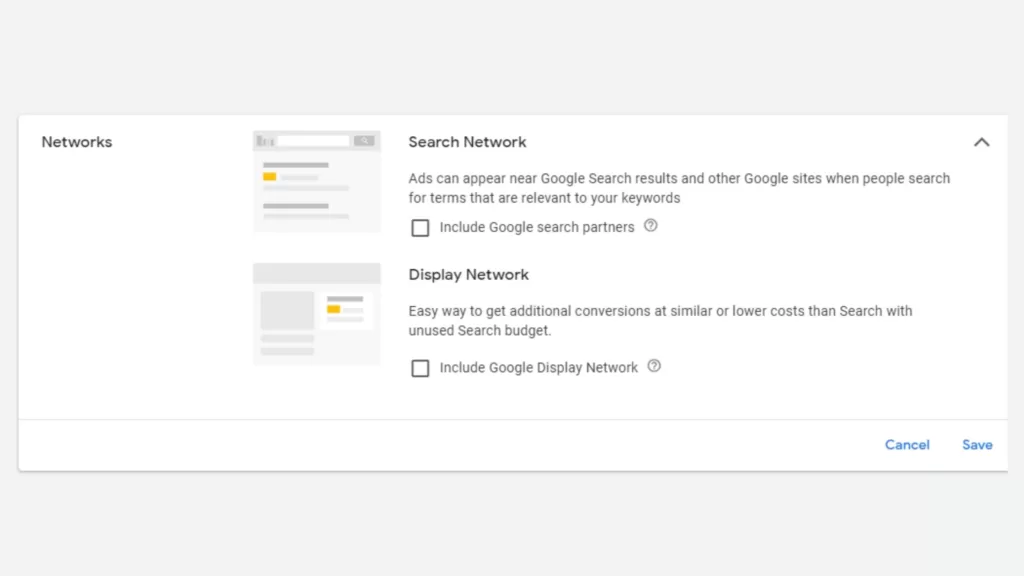 It's advisable to uncheck the options for Google Search Partners and the Display Network. These settings can increase expenses by displaying your ads on platforms outside of Google search, which doesn't align with our primary goal.
"Still have questions about setting up a PPC ad campaign or Google Ads? Contact Google ads agency for dentists"
Audience Demographics
In the audience demographics section, you can customize location and language settings. As a local dental clinic, prioritize targeting locals.
Set preferences by:
Entering your dental practice's address.
Clicking on advanced search.
Choosing a radius (a few miles).
Specifying your dental office's location.
Saving changes.
Selecting "People in or regularly in your targeted locations."
For exclusions, simply exclude any cities or neighbourhoods you don't want to target.
Choose "People in or near your targeted locations" to reach those physically present, not just interested. If your dental practice is in Anaheim, CA, focus on local patients, not Disneyland enthusiasts. Choose a 5-10-mile radius based on local density. Consider dental Waze Ads for nearby drivers.
For language settings, use English or add a second common language if your staff speaks it. Ads match users' Google settings so that English settings won't show ads in your second language.
Budget and Bidding Strategies
When setting your daily budget for Google Ads, avoid spreading it too thinly, especially for PPC campaigns with one ad per keyword. Budgeting $10 – $15 for 4-5 keywords leads to slow data accumulation, often less useful.
Starting at $45 to $75 is ideal. $45 can effectively target 2-3 keywords, depending on competitiveness and costs.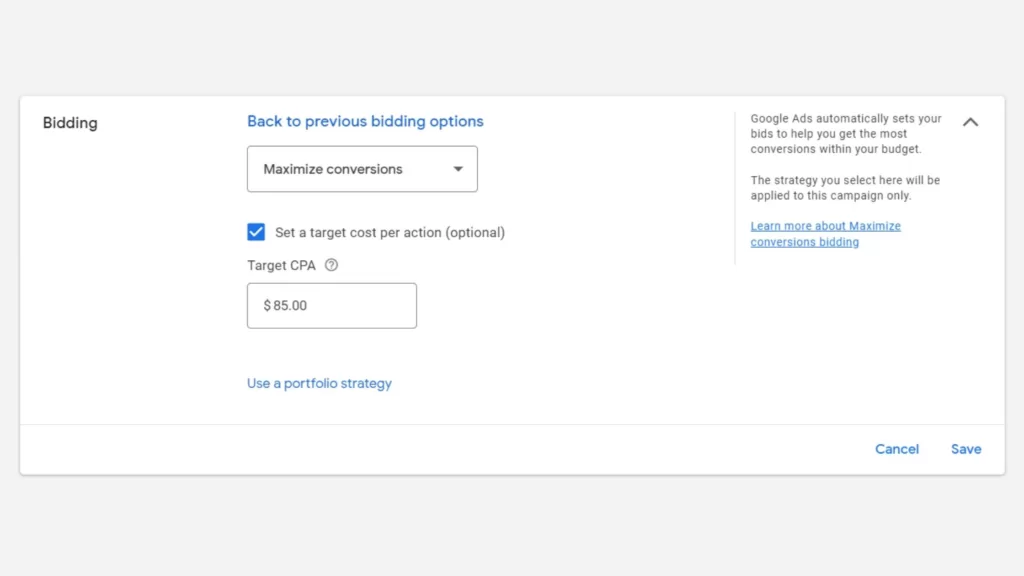 In the bid strategy section, you have six choices:
Target cost-per-acquisition (CPA)
Target return on ad spend (ROAS)
Maximize clicks
Maximize conversion value
Target impression share
Manual cost-per-click (CPC)
To retain control and prevent overspending, opt for the Manual CPC option among various settings. It ensures maximum control and stays within your budget.
If you want to know more insights into our services, visit GoMaxoo Digital.
Ad Assets
Ad extensions offer extra space for information, making your ads more substantial and pertinent to your targeted keywords. This increased relevance can boost ad performance, as Google values it. Additionally, it helps filter out irrelevant traffic, ensuring that those more likely to become patients see your ads.
You have the choice of selecting one or multiple among the six types of ad extensions:
Sitelink extensions: Provide clickable links to specific pages on your dental website with relevant information.
Callout extensions: Highlight features of your services or products.
Structured snippets: Showcase what you offer. (To understand the difference between structured snippets and callout extensions, read more here.)
Call extensions: Enable users to call your business directly.
Message extensions: Allow searchers to send a message or email.
Promotion extensions: Offer promotional deals through your dental ad.
In the example above, a dental Google ad utilized a sitelink extension (Contact Us, Dental Bridges, etc.) to direct users to relevant website pages. They also used a promotion extension to advertise a deal of up to $400 off teeth whitening.
Creating Your Ad Groups for your Dental Practice
After setting up ad extensions, structure your ad groups. For check-up campaigns, consider creating an ad group just for teeth cleaning. But don't limit yourself – think about ad groups for specific target demographics.
For example, if you want to reach new parents looking for their child's first dentist, create a dedicated ad group. Or if your practice offers dentures, create an ad group for seniors interested in learning more. Choose the structure that best suits your dental practice.
At this stage, you can choose keywords at the ad group level. These keywords determine which searches trigger your ads. You can also set a bid amount based on how valuable you think each keyword is. Adjust these settings based on your ad group's objectives and preferences.
Creating Your First Google Ads for Dentists
With your ad groups structured, it's time to craft your first ad, aiming to captivate your audience's attention. Highlight what makes your dentistry unique, such as local awards, magazine features, or stellar reviews on Nextdoor or Yelp.
Consider using testimonials as ad headlines – prepare 3 to 4 options, as you won't know which will display. Each headline has a 30 to 40-character limit, so make them eye-catching and concise to maximize space on search engine results pages.
After grabbing the reader's attention, maintain it with a compelling description. Incorporate the researched keywords and include a clear call to action (CTA) that guides searchers on their next steps. Make your CTA specific and avoid vague phrases like "Click here."
This example shows the strength of your services, your 30 years of industry experience and recognition with a local award.
Keyword Analysis (Research Planning, and Types)
To achieve successful ads, thorough keyword research and planning are essential. Choosing the right keywords is critical for conversion. For instance, targeting a broad keyword like "teeth" is wasteful due to its high competition. It can lead to your ad appearing for irrelevant searches like "teeth whitening."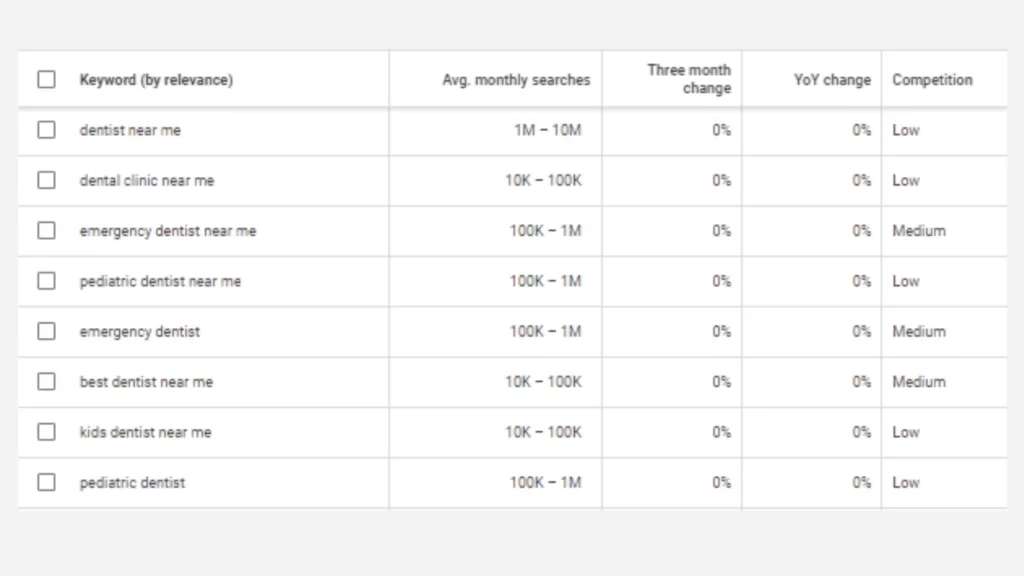 Conduct diligent keyword research by putting yourself in the shoes of your potential dental patients. Think about how they'd search for dental services, such as "best dentist near me" or "dental clinic near me." You can kickstart your research using various tools:
Tools like Google Keyword Planner and SEMrush provide insights into keyword competitiveness, search volume, and CPC (Cost Per Click). When researching, consider the search volume carefully. Avoid extremely high-volume keywords (e.g., 500,000 searches) or those with no searches. Target keywords with moderate search volume, around 100-200 searches, as long as they indicate user intent to book an appointment.
An excellent keyword strategy for your dental practice is "Service/Product + City/Town." This approach simplifies your efforts to dominate local ad placements effectively.
1. Keyword Types
Google Ads offers 5 to 6 keyword types for your ads. Your choice impacts how keywords match search queries. Proper formatting helps Google understand your target keyword searches.
Broad Targeting:
By employing broad targeting, your ads will display the exact keyword and related terms, including synonyms, variations, similar phrases, and related concepts. Broad targeting casts a wide net, reaching a diverse user base. However, it's less likely to drive conversions and attract dental patients.
Symbol: None
Keyword: Dentist
Examples of potential ad triggers:
Dentist near me
How to become a dentist
Dental school
Broad Match Modified Targeting:
Broad match modified targeting, similar to broad targeting, ensures your ads appear for search queries containing your target keyword, but it allows for variations in the keyword's order.
Symbol: +
Example: +Dentures
Examples of triggering queries:
Dentures New York
Los Angeles Dentures
Dentures near me
Example keyword: +Root canal
Examples of triggering queries:
Best root canal crowns
Affordable root canal crowns
Root canal on baby teeth
Phrase Targeting:
With phrase targeting, your ad triggers for searches containing the exact phrase, regardless of what precedes or follows it.
Symbol: ""
Example keyword: "Best dental clinic"
Examples of triggering searches:
Best dental clinic near me
Best dentist near me
Best dental clinic in New York
Exact Targeting:
Unlike phrase targeting, your ad triggers only when the exact term is used. Exact match types allow for precise targeting of high-intent keywords, resulting in the highest click-through rate (CTR) and cost-per-click (CPC) for your campaign. If you know your audience well, an exact match is the optimal choice.
Symbol: []
Example: [Dental clinic New York]
Search queries that trigger your ads:
2. Negative Keyword Targeting:
In some cases, you want to avoid having your ads triggered by specific search queries. This is where negative keywords become crucial. Negative keywords are terms that you deliberately exclude from triggering your ads. They can be especially useful for filtering out cities or services that your clinic doesn't cater to.
Symbol: –
Example: -Dentists agency
Show Local Search Ads in Google Maps
Advertising on Google Maps is an effective way to connect with local customers. If you run a local business, Maps ads simplify the process of being discovered by potential clients.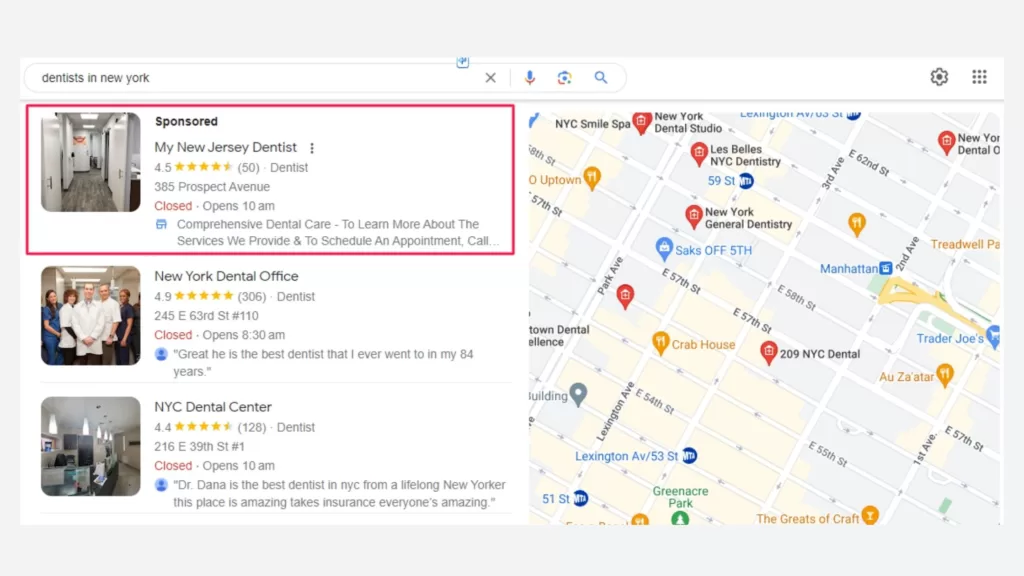 Here's how to display local PPC ads on Google Maps:
Enable Google Ads location extensions for your account.
Create or update your Business Profile listing.
If you don't already have one, set up your Business Profile listing. If you have an existing listing, ensure that the details are accurate.
Utilize location targeting and adjust your bids based on geography to maintain consistent bidding.
Landing Page for Your Dental Clinic
A landing page is where searchers go after clicking on your ads. It's the crucial step where they can become leads by sharing their information or scheduling an appointment. Google values landing page relevance, so ensure it aligns with your ad content. Avoid discrepancies in deals or topics compared to your ad description or headlines.
Maintain relevance by using similar ad copy and reinforcing points mentioned in your ad, including the same keywords. For instance, if you highlighted 20 years of community service in your ad, emphasize it again on the landing page.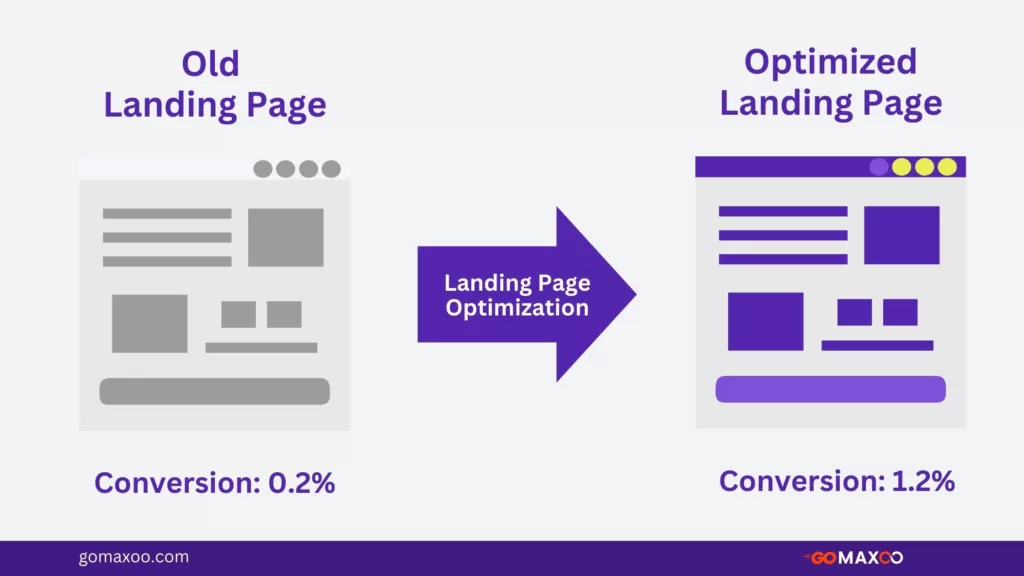 Ensure your landing page includes:
A title
Your clinic name
Reviews from platforms like google and Yelp and other listing sites
Your practice
location of Business
Your Phone number
Call to action (CTA)
Relevant images (e.g., your dental clinic)
Local Service Ads for Dentists
Local service advertising is a powerful way for dentists to connect with local patients in need of dental services. These ads are designed to prominently display your practice on Google, making it easier for potential patients to find and contact you.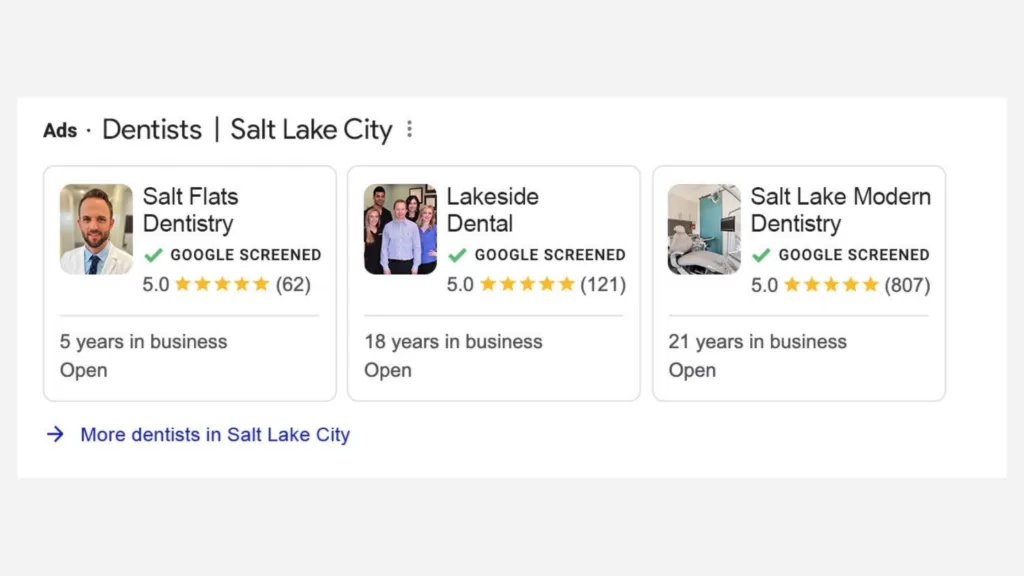 With a focus on local visibility, local service advertising helps dentists grow their practices and provide valuable oral care services to their communities.
Why a Dentist Should Run Local Service Ads
LSAs, previously successful in various industries, are now available to dentists. They have shown to be an effective way to expand small businesses. Consider endorsements and allocate a portion of your advertising budget. Here's why:
Listed at top of Google search: Local Service Ads secure prime positions in Google search results, enhancing visibility and drawing more patients to your dental practice.
Pay Only for Leads: Dentists pay exclusively for actual leads and inquiries, ensuring cost-efficient advertising with measurable results.
Target Specific Services: LSAs allow precise targeting of dental services, attracting patients seeking your specialized treatments.
Flexible Pause or Stop Options: Dentists have the flexibility to pause or stop LSAs at their discretion, aligning advertising efforts with practice needs.
Transparent ROI and Cost-Per-Lead: LSAs provide clear insights into the return on investment (ROI) and the cost per lead, aiding budget management.
Showcase Google Reviews: Displaying Google reviews builds trust among potential patients, reinforcing your practice's credibility.
Improved Credibility with Google Screened Badge: The Google Screened badge adds an extra layer of trust and credibility to your dental practice.
Minimal Risk, Maximum Gain: LSAs offer low-risk advertising with the potential for substantial gains, making them an attractive option for dentists.
FAQ's
Does Google Ads work for dentists?
Yes, Google Ads can be highly effective for dentists. It allows them to target specific audiences actively seeking dental services, increase their online presence and attracting new patients.
Do dentists need Google Ads?
While not mandatory, Google Ads can greatly benefit dentists by increasing their online visibility, attracting patients, and staying competitive in the digital landscape.
How do I get Google Ads results for dentists?
To get results with Google Ads for dentists, conduct thorough keyword research, create relevant ad campaigns, optimize landing pages, and regularly analyze and refine your strategies based on performance data.
How much does Google Ads cost for dentists?
The cost of Google Ads for dentists varies depending on factors like location, keywords, competition, and budget. Dentists can set their own budget and adjust it as needed to control costs effectively.