What if you could attract new patients, retain existing patients, and build a strong brand reputation for your dental practice – all with the power of social media?
It's possible with social media marketing for dentists.
This comprehensive guide will teach you everything you need to know about social media marketing for dentists, from setting up your social media accounts to creating engaging content and running effective social media ads.
Ready to learn more?
What is social media for dentists?
Social media marketing for dentists is using social media platforms to reach potential and existing patients, educate them about dental health and your services, and build relationships with them.

Here are some examples of social media marketing for dentists:
Sharing blog posts, infographics, and videos about dental health tips and treatments
Running social media ads to target people in your local area who are interested in dental services
Responding to comments and questions on your social media pages
Hosting live Q&A sessions on social media
Partnering with other local businesses to cross-promote your services
Why Does Social Media Marketing Matter For Dentists?
Social media is gradually finding its place in the dental industry, with more practices realizing its potential on platforms like Twitter, Facebook, and Instagram. In an industry where dental anxiety affects 15% of the population, consistent social media presence becomes a powerful tool to reassure patients and dispel fears.
The Benefits of Social Media for Dentists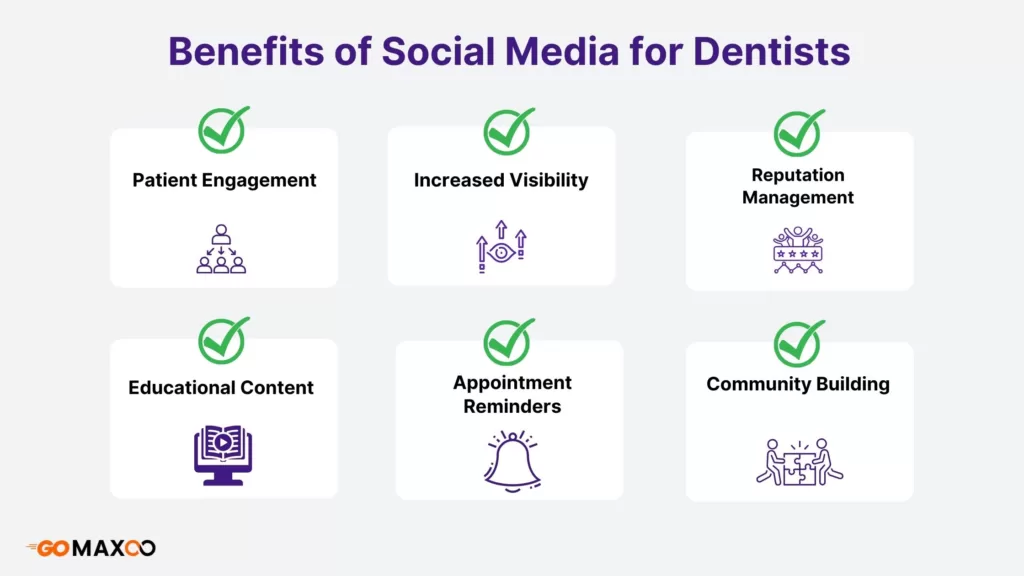 Dentists in both large and small cities can easily utilize advertising as a strategy to attract new clients. Here are some ways that social media can benefit dentists:
Enhanced Patient Engagement: Social media allows dentists to connect and engage with their patients, answering questions, sharing dental tips, and addressing concerns more effectively.
Increased Visibility: Dentists can improve their practice's visibility by maintaining an active social media presence, reaching a broader audience, and attracting potential patients.
Reputation Management: Dentists can manage and bolster their online reputation by addressing reviews, showcasing patient testimonials, and demonstrating their expertise through social media content.
Educational Content: Social media enables dentists to share informative and educational content, helping patients understand dental procedures, oral health tips, and the importance of regular check-ups.
Appointment Reminders: Dentists can use social media to send friendly reminders, reducing missed appointments and optimizing their schedules.
Community Building: Dentists can foster community by participating in local events, supporting charitable causes, and connecting with patients on social media platforms.
Best Social Media Platforms for Dentist
To benefit your dental practice from social media marketing, avoid spreading yourself across multiple platforms. Instead, focus your efforts on the most influential social media channels.
There are literally hundreds of active social media platforms on the web, but luckily, you only need to consider a select few when promoting your dental practice.
Facebook
With billions of daily visitors, Facebook stands as one of the largest platforms for dentists. You can delve deep into customer personas and audience types through Facebook advertising. If you're new to this, check out our guide below for a social media advertising strategy kickstart.
Facebook is a personal social platform friends and family use, so understanding and working with the algorithm is crucial. Leverage Facebook to build strong, trustworthy relationships with your audience using these methods:
Share photos of your team, office, and happy clients.
Link to blog posts and news articles relevant to your area.
Provide practice updates and seek customer input.
Run promotions and contests.
Highlight a patient or team member of the month.
Host Facebook Live Q&A sessions.
Offer dental tips and answer customer questions.
Did you know? Facebook has a massive user base, with 2.94 billion people using it monthly and 1.96 billion visiting daily. It's the top social media platform, reaching 59% of all social media users. Facebook is also expected to make $153.76 billion in annual ad revenues in 2023, as of July 21, 2023.
YouTube
For dentists, visual impact significantly attracts patients, making channels emphasizing imagery and video a natural fit. YouTube provides an excellent avenue for dentists to complement their trust-building social media content by featuring:
Office tours.
Q&A sessions or team interviews.
Patient reviews.
Demonstrations.
Dental tips.
Did you know? In 2023, YouTube boasts over 2.70 billion active users. YouTube Premium, on the other hand, has a user base of 80 million worldwide. Approximately 52% of internet users visit YouTube at least once a month, and the platform sees a daily influx of over 122 million visitors via its website and apps.
Educational and engaging video content aids in establishing trust with your intended audience. Companies that utilize videos receive 41% more web traffic than those that don't.
Twitter
Twitter is another valuable social media platform for dentists. Like Facebook, it appeals to a wide range of customers, but the key difference lies in the concise and refined nature of your messages. Twitter is about quickly engaging with clients and gaining visibility through branded hashtags. Here are ways to utilize Twitter for your dental outreach:
Utilize industry-related hashtags to capture attention, such as #TeethWhitening #RootCanal.
Share pertinent content from peers in the dental field.
Live-tweet from dental conferences.
Address questions and concerns about dental care.
Handle customer service inquiries effectively.
Did you know? In 2023, Twitter counted approximately 528.3 million monthly users who engage with monetized content. Projections suggest this figure will rise to 652.23 million by 2028. Additionally, Twitter currently sees 237.8 million users engaging with monetized content daily.
Instagram
Once you've smiled at your patient's worth showing off, where do they typically share it first? Instagram is the ideal platform to showcase the confidence-boosting visual aspect of your practice, especially if you specialize in cosmetic dentistry. Remember not to overuse filters; aim for a professional and authentic appearance. Here are some ways dentists on Instagram can make the most of it:
Share behind-the-scenes photos.
Patients in your office take repost pictures.
Display before and after images (with patient consent).
Promote events.
Organize competitions like #Bestimplant, #bestrootcanal, #bestsmile or similar.
Use branded hashtags to enhance your presence.
Did you know? In 2022, Instagram had 1.3 billion global users. On average, each Instagram post includes 10.7 hashtags. About 70.8% of Instagram's user base is under 35 years old. U.S. adults typically spend around 30.6 minutes daily on Instagram, and the platform hosts over 200 million businesses.
Google Business
A Google Business profile operates differently from other social media platforms; it ensures your clinic appears as a listing in search results. This is crucial because approximately 80% of potential customers research businesses online before purchasing or visiting.
Before visiting their regular dentist, people often search for "dentists near me." With a Google Business Profile (GBP) listing, your dental practice can gain visibility in local search results, giving you an advantage over competitors.
Did you know? 84% of all business-related searches are search results, with only 16% being direct searches. Additionally, 34% of local businesses appear in more than 1,000 search searches each month. Additionally, 56% of customer interactions with Google My Business listings result in website visits.
A well-maintained Google Business profile fosters trust among potential patients. They can easily access information about your practice, read reviews from other patients, and even get directions to your clinic.
Social Media Strategies for Dentists: Best Practices
After selecting your campaign platform, it's important to fine-tune your social strategy. Understanding your audience remains the cornerstone of a successful marketing campaign.
Begin by defining your USP (unique selling point), identifying what you can offer customers, and pinpointing the clients you aim to attract. Creating user personas will guide you in choosing the right social media platform and determining the content to share.
Once you've got a handle on your audience, remember these strategies to boost awareness and fortify your campaign.
Define Your Dental Social Media Goals
A social media plan without clear goals is like a disorganized dental procedure without a treatment plan. Unplanned social media efforts waste resources and yield no concrete results.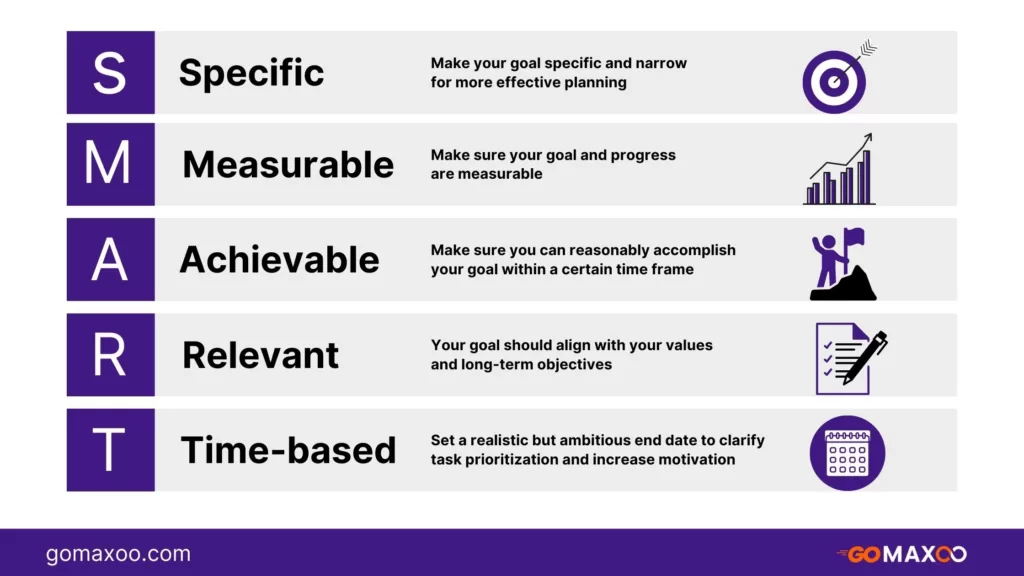 Start by outlining your social media goals. These goals should align with your clinic's objectives and be SMART (Specific, Measurable, Achievable, Relevant, and Time-bound). For example, a general goal like "improving patient retention" can become a SMART goal like "Improving engagement among current patients on Facebook and Instagram posts by 30% in the next six months."
Know Your Target Audience
Just as with your goals, understanding your target audience is crucial. With this understanding, you can save time, money, and effort.
That's why it's essential to grasp who your target audience is. Start by examining your current patients' demographics, behaviors, and needs. With a deeper understanding of your audience, you can create more tailored content and marketing campaigns to attract and engage them.
When attracting and engaging audiences effectively, observing your competitors is one of the best ways to learn.
Monitor Your Competitors
Observing your competitors' social media activities offers valuable insights into effective strategies. There's no need to start from scratch; learn from your competitors and aim to outperform them.
For instance, if a competitor's post about a new root canal service garners significant engagement, you might consider promoting your own root canal service. Likewise, studying their missteps can help you avoid similar pitfalls.
Look for:
Promotions that create buzz.
The most frequently used content format.
Popular content ideas.
Followers and the accounts they follow.
Create a Social Media Calendar
Plan for your social media strategy instead of relying on last-minute actions. Most marketing teams plan their strategy for weeks or months using a helpful social media calendar tool.
This calendar acts as your content creation guide, allowing you to plan visually what, when, and where to post. This planning ensures you maximize visibility by posting at optimal times.
A social media calendar guarantees a consistent flow of fresh content, eliminating the need for last-minute brainstorming.
It's precious during busy periods when social media might take a backseat. For example, you can schedule a mix of educational content, patient testimonials, and behind-the-scenes peeks at your clinic, keeping your content engaging for your followers.
Connect with your patients
Let's be clear – social media is a two-way street. Posting content and then disappearing won't cut it. The true power of social media lies in its ability to connect and communicate.
Always be responsive when your followers ask questions. Delayed responses can damage your credibility.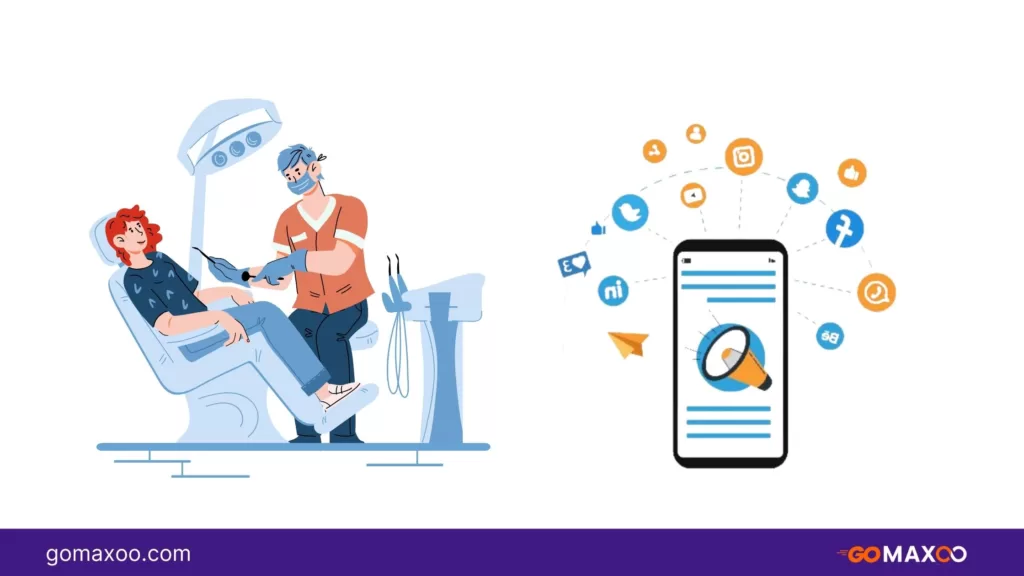 But that's not all:
You can encourage them to like, share and comment on your posts. Create content that inspires them to engage in a two-way conversation with you. These interactions make your patients feel valued and connected to your practice. Building this sense of community can turn your patients into advocates for your brand.
Utilize Facebook Ads Marketing
Social media ads, especially on platforms like Facebook and Instagram, will be a game-changer for your dental practice.
These platforms share a central hub, Facebook Ads Manager, allowing you to run campaigns tailored to various objectives. Whether you want to boost brand awareness or drive website traffic, you have an ad objective.
But there's more:
You can precisely target demographics, locations, and interests, reaching the right people and boosting business growth. The platform even offers retargeting options to re-engage users interested in your services.
Leverage creative content to showcase your dental clinic's unique selling points. An eye-catching ad can stop users as they scroll through their feeds.
The result? You may see a significant increase in appointment bookings!
A well-targeted ad can capture a social media user's attention, often as the first step in turning them into loyal patients.
Track Your Progress
To gauge the effectiveness of your efforts, regularly delve into your analytics section. Don't find it daunting; consider it a checkup for your marketing strategy.
Similar to routine dental exams that diagnose issues early and maintain your oral health, periodic assessments of your marketing endeavors can uncover what's effective and where improvements are needed.
Great Social Media Posting Ideas for Dentists
Creating fresh, engaging social media content can be difficult. Here are some post ideas to keep your feed interesting for patients.
Oral Health Tips: Share bite-sized tips on maintaining healthy teeth and gums. Educational content is valuable to your audience.
Patient Testimonials: Showcase before-and-after photos and patient testimonials to demonstrate your practice's success stories.
Meet the Team: Introduce your dental team, highlighting their expertise and friendly personalities to build trust with your audience.
Fun Facts: Share intriguing dental facts or myths debunked to engage and educate your followers.
Dental Humor: Inject humor into your feed with dental-related jokes or memes to lighten the atmosphere.
Promotions and Specials: Announce discounts, special offers, or upcoming events to entice new and returning patients.
Hire a dental social media marketing agency?
Social media marketing can be managed in-house for dental offices with adequate planning and organization. However, hiring a dental social media marketing agency is an option for those new to social media or short on time. Here are vital questions to ask potential agencies:
Content Creation: Ask about the agency's approach to creating social media content. Some agencies use intensive photoshoots to amass a pool of images for future use. While valuable, this may need more authenticity of daily patient and team interactions, serving best as supplementary filler content.
Team Coaching: Inquire if the agency can coach your dental team in capturing content. Ensuring your team understands patient engagement rules and permissions is crucial to avoid surprising patients with their images on your social media. A skilled social media coach can train a couple of team members to engage patients in enjoyable social interactions.
Content Calendar: If you need help generating daily content ideas, ask if the agency can help create a content calendar. A dental social media marketing agency can develop a quarterly content calendar that offers inspiration, ideas, and post templates for each day. This eases the burden of consistent content production and ensures a steady posting schedule.
If maintaining a consistent social media presence seems overwhelming, consider enlisting a reputable dental social media marketing agency like GoMaxoo Digital. Their expert team specializes in social media marketing for dentists and can help grow your audience, foster engagement, and achieve results. Contact them when you're ready to kickstart your social media strategy.
FAQ
How do I promote my dentist on social media?
Create engaging content, share testimonials, showcase before-and-after photos, and run targeted ads while maintaining consistent posting and audience interaction.
How do dentists find clients?
Dentists find clients through referrals, online advertising, SEO, local partnerships, and maintaining a strong online presence on social media and review platforms.
What social media do dentists use?
Dentists commonly use Facebook, Instagram, Twitter, and LinkedIn. Instagram is great for visuals, Facebook for content sharing, LinkedIn for professional networking, and Twitter for quick updates.
How can I increase my dental clinic income?
Increase income by expanding services, offering payment plans, participating in insurance networks, optimizing pricing, effective marketing, and focusing on patient retention and referrals.
Does social media work for a dental practice?
Yes, social media is effective for dental practices. It builds awareness, engages patients, showcases expertise, and attracts new clients, leading to increased bookings and practice growth.