Hey, have you experienced that your potential members regularly search online for a "gym near me" or "fitness centers near me" but can't find you? If you are wondering how you can rank locally and get more leads, then your patience has ended here. With the right digital marketing strategies for a gym, you can target and get leads.
This quick guide will help you introduce all the terms and digital marketing strategies for Gym.
Let's go diving…
What is digital marketing in a gym?
Digital marketing in the gym industry refers to the strategic use of online platforms and channels to promote fitness centers, attract potential members, and engage with existing customers. It uses social media, email marketing, search engine optimization (SEO), content creation, and targeted advertising to build brand awareness, drive website traffic, and ultimately increase sales.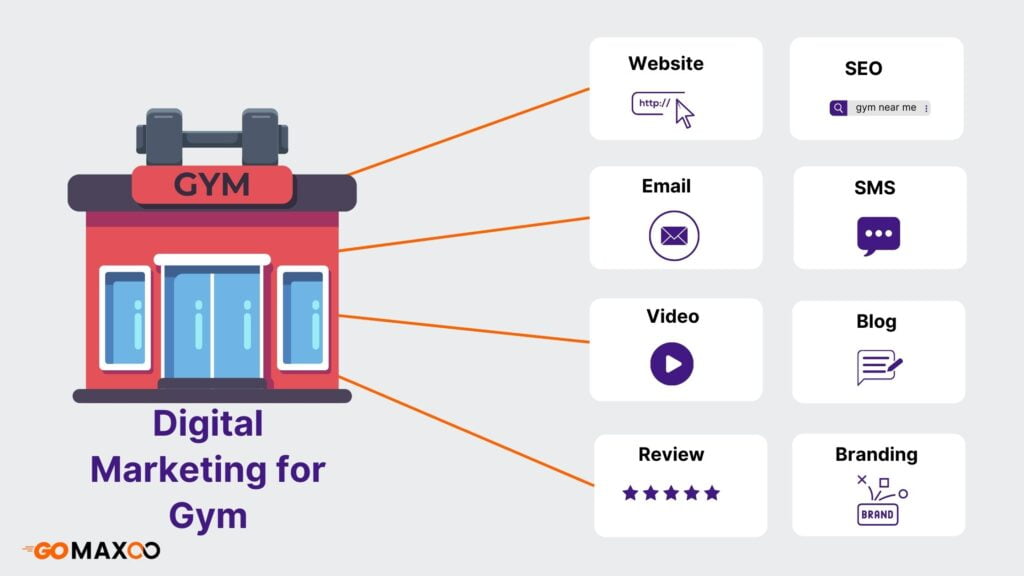 Take a second to do a quick Google search for "gym + your city" or "gym + city in your service area. You see it? If your business isn't at the top of the search results, it might as well be invisible, especially if one of your competitors ranks higher than you.
What are the benefits of digital marketing for gym & fitness?
In today's age, people primarily rely on Google to discover relevant information or services. Most people search for specific fitness centers, such as "gyms near me" and "fitness centers near me." If your gym's online presence isn't visible in Google search results, you risk missing out on numerous potential members.
Having a website for your gym is not enough. You need to stay up to date with the latest industry trends and address them effectively, which can only be achieved with the assistance of digital marketing.
Digital marketing offers numerous advantages for gyms. Below are some of the key benefits:
Get more potential leads
Digital marketing helps fitness centers to attract a large number of potential members, thus increasing their chances of conversion.
Increased visibility
Digital marketing expands the gym and fitness center's online presence, reaching a wider audience.
Targeted advertising
Precisely target potential members based on demographics, interests, and behavior.
Increase brand awareness
Build a strong brand identity and increase recognition among the fitness community.
Cost-effective advertising
Achieve better ROI compared to traditional marketing methods.
Engage and retain members
Use social media and email marketing to foster relationships and encourage loyalty.
Track and analyze results
Utilize analytics to measure campaign effectiveness and make data-driven decisions.

What is the market trend of gyms and Fitness?
The market size, as measured by revenue, of the gyms, health clubs and fitness industry was $30.6 billion in 2022.
The market size of the gyms, health clubs and fitness industry decreased by -5.5% in 2022.
The market size of the gym, health club and fitness industry in the US has decreased by 6.8% per year on average between 2017 and 2022.
Post-COVID-19, the fitness industry has experienced a surge in memberships globally, surpassing pre-pandemic numbers. Increased health awareness among the youth has led to higher spending on gyms and fitness facilities. The presence of modern equipment and personal training options in health clubs is attracting more consumers, driving market growth.
A big trend we will see in 2023 is the continued popularity of shorter, streamlined workouts and classes that are designed to be efficient and effective in a short amount of time.
What are the strategies of Gym and Fitness?
Here we have put together some digital marketing strategies that help in growing a fitness center.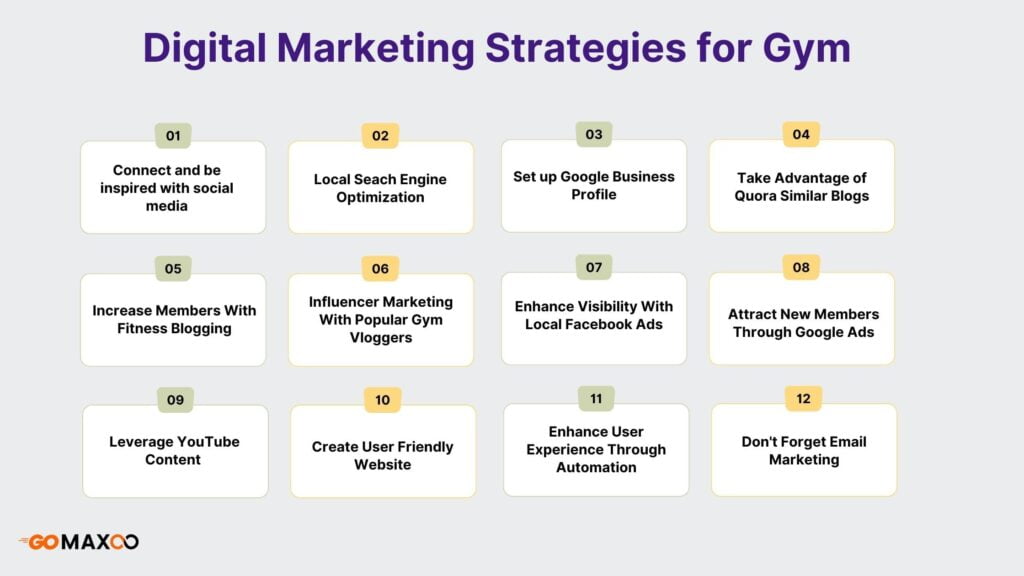 1. Connect and be inspired with social media
Your social media marketing strategy should inform, connect, and inspire your audience. Social media is an amazing platform to motivate followers and provide valuable content. You can utilize various posts and content formats to inspire others in a relatable manner.
Share user-generated content, stories of success, virtual fitness challenges, and quick home workout tips. Platforms like Facebook Live and Instagram Stories enable you to connect with your audience and naturally enhance engagement.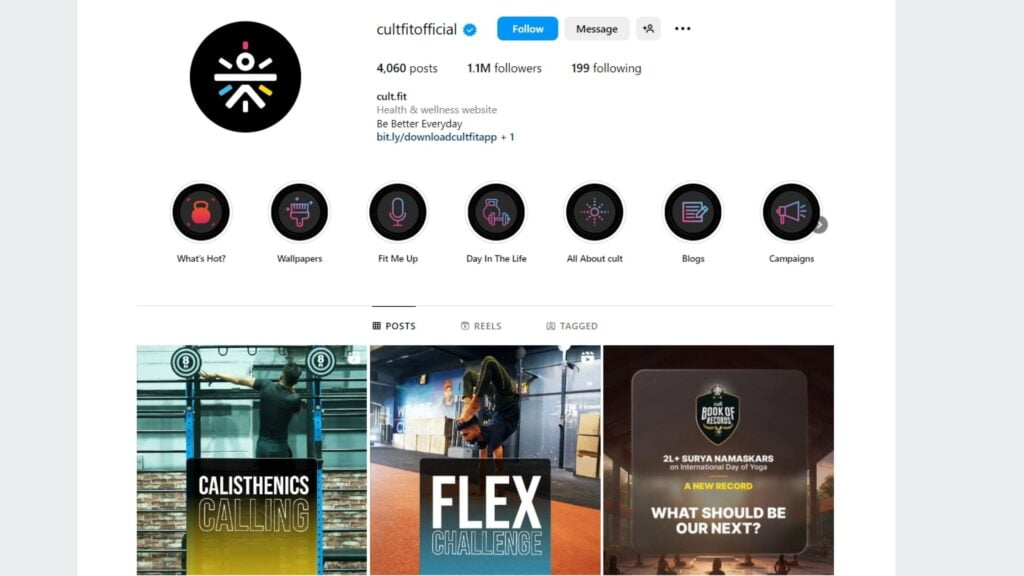 What should you post as a gym owner?
Share your gym's daily workouts and activities to keep followers engaged and informed.
Publications before and after
Showcase the transformation journey of your clients with inspiring before and after pictures.
Post about your team and bios
Introduce your dedicated team members and their expertise to build trust and connection with your audience.
Inspirational/daily quote
Share motivational quotes and messages to inspire and motivate your followers on their fitness journey.
Create engaging videos that highlight the incredible transformations achieved by your clients, inspiring others to join your fitness center.
Share success stories and testimonials from satisfied clients, demonstrating the effectiveness of your gym and fitness programs.
Live streaming of questions and answers
Engage with your audience by hosting live Q&A sessions, where they can ask fitness-related questions and receive expert advice in real time.
Pose a thought-provoking fitness-related question daily to encourage interaction and spark discussions among your followers.
Product posts and how to get perfect results
Promote fitness products and supplements with tips and techniques for maximizing results, fostering a sense of value and expertise.
2. Dominate on Google with Local SEO
Gym owners can optimize their websites with location-specific keywords to implement local SEO. This means incorporating phrases such as "gym in [city name]" or "fitness center near [neighborhood]" within their website content and meta tags. By doing so, search engines like Google can better understand the gym's location and purpose, improving its chances of appearing in relevant local search results.
Another crucial aspect of local SEO is creating and optimizing online listings on platforms such as Yelp, and local directories. Gym owners should ensure that their business name, address, and phone number (NAP) are consistent across all listings. They can also provide additional details like business hours, services offered, customer reviews, and photos to enhance their listing's appeal.
Encouraging satisfied members to leave positive reviews on these platforms can significantly impact local SEO. Positive reviews influence potential members and contribute to higher rankings in local search results. Gym owners can actively engage with members and respond to reviews, demonstrating their commitment to member satisfaction and building trust.
3. Get Local Attention to set up a Google business profile
Creating and setting up a Google Business profile is an important digital marketing strategy for gyms and fitness centers. A Google Business profile lets you showcase your gym's information, such as location, contact details, opening hours, and website, on Google Search and Google Maps.

Creating a Google Business profile makes it easier for potential members in your area to find and learn about your gym. When people search for "gyms near me" or "fitness centers near me", your profile will appear in the search results, along with relevant information and reviews.
Google show three types of results for local queries (for example, "gym near me"):
local search advertising
local organic results
map pack result
You can rank in both. But to rank in the Map Pack, you need to claim and customize a free Google Business Profile.
Now we explore
How to claim a Google business profile for a gym?
Sign in or create a Google account
If you already have a Google account, sign in to it. Otherwise, create a new account by going to accounts.google.com and clicking "Create account."
Your business name
Go to the Google My Business website (business.google.com) and sign in using your Google account. Enter the name of your gym in the provided field.
Specify your location
Google will prompt you to enter the location of your gym. Fill in the address details accurately, including the street name, city, state, and ZIP code.
Choose a business category
Select the appropriate business category for your gym. Google provides a list of categories to choose from, and you should select the one that best describes your gym's services. Examples include:

1. CrossFit Gym
2. Yoga Gym
Add contact details
Enter your gym's contact information, such as phone number and website URL. It's important to provide accurate and up-to-date contact details for potential members to reach you.
Verify your business
Google will need to verify that you are the owner or authorized representative of the gym. This is typically done by sending a verification code to the physical address provided. Once received, you can enter the verification code in your Google My Business account to complete the verification process.
Optimize your profile
After verifying your gym, you can optimize your Google business profile by providing additional information. This includes uploading high-quality photos of your gym's interior, exterior, and equipment. You can also add a detailed description of your services, hours of operation, and any other relevant information.
Manage your profile
Regularly monitor and manage your Google business profile. Respond to members' reviews and engage with potential members who ask questions. Ensure that the information on your profile, such as opening hours and contact details, is accurate and up-to-date.
Encourage customer reviews
Positive reviews can help attract more members to your gym. Encourage satisfied clients to leave reviews on your Google business profile. You can do this by providing excellent service, reminding members to leave a review, and even offering incentives or discounts for those who take the time to leave feedback.
4. Take advantage of Quora's similar blogs
Quora is a popular question-and-answer platform where users can ask questions on various topics and receive answers from the community. Similar blogs refer to other websites or platforms with similar formats where users ask questions and get answers.
As a gym or fitness center, you can leverage these platforms by actively participating and providing valuable insights related to fitness and health. How can you do it?
Create an account and follow relevant topics for gym, fitness and health.
Regularly answer gym and fitness-related questions, providing valuable insights and recommendations.
Include links to relevant blog posts or landing pages on your website where appropriate, offering more information or promoting specific gym and fitness packages.
Be authentic, likable, and genuinely helpful in your responses, building trust with potential members.
Here are some example of questions to ask about gym related to Quora:
What's the best way for a beginner to approach the gym?
What are the best gym tips you could give for a beginner?
What are some of your personal workout or fitness center "Don'ts' '?
What are the key features of the best fitness center?
What's the difference between a gym and a workout facility?
5. Increase members with fitness blogging
Create and maintain a fitness blog on your gym's website. Regularly publish informative and engaging articles about fitness, nutrition, workout tips, and overall wellness. This helps attract organic traffic, position your gym as an authority in the industry, and drive potential customers to your website.
How to create fitness blog on your website:
Choose a blogging platform
Select a platform that suits your needs, such as WordPress, Blogger, or Squarespace. These platforms provide user-friendly interfaces for creating and managing your blog.
Set up your blog
Register a domain name that reflects your gym's brand or name. Install the chosen blogging platform on your website's hosting server. This process may vary depending on the platform you select.
Customize your blog
Select a visually appealing theme or template for your blog and customize it to match your gym's branding. Ensure that your blog is mobile-friendly and easy to navigate.
Plan your content
Identify the topics and categories you want to cover in your fitness blog. Consider the interests and needs of your target audience. Plan a content calendar to maintain consistency in publishing.
Create high-quality content
Write informative and engaging articles that provide value to your readers. Use a mix of text, images, videos, and infographics to make your content more appealing and shareable. Incorporate relevant keywords to improve search engine visibility.
Promote your blog
Share your blog posts on social media platforms, email newsletters, and relevant online communities to increase visibility. Encourage readers to share your content with their networks.
Engage with your audience
Respond to comments and questions on your blog posts. Encourage discussion and create a sense of community around your fitness blog.
6. Engaging in influencer marketing with popular gym vloggers.
Gym vloggers are individuals who create video content focused on fitness, workouts, nutrition, and gym experiences. Partnering with gym vloggers can be an effective way to reach a targeted audience and showcase the unique aspects of your gym or fitness center.
Here's how this strategy works:
Identify suitable gym vloggers
Research vloggers with relevant content and engaged following
Establish partnerships
Collaborate with vloggers, offering perks in exchange for promotion
Co-create engaging content
Showcase gym features, workouts, and instructors
Leverage their audience
Tap into vloggers' influence to reach potential customers.
Track and measure results
Monitor metrics to evaluate the impact of influencer collaborations.
7. Enhance visibility with local Facebook ads
Through local Facebook ads, you can effectively promote your fitness center. Engage with potential members in your area with engaging content and attractive offers. Let's know-how:
Laser-Focused Targeting
Precisely target your ideal audience based on location, demographics, and interests for maximum impact.
Customized Ad Campaigns
Tailor ads to showcase your gym's unique features, attracting potential customers with specialized offerings.
Increased Brand Awareness
Leverage Facebook's vast user base to skyrocket visibility and become a household name in your community.
Engaging Visual Content
Use high-quality images/videos to captivate and motivate potential customers with vibrant gym experiences.
Measurable Results
Analyze reach, engagement, and conversions with detailed Facebook analytics for data-driven decision-making.
8. Business listings on local directories
Gyms and fitness centers can benefit from listing their business on local directories, both online and offline. Online directories such as Yelp, Google My Business, or Yellow Pages allow potential customers to find gyms and fitness centers in their area when they search for related keywords.
Business listings usually include important information like the gym's name, address, phone number, website, and customer reviews. By ensuring their business is listed accurately and optimizing their listing with relevant keywords, gyms can improve their visibility in local searches and attract more potential customers.
9. Attract new members through Google ads
Google Ads allows you to create online ads to reach people exactly when they are interested in your products or services.
Google Ads operates on a pay-per-click (PPC) model, which means you can target a specific keyword and bid on that keyword.
Running paid ads on Google for a gym with a landing page and with packages is advantageous because it allows you to reach a wide number of members who are actively seeking fitness information, provides a specific destination for interested users, offers targeting options accurately and enables effective monitoring and measurement. campaign performance.
By taking advantage of these benefits, you can generate more leads, increase your membership and grow your gym.
Let's know how to set up Google Ads:
Create a google ads account
Sign up for a Google Ads account at ads.google.com, providing your business information.
Define campaign goals
Determine your objectives, such as driving website traffic, increasing leads, or promoting specific fitness offerings.
Choose campaign type
Select the campaign type that aligns with your goals, like Search, Display, or Video ads.
Set budget & bidding strategy
Allocate a daily or monthly budget and choose a bidding strategy that suits your advertising goals.
Select target locations
Specify the geographic areas where you want your ads to appear, targeting local customers.
Research keywords
Identify relevant keywords related to your gym and fitness services that potential customers might use in their search queries.
Create compelling ad copy
Write engaging ad headlines, descriptions, and display URLs that entice users to click and learn more about your gym.
Design landing pages
Create attractive and user-friendly landing pages that align with your ad messaging, focusing on conversion optimization.
Set conversion tracking
Implement Google Ads conversion tracking to measure actions like form submissions or phone calls from ad clicks.
Launch & monitor campaigns
Activate your ads and regularly monitor performance, adjusting bids, keywords, and ad content as needed.
Analyze & Optimize

Continuously review campaign data
Refine targeting
Test new ad variations
Optimize to improve results over time
10. Leverage YouTube Content
YouTube has emerged as a powerful platform for connecting gyms and fitness centers with a wide audience. Let's explore how leveraging YouTube content can be an effective digital marketing strategy:
Create Engaging Videos
Produce high-quality videos showcasing workouts, exercise demonstrations, fitness tips, and success stories. Engaging content will capture the attention of fitness enthusiasts and motivate them to engage with your gym.
Share Expertise
Position your gym as a trusted authority by sharing valuable knowledge through instructional videos, nutrition advice, or interviews with fitness professionals. Establishing credibility will attract viewers and potentially convert them into customers.
Highlight Member Testimonials
Encourage satisfied gym members to share their success stories on video. These testimonials are powerful social proof, building trust and motivating potential customers to join your gym.
Collaborate with Influencers
Partner with popular fitness influencers or local celebrities to create collaborative videos. Their established following can expand your gym's reach and introduce your brand to new audiences.
Optimize Video SEO
Implement relevant keywords, compelling titles, and detailed descriptions in your video content to improve search engine visibility. This way, when users search for fitness-related topics, your videos have a higher chance of appearing in the search results.
Engage with the Community
Respond to comments on your videos and engage with viewers to foster a sense of community. Encourage likes, shares, and subscriptions, increasing your video's visibility and attracting more viewers.
Cross-Promote on Social Media
Share your YouTube videos on other social media platforms, such as Facebook, Instagram, or Twitter. This cross-promotion maximizes exposure and drives traffic to your YouTube channel.
Utilize YouTube Advertising
Explore YouTube's advertising options, such as pre-roll ads or sponsored videos, to reach a broader audience. Target your ads based on demographics, interests, or viewing behaviour to ensure relevant viewers see them.
11. Create a user-friendly website
Your gym website is the first point of contact for potential members. It's essential to make a positive first impression and shape their perception of your business. We can help you create an affordable website that looks professional and appealing.
Choose between hiring a website design marketing agency or using user-friendly website builders to create a reliable and visually pleasing website that aligns with your budget.
A website, coupled with a Google Business profile, boosts your online presence and raises your gym's profile.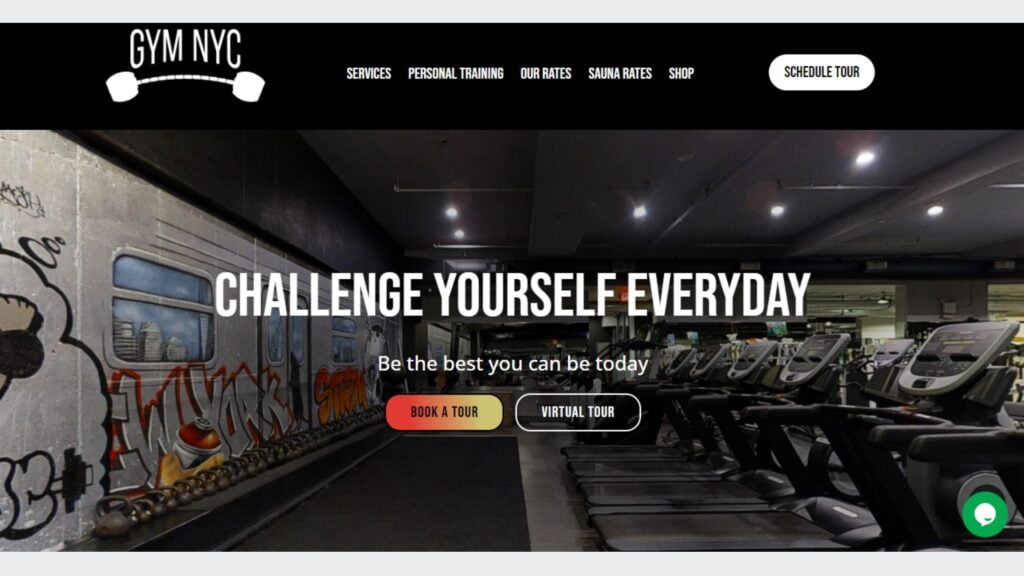 Key components of a gym website:
Branding
Establish a strong brand foundation that reflects your gym's identity.
About section
Showcase your gym's background, philosophy, and unique selling points.
Services & price list
Provide clear details about your offered services and their corresponding prices.
Work examples
Highlight your gym's expertise and success stories from satisfied members.
Gym features
Showcase the unique facilities and ambiance of your gym center.
Booking link & contact details
Simplify member registration and ensure easy access to contact information.
Cancellation policy
Clearly communicate your gym's policy regarding registration cancellations.
12. Enhance user experience through automation
Automation tools can streamline various marketing processes, saving time and improving
efficiency. Strategies for a gym or fitness center include:
Automated email campaigns
Use automated emails for lead nurturing, registration confirmations, and post-trip follow-ups to enhance customer engagement.
Social media scheduling
Maintain a consistent online presence by utilizing scheduling tools for social media posts across platforms.
CRM software
Efficiently manage interactions with gym members and track leads using a Customer Relationship Management (CRM) system.
Chatbots or virtual assistants
Implement chatbots or virtual assistants for immediate customer support and inquiries, enhancing the user experience.
Chatbot Implementation on Various Channels:
1. Website chatbot
Improve the user experience on your gym website with a helpful chatbot that offers instant support and personalized recommendations.

2. Messenger automation
Automate messaging on popular platforms to engage with potential members, provide quick responses, and expedite registration inquiries.

3. Facebook Automation: 
Utilize Facebook automation to manage member inquiries efficiently, display promotions, and engage with your audience.

4. Instagram automation
Optimize your gym's Instagram presence through automation, including post scheduling, follower engagement, and showcasing engaging content.

5. WhatsApp automation
Streamline customer communication by implementing WhatsApp automation, allowing for instant messaging, personalized responses, and efficient booking assistance.

13. Don't forget email marketing
Email marketing is a crucial component of a comprehensive digital marketing strategy for gyms.
Here's why it should not be overlooked:
Effective communication
Directly connect with members and prospects through personalized emails for updates and messages.
Member engagement
Engage members with informative emails, increasing participation and involvement.
Targeted campaigns
Segment audience based on interests, demographics, and membership for resonate campaigns.
Promotions and offers
Utilize email to promote discounts, events, and attract new members.
Automation & personalization
Automate personalized emails based on member behaviour, increasing relevance.
Member retention
Foster community, highlight achievements and provide valuable content for member loyalty.
Tracking & analytics
Measure success through open rates, click-through rates, and conversions.
14. Reviews management
Gathering feedback and reviews from individuals who have previously utilized your gym services is an excellent method to establish trust and credibility. These testimonials serve as a powerful tool in attracting new gym members. When potential members see that people in their community trust and recommend your gym, they are more inclined to avail themselves of your services.
In addition to motivating new and returning members, feedback is vital in enhancing your gym's search ranking. Incorporating gym member feedback into your digital marketing strategy can boost your visibility in search results. It is crucial to acknowledge negative reviews or suggestions as well, as they can help you identify areas for improvement in your services.
15. Run special offers to attract more gym members
One effective digital marketing strategy for gyms is to run special offers and promotions with discounted rates to attract more gym members. By providing exclusive discounts, you can create a sense of value and incentivize potential members to join your gym.
These discount offers can be advertised and promoted through various online channels, such as your gym's website, social media platforms, email marketing campaigns, and online advertisements. Craft compelling messages highlighting the benefits of joining your gym and emphasize the limited-time nature of the discount offer.
For example, you could offer a discounted membership rate for new members signing up within a specific time frame or provide a reduced price for the first month of membership. Communicate the terms and conditions of the discount clearly to ensure transparency and avoid confusion.
Running special offers with discounted rates helps capture the attention of individuals who may have hesitated to commit to a gym membership for financial reasons. This strategy increases the likelihood of converting potential members into paying customers while also generating buzz and interest in your gym within the digital realm.
16. Develop a Referral Program
A referral program is an effective strategy to incentivize referrals, benefiting your members and your brand. Transform your customers into enthusiastic brand advocates, motivating them to share your brand with their friends and family.
To establish a referral program, reward the referrer and referee with irresistible rewards. For instance, you could offer members a personal training session or an individualized fitness program for each successful referral. The most suitable offer depends on your members and their specific needs.
17. Ensure Transparent Pricing
Transparency is crucial across all aspects of your business. Ambiguous pricing can be frustrating and drive potential members away. If prospective members feel misled about your pricing in any way, it can result in negative and enduring consequences. Make sure your pricing is evident, easily accessible and devoid of hidden costs.
How do I create a marketing plan for a gym?
A comprehensive marketing plan for a gym is crucial to attracting and retaining customers. Here are some key steps to consider:
Define your target audience
Identify your ideal gym members' specific demographics and characteristics.
Set marketing objectives
Determine the goals you want to achieve through your marketing efforts, such as increasing membership numbers or promoting specific services.
Conduct market research
Gather information about your target market, competitors, and industry trends to inform your marketing strategies.
Develop your unique selling proposition (USP)
Identify what sets your gym apart from competitors and highlight these unique features in your marketing materials.
Implement digital marketing strategies
Leverage digital platforms like social media, email marketing, and search engine optimization to reach and engage with potential customers.
Offer incentives and promotions
Attract new customers by providing special offers, discounts, or free trial periods.
Measure and analyze results
Regularly track the effectiveness of your marketing campaigns and make adjustments based on data insights.
What are the key success factors for gyms?
Gyms must focus on several key success factors to thrive in the competitive fitness industry. These factors contribute to customer satisfaction, membership retention, and overall business growth.
Here are some essential elements for gym success:
Quality facilities and equipment
Maintain a clean and well-maintained gym environment with modern equipment to provide a positive workout experience for members.
Qualified and knowledgeable staff
Employ certified trainers and instructors who can offer expert guidance, personalized workout plans, and support to members.
Diverse fitness programs
Offer a variety of fitness classes, training options, and specialized programs to cater to different interests and fitness goals.
Excellent customer service
Provide exceptional customer service to ensure members feel valued and supported throughout their fitness journey.
Flexible membership options
Offer a range of membership packages to accommodate different budgets and preferences, including options for short-term commitments, family memberships, or additional services like personal training.
Ongoing member communication
Regularly communicate with members through newsletters, social media, or mobile apps to inform them about gym updates, events, and promotions.
Embrace technology
Utilize fitness tracking apps, online booking systems, and virtual training platforms to enhance member experience and accessibility.
Continuous improvement
Stay updated with industry trends, introduce new equipment or programs, and seek member feedback to enhance and evolve your offerings continually.
How can a digital marketing agency help?
A digital marketing agency can play a vital role in promoting and growing a gym's online presence. Here are some ways they can assist:
Online advertising
A digital marketing agency can create targeted ad campaigns across various online platforms, such as Google Ads or social media, to reach potential gym members effectively.
Search engine optimization (SEO)
By optimizing your gym's website, a digital marketing agency can improve its visibility in search engine results, making it easier for people to find your gym online.
Content marketing
They can develop engaging and informative content, such as blog posts, videos, or infographics, to showcase your gym's expertise and attract organic traffic to your website.
Social media management
A digital marketing agency can manage your gym's social media accounts, creating and scheduling posts, engaging with followers, and running targeted advertising campaigns to build brand awareness and drive engagement.
Email marketing
They can design and execute marketing campaigns to inform members about new classes, promotions, or events, fostering member retention and increasing engagement.
Online reputation management
A digital marketing agency can monitor and manage your gym's online reviews and ratings, ensuring a positive online reputation and promptly addressing customer concerns.
How to choose the best gyms digital marketing agency?
When selecting a digital marketing agency for your gym, consider the following factors:
Experience and expertise
Look for an agency with Experience in the fitness industry and a proven track record of successful campaigns.
Services offered
Ensure the agency provides the specific digital marketing services that align with your gym's needs, such as SEO, social media management, or content creation.
Portfolio and case studies
Review the agency's previous work and case studies to evaluate their creativity, effectiveness, and ability to deliver results.
Client testimonials
Read reviews and testimonials from other clients to gauge the agency's reputation and client satisfaction.
Communication and collaboration
Choose an agency that values open Communication, understands your gym's goals, and is willing to collaborate closely with your team.
Pricing and ROI
Consider the agency's pricing structure and the return on investment you can expect from their services. Look for transparency and clarity in their pricing models.
Compatibility and cultural fit
Assess if the agency's values and working style align with your gym's culture and goals to ensure a productive and harmonious partnership.
Scalability and future growth
Choose an agency that can accommodate your gym's growth and evolving marketing needs as your business expands.
FAQ's
What are digital marketing strategies?
Digital marketing strategies are techniques used to promote gyms and fitness centers through online channels. They include social media marketing, search engine optimization (SEO), content marketing, email marketing, influencer partnerships, and paid advertising campaigns.
How do I market my fitness gym?
To effectively market your fitness gym, you can employ various strategies:
Develop a strong online presence through a website and active social media accounts.
Create and share high-quality content related to fitness and health.
Offer special promotions or discounts to attract new customers.
Utilize targeted advertising campaigns on platforms like Google Ads or Facebook Ads.
Collaborate with local influencers or fitness professionals to expand your reach.
Marketing for gyms is crucial for several reasons:
It helps attract new customers and retain existing ones.
Effective marketing can differentiate your gym from competitors and highlight your unique offerings.
It creates awareness about your gym's services, facilities, and promotions.
Marketing helps build a positive reputation and trust among potential customers.
It drives revenue growth by increasing membership sales and generating referrals.
How can I increase my gym customers?
Here are some strategies to increase your gym customers:
Offer personalized training programs and tailored services to meet individual fitness goals.
Provide excellent customer service and maintain a clean and inviting environment.
Run targeted advertising campaigns to reach your target audience.
Implement referral programs where existing members can refer friends and receive incentives.
Host events or workshops to attract new members and engage with the community.
Collaborate with local businesses for cross-promotions and partnerships.
Offer trial memberships or special discounts to encourage new sign-ups.