In today's digital world, marketing is super important for dentists to find new patients and keep the ones they already have. But with all the changes happening online, it's tough for dentists to keep up. That's where dental marketing agencies come in. They're experts at helping dentists stand out online.
To make things easier for dentists, we've made a list of the 20 best dental marketing agencies in 2023. These companies are really good at what they do and can help dentists in different ways.
Why Work with a Dental Marketing Agency?
Working with a dental marketing agency offers several key advantages for dental practices:
Expertise: Dental marketing agencies specialize in dental promotion, providing industry-specific knowledge and skills.
Time Savings: By outsourcing marketing, dental practices save time and can focus on core services.
Cost-Effective: Agencies maximize marketing budgets, delivering more value for your investment.
Latest Trends: Agencies stay updated on marketing trends and technologies to keep practices competitive.
Customization: Tailored marketing plans to achieve specific goals, such as attracting new patients or promoting services.
Data-Driven: Dental advertising companies use data and analytics for precise marketing strategy adjustments.
Professional Branding: Dental Marketing Agencies create a professional online image, enhancing trust and credibility.
Comprehensive Services: Agencies offer various services like website design, social media management, SEO, and PPC, streamlining marketing efforts.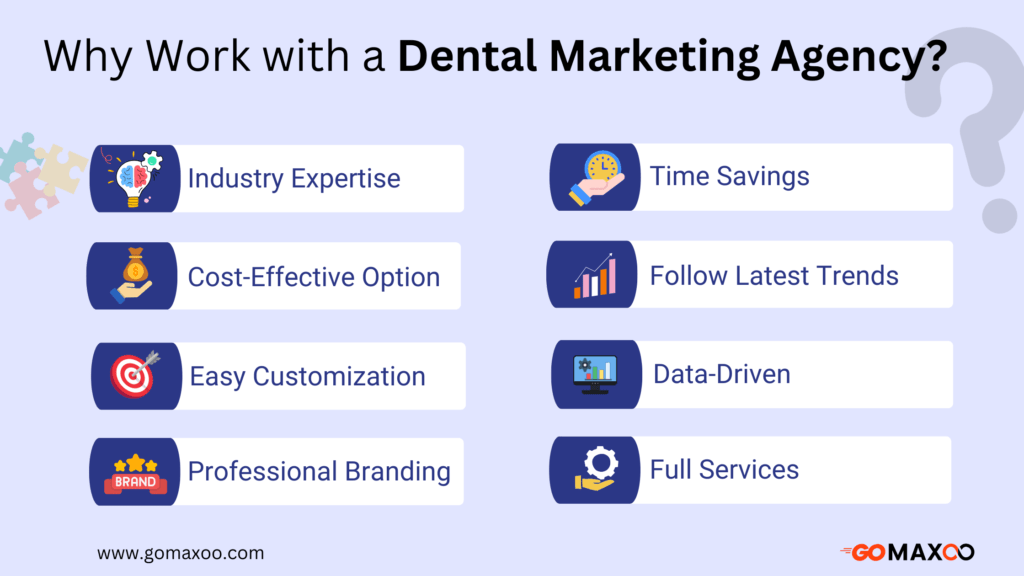 1. GoMaxoo
GoMaxoo is a top-tier personal services digital marketing agency, specializing in dental marketing. With a team of experienced experts in SEO, PPC advertising, social media marketing, content creation, and email marketing, we tailor multi-faceted digital marketing strategies to meet each client's unique needs. Our commitment to staying up-to-date with the latest marketing trends ensures that our clients excel in the digital age.
We pride ourselves on our transparent and collaborative approach, working closely with clients to understand their goals. If you're looking to boost your dental practice's online visibility, increase website traffic, and drive more leads and sales, contact GoMaxoo today. We're here to help your business thrive in the digital era as your trusted dental advertising company.
Services:
Sales Funnel Optimization: We fine-tune your sales funnel, increasing conversions and guiding potential clients to final purchase.
Search Engine Optimization (SEO): GoMaxoo's expertise in Search Engine Optimization (SEO) elevates your website's ranking on search engines, making your services easily discoverable by potential clients.
Google Ads Management: We specialize in creating and managing impactful Google Ads campaigns, driving targeted traffic, and maximizing lead generation.
Social Media Marketing: Our experts craft engaging social media campaigns to increase brand awareness and audience engagement.
Meta Ads Expertise: GoMaxoo elevates your online content through metadata optimization. With Meta Ads, we enhance the visibility of your offerings, making them easily discoverable by potential clients.
Email Marketing: Stay connected with clients and nurture leads through our effective email marketing strategies, ensuring your brand remains top-of-mind.
WordPress Websites: GoMaxoo crafts user-friendly WordPress Websites that effectively highlight your services, ensuring a better online presence and user experience.
Industry Experience: 5+ Years
Contact:– Click Here
Review: 4 Star Rating based on online review
Service Price Range: $300-$1000
2. Thrive Agency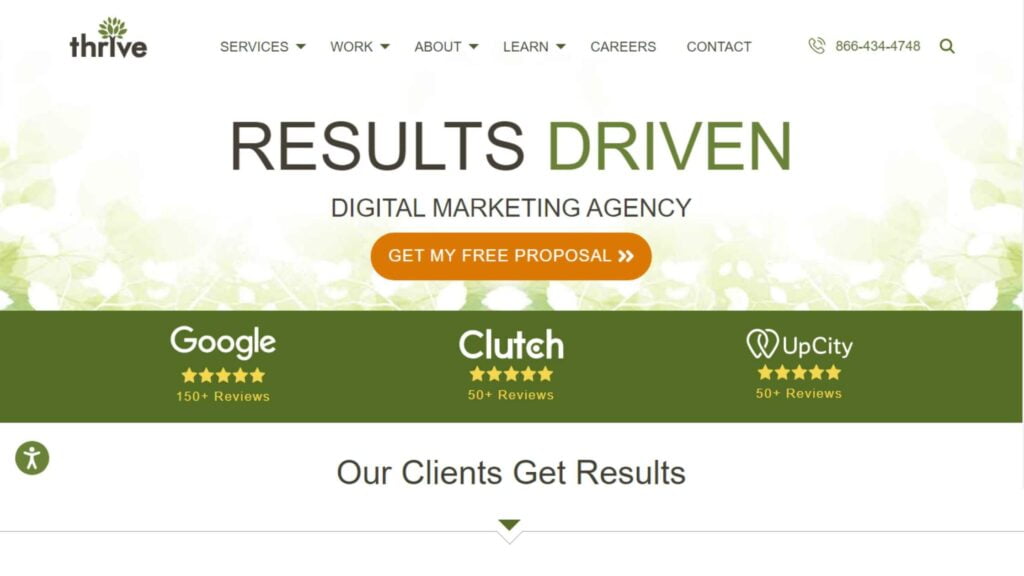 Thrive Agency is a top digital marketing company that enhances businesses' online presence. They offer services like SEO, social media management, web design, and online advertising. They work closely with clients, creating custom strategies to increase website traffic, generate leads, and boost brand visibility. Thrive Agency prioritizes transparency and regular updates, making it a trusted partner for businesses aiming for digital success and growth.
Services:
Search Engine Optimization, Pay Per Click, Social Media Marketing, Web Design
Price Range: $1000 – $5000
3. Adit
Adit, a renowned digital marketing firm in Houston, specializes in delivering effective Internet marketing solutions. They're recognized for their ability to generate quality leads and elevate branding for businesses. With a strong focus on results, Adit employs advanced strategies to help businesses succeed online. Whether it's through SEO, social media, or web design, they're the go-to choice for digital marketing success in Houston.
Services:
Search Engine Optimization, Pay Per Click, Social Media Marketing, Web Design
Price Range: $1000 – $6000
4. Cardinal Digital Marketing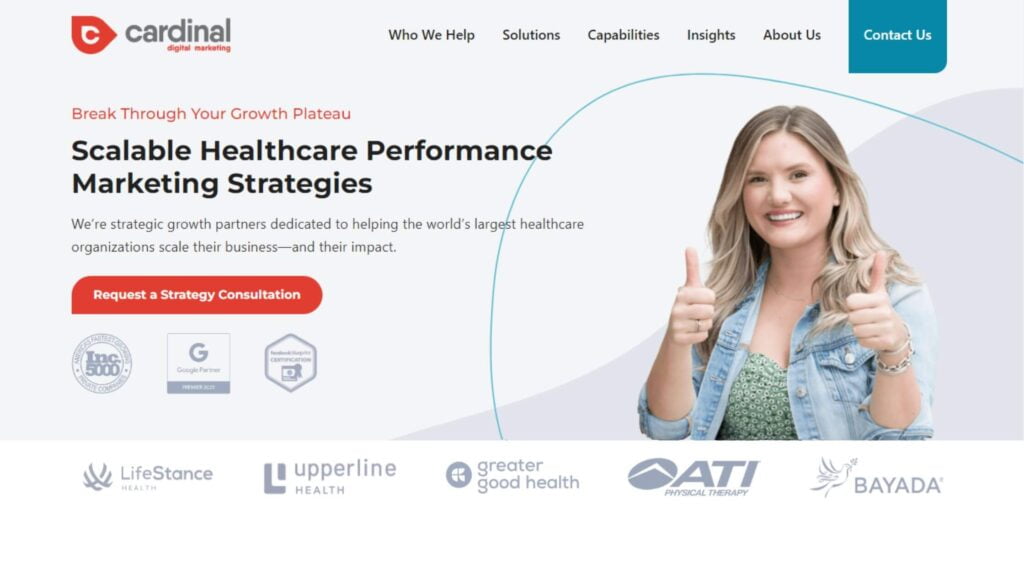 Cardinal is the go-to choice for healthcare marketing, offering personalized plans for big healthcare names like LifeStance Health, VitalSkin Dermatology, and SmileDoctors. They're Google-approved experts who use smart marketing to show real results and make brands grow. When you team up with Cardinal, they'll create strategies that bring in more patients, make your brand more famous, and increase your earnings. They'll adjust their methods to match your goals, making it a perfect fit for your unique marketing needs. Let's work together for better healthcare marketing!
Services: SEO, Google Ads & PPC Management, Facebook Ads, Web Design
Price Range: $800 – $7000
5. Digital Marketing for Dentists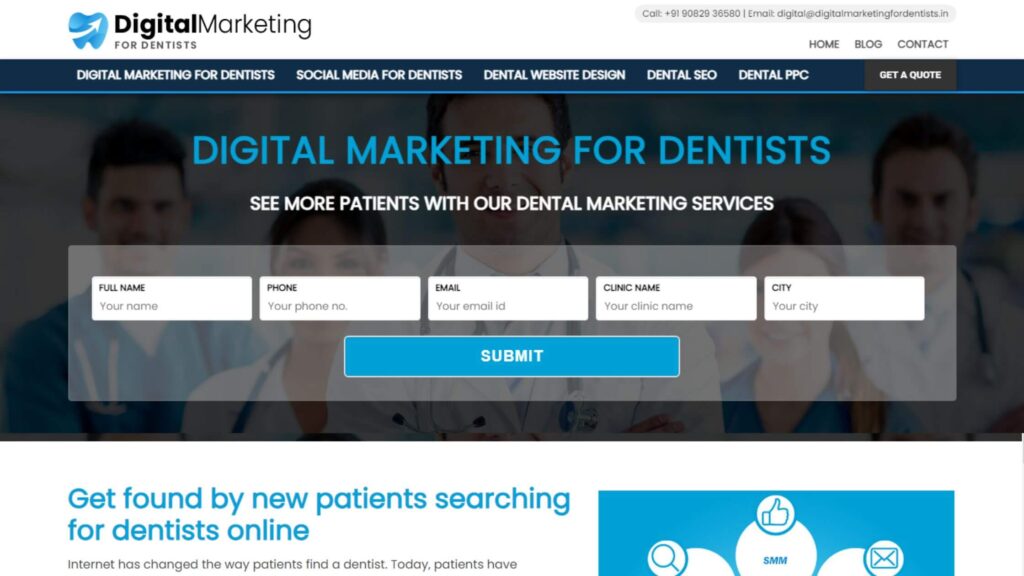 Digital Marketing for Dentists operates as a digital marketing agency that specializes in the realm of dental marketing. Their primary objective is to assist dentists in establishing a robust online presence for their dental practices, enabling them to effectively navigate the digital landscape and connect with a broader patient base. Their services are characterized by their unwavering commitment to delivering high-quality dental marketing solutions, ensuring guaranteed enhancements and growth.
Services: Website Design, PPC, Email Marketing
Price Range: $2000 – $8000
6. Growth Rocket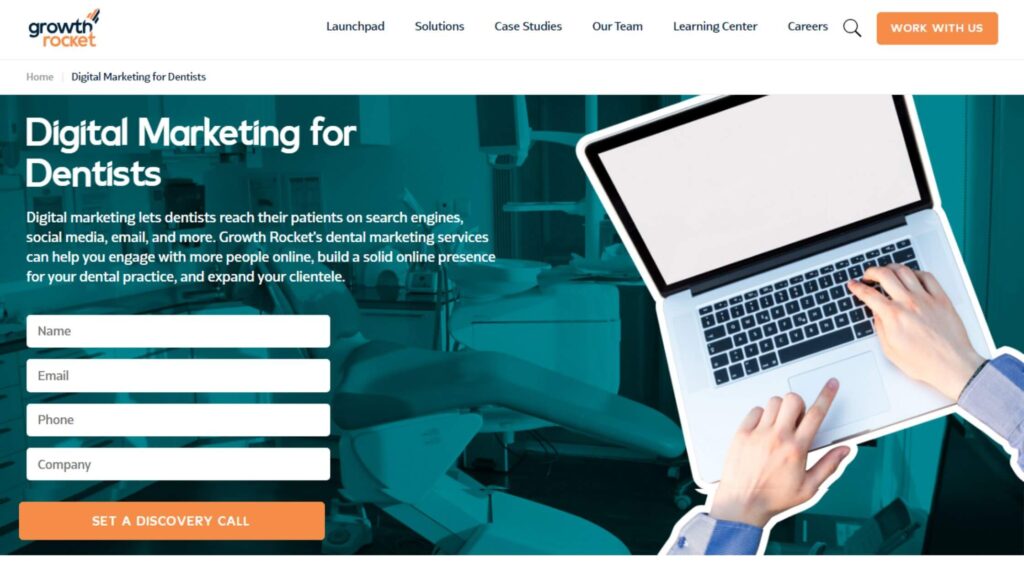 Growth Rocket is a top-notch digital marketing company that helps businesses grow. They offer a complete package of digital marketing services, including improving website visibility on search engines, running online ads, and providing e-commerce solutions.
The Growth Rocket team is known for being proactive and trying out new, creative ideas that lead to great business growth. If you want to succeed in digital marketing, you should partner with them!
Services: SEO, Content Marketing, Web Design, Facebook Advertising
Price Range: $1200 – $5000
7. Dental Marketo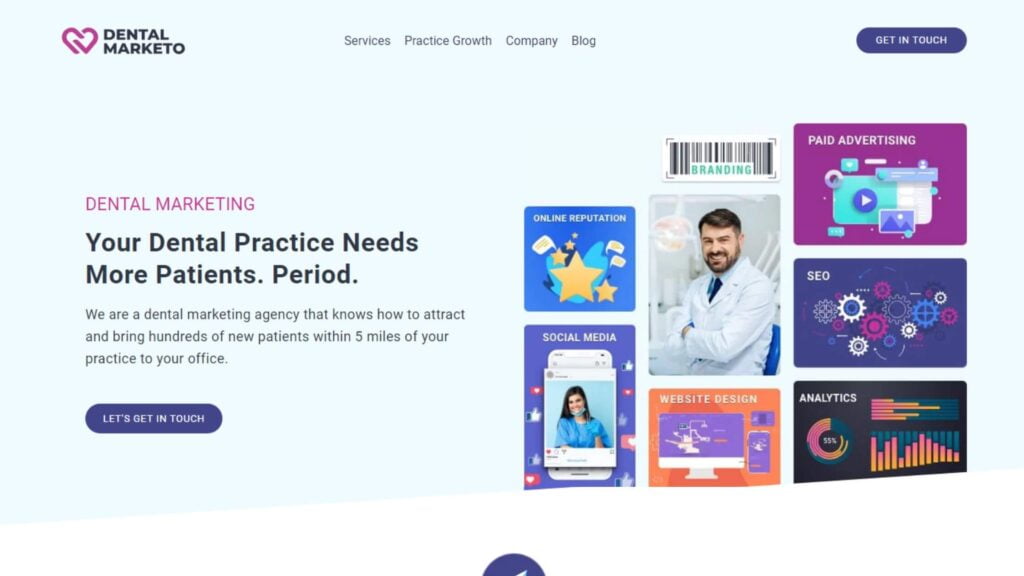 Dental Marketo specializes in attracting new patients within a 5-mile radius of dental practices. They offer tailored dental marketing services, including dental digital marketing, website optimization, reputation management, branding, and growth strategies. Their digital services cover SEO, advertising, social media, email, and content marketing. They ensure user-friendly websites with online scheduling and reputation management, while their branding sets practices apart from competitors.
Services: Website Design, SEO, Social Media, Email Marketing, Content Marketing, Graphic Design.
Price Range: $1000 – $5000
8. Woderist Agency
Wonderist is a leading dental marketing agency that offers comprehensive marketing solutions to boost patient numbers for dental practices. Their team tailors services to meet individual client needs, from mobile-optimized dental websites and SEO to Google Ads campaigns. They excel in their Virtual Consult Integrated Marketing platform, which streamlines patient engagement and integrates seamlessly with all marketing efforts. With personalized pricing options and a dedicated in-house team, Wonderist is committed to ensuring the success of dental practices.
Services: Websites, SEO, Google Adwords(PPC), Social Media, Copywriting
Price Range:
9. Diamond Group
The Diamond Group specializes in dental marketing, helping dentists grow their practices through services like Web Design, Social Media, SEO, and Google Ads. They focus on attracting new patients by creating personalized marketing plans and scaling practices. Key offerings include website design, SEO, and branding. Using Google Ads, Social Media, and Print Ads, The Diamond Group accelerates growth, as evidenced by a case study showing a dentist website achieving 300% growth.
Services: SEO, PPC, Social Media, Website Design, Google Ads
Price Range: $1500 – $6000
10. KickStart Dental Marketing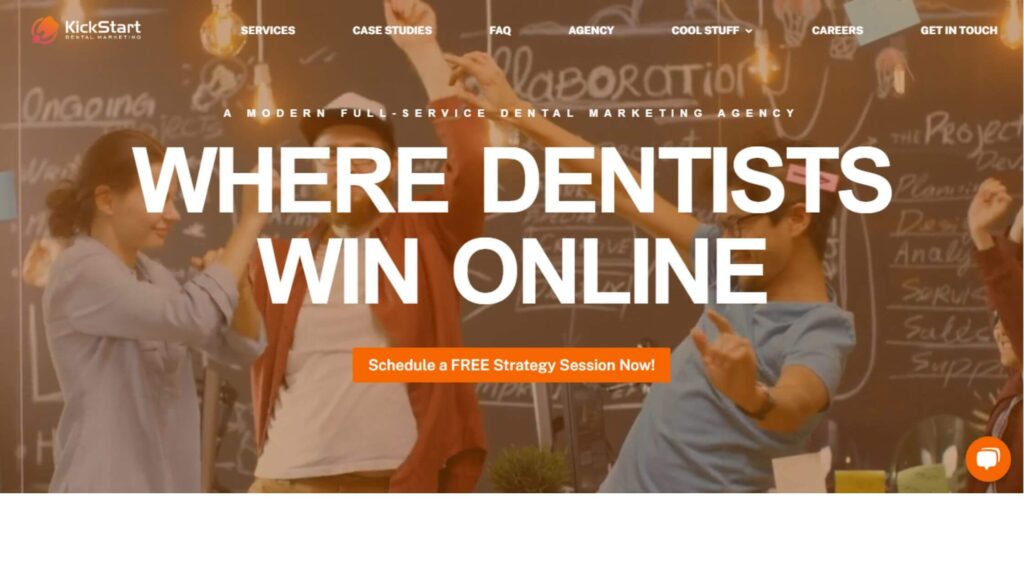 Kickstart Dental, a HIPAA-compliant agency, provides integrated marketing services for dental practices to grow online. Specializing in website development, lead generation, SEO, and review acquisition, they offer a seamless experience for engagement. An award-winning agency, Kickstart Dental has been featured on Expertise.com, Designrush.com, SEOforgrowth.com, and more.
Services: Branding, Content Marketing, PPC, SEO, Web Design, Web Development
Price Range: $1000 – $5000
11. Dental Marketer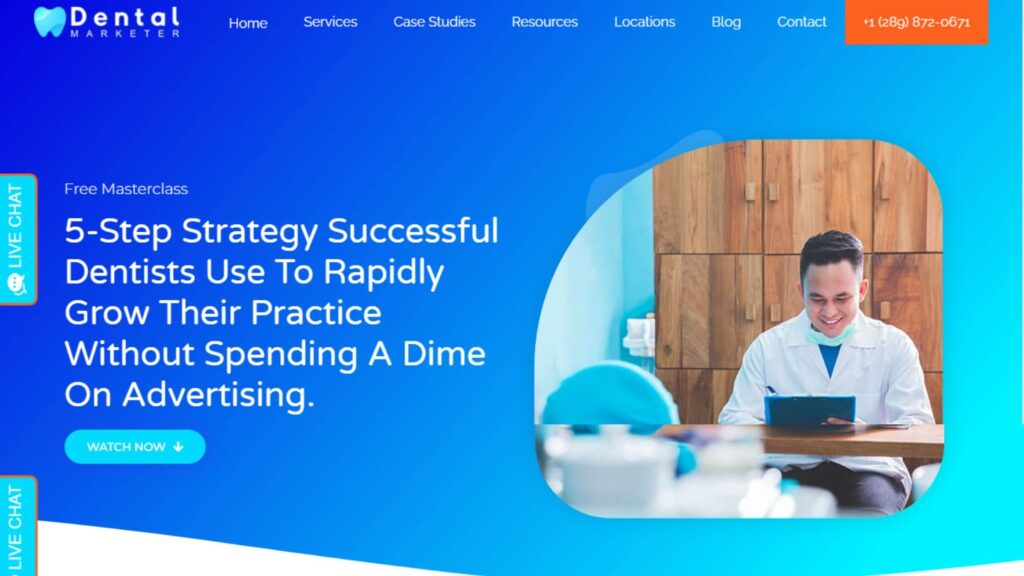 Having good ads for your dental clinic is really important to get and keep patients. Nowadays, being online is a big deal. If you're not great at advertising as a dentist, a Dental Marketer can help. They're experts in dental marketing and can make your ads better, bringing in more patients and making your clinic grow. Letting them handle your ads gives you more time to focus on your dental practice.
Services: Content Marketing, Advertising, Digital Marketing, SEO, PPC, Branding, Business Consulting
Price Range: $700 – $5000
12. Pain-Free Dental Marketing
Pain-Free Dental Marketing Company helps dentists by using digital tools to get more patients and grow their practices. They work with different types of dentists, like those for kids, braces, regular check-ups, and dental implants.
They know what patients like when picking a dentist. Using tools like a great website, ads that reach the right people, and social media, they make sure to tell everyone about what makes each dentist special. They work to show off the skills of each dentist, connect with the right patients, and make sure they stay busy.
Services: Content Marketing, SEO, Social Media Marketing, PPC, Web Design.
Price Range: $1000 – $5000
13. Identity Dental Marketing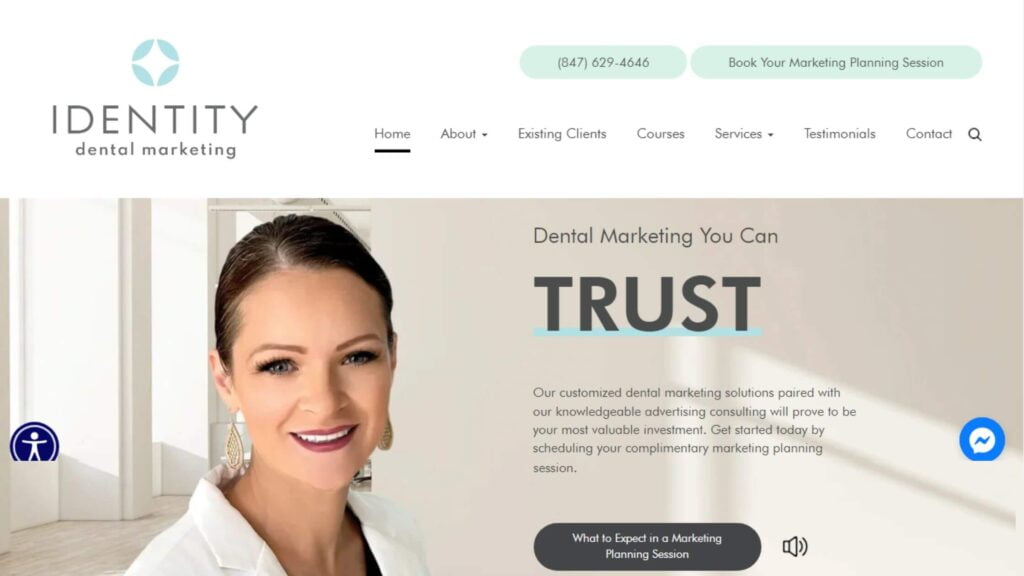 Identity Dental Marketing has been helping dentists with their marketing since 2009. They make personalized plans and give expert advice to track how well the marketing is working. Lots of happy clients say they're good at improving the dentist's reputation, bringing in new patients, and making the patient experience better. People like that they're affordable, professional, and get good results.
Services: Custom Designer Websites, SEO, PPC, Paid and Organic Social Media Marketing.
Price Range: $1200 – $5000
14. Gilleard Marketing
Gilleard Dental Marketing helps dentists with successful mail programs to bring in big cases. They specialize in promoting high-production cases and full-arch dental implants, making custom programs for each client. Their popular custom magazine mail program brings a steady flow of big cases, like implants, full-arch, cosmetics, and periodontics. They also offer services to monitor calls and train receptionists, helping get more appointments and boost the dentist's earnings.
Services: Print Marketing, Internet Marketing, Market Research, Dental Website Design, Cosmetic Dentistry Marketing, Dentist Marketing.
Price Range: $500 – $5000
15. Dentainment
Dentainment, a performance-based dental advertising company, offers personalized strategies using AI for practice growth. They provide effective multi-channel solutions like Google Ads and Facebook Ads. Through engaging projects like "The Practice Grows" and their DentalYear Mobile App, Dentainment shares daily marketing ideas and insights. The BUZZ Dental Show, hosted by founder Brad Newman, covers the latest marketing trends. Their DentalTimes Mobile App delivers real-time news and analysis for the global dental industry.
Services: SEO, website design, website development, Social Media management, PPC, email marketing, link building, event production, graphic design.
Price Range: $1200 – $5000
16. Roadsite Dental Marketing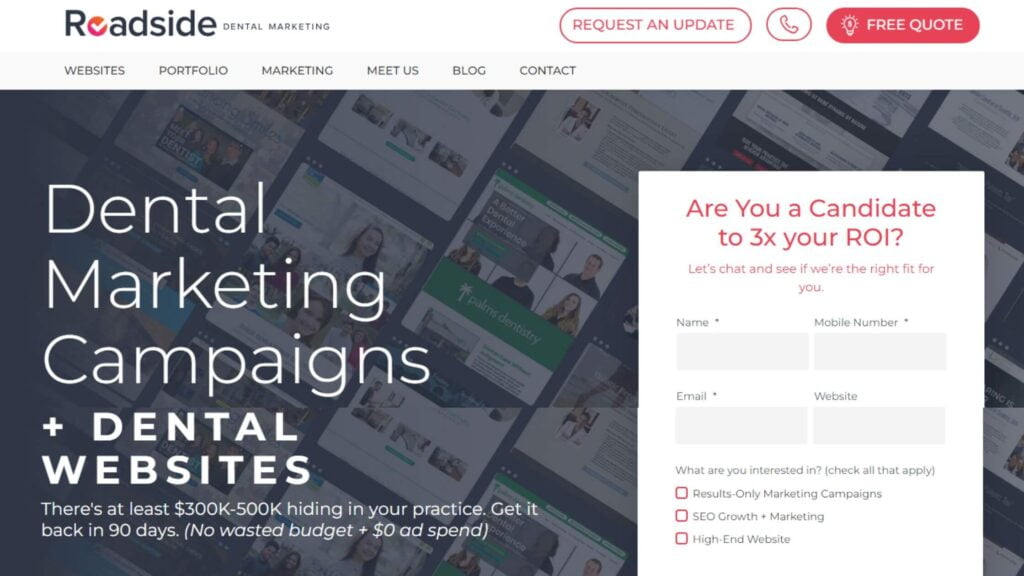 Roadside Dental Marketing simplifies online marketing to empower others in reaching their business and life goals. With extensive experience in the dental industry, the team understands the daily challenges of marketing and managing dental practices. Their dedicated in-house team is committed to delivering tangible results for practices ready to invest and grow. Choose a seasoned team that comprehends your struggles, making marketing a straightforward process for your dental practice.
Services: Dental website design, Dental SEO, dental branding and logo design, content marketing, social media, PPC ads,
Price Range:$1300 – $5000
17. Marketing Blendz
Marketing Blendz is a top-notch company based in Ottawa that's really good at making websites and helping businesses get noticed on the internet. They focus on things like making websites show up on Google and using the internet to promote businesses. At Marketing Blendz, they have one main goal: to help their clients make their businesses bigger. They know that every business is different, so they have different ways of helping out. Even though they might use different strategies, they always start with one important thing – you, the client.
Services: Web Development, Website Design, SEO Services, Online Marketing, Local SEO, Dental Marketing
Price Range: $1000 – $5000
18. SmartSites
SmartSites is an excellent company that boosts dentists' online presence by creating eye-catching websites and using strategies like SEO and PPC. For instance, they helped Real Smile Dental increase Google searches by 439% and website visits by 133%. With over 325 perfect reviews on Google, people really trust SmartSites. Their team of experts customizes marketing plans, designing appealing websites and implementing smart strategies for success. Think of SmartSites as a helpful friend guiding dentists to grow and succeed.
Services: Website design and development, SEO, and PPC.Pay Per Click
Price Range: $500 – $5000
19. MedibrandOX
Medibrandox is a popular choice for helping healthcare websites in different places like India, the UK, Australia, Dubai, and more. They're really good at making websites look great and work well, using stuff like WordPress and other special tools. They also help with online shops and digital marketing. The Medibrandox team cares a lot about making clients happy and uses their skills to do a great job.
Services: Web Design, Web Development, SEO, Digital Media Planning
Price Range: $1200 – $5000
20. DentalROI
DentalROI, headquartered in Sandpoint, has become a trusted dentist lead generation agency for dental practices worldwide. They provide a variety of digital marketing services, including SEO, PPC, content marketing, and email marketing, allowing clients to maximize their returns with innovative strategies. Additionally, DentalROI offers unique educational content and business consultancy services. Overall, they stand out for tailoring solutions to meet the individual needs of each client.
Services: Search Marketing Services, PPC Campaign Services, Website Design, Content Creation Services
Price Range: $500 – $5000
How to Choose the Dental Marketing Agency?
Choosing the right dentist lead generation agency is crucial for your practice's success. Here's a quick guide:
Define what you want to achieve with your marketing, like getting more appointments or boosting online visibility.
Look for agencies with experience in dental marketing to ensure they understand the industry.
Check client reviews and testimonials to gauge the agency's capabilities.
Ensure the agency is proficient in digital marketing, including SEO and social media.
Choose an agency that tailors solutions to your practice's unique needs and is flexible as you grow.
Opt for an agency with transparent communication about strategies, progress, and challenges.
Discuss and align your budget with the agency's services, finding a balance that works.
Define measurable metrics and ensure the agency provides regular reports on performance.
Confirm that the agency follows healthcare marketing regulations and respects patient privacy.
Choose an agency that not only understands your vision and values but also feels like a good personal fit for a successful long-term partnership.
In conclusion, the 20 best dental marketing agencies of 2023 offer dental practices a gateway to success in the digital age. With their specialized expertise, time-saving solutions, and cost-effective strategies, these dental marketing companies empower dentists to navigate the online landscape effectively. From SEO and PPC to social media management and website design, the diverse services provided ensure that dental practices not only stand out but also attract and retain a growing patient base.
Collaborating with a dental marketing agency becomes a strategic investment for practices seeking to thrive in the competitive digital era.
FAQ's
1. What do dental marketing companies do?
Dental marketing companies specialize in promoting dental practices online, offering services like website design, SEO, PPC advertising, and social media management.
2. How can I choose the right dental marketing company for my practice?
Consider factors such as experience, client testimonials, range of services, and alignment with your practice goals when selecting a dental marketing company.
3. What is a dental SEO company?
A dental SEO company specializes in Search Engine Optimization (SEO) services tailored for dental practices, aiming to improve online visibility and search engine rankings.
4. How can I improve my dental clinic marketing?
Enhance your online presence with a professional website, engage patients on social media, and consider partnering with a dental marketing company for targeted strategies.
5. How important is local marketing for a dental clinic?
Local marketing is crucial. Optimize your Google My Business profile, participate in community events, and target local keywords to attract nearby patients.