Netflix required 3.5 years to develop, while Facebook only took 10 months. Instagram was even more impressive, launching in just 2.5 months.
However, ChatGPT surpassed them all. It was launched in November 2022 and within just five days, it had already reached one million users.
In today's digital age, marketers are always on the lookout for new tools to enhance their campaigns. Enter ChatGPT – a language model trained by OpenAI that offers a range of capabilities that can be leveraged for digital marketing. From content creation to customer service, ChatGPT has the potential to revolutionize the way we approach digital marketing. In this blog post, we'll explore 10 ways that you can use ChatGPT to enhance your digital marketing strategy, as well as 5 common mistakes to avoid. So, let's dive in!
What is ChatGPT?
ChatGPT is an AI-powered chatbot that serves as a free informational resource. It operates differently from search engines like Google or Wikipedia in that it engages in a dialogue with users to provide information instead of simply presenting pages of search results. Users can ask questions and ChatGPT will generate responses based on the input it receives.
How does ChatGPT work?
Unlike tools like Google and Siri, which search for information on the web, ChatGPT has its own "brain". It's a type of technology called a large language model that gathers vast amounts of text data from the internet – including books, articles, websites, and blog posts – to learn how to generate text similar to human conversation.
The "GPT" in ChatGPT stands for "Generative Pre-Training Transformer". This means that the technology is trained on huge amounts of text data using an algorithm called the GPT-3 transformer algorithm. This allows ChatGPT to generate text that sounds like it was written by a human.
Because ChatGPT has access to so much text data, it has more learning parameters than its predecessors, which makes it a more powerful and effective tool.
What does ChatGPT do?
ChatGPT is a tool that can help with lots of different things because language is important for everything we do. Here are some things ChatGPT can do:
Write things like computer code, stories, emails, and essays.
Come up with ideas and examples, and make multiple-choice questions.
Suggest things like products, services, movies, and more.
Explain complicated ideas in easy-to-understand language.
Figure out how people feel based on what they write.
Translate text into lots of different languages.
Find data sets and job openings.
And there are even more things it can do that we haven't listed here!
11 Ways to Use ChatGPT for Digital Marketing
There are many ways to use ChatGPT for marketing, even in digital marketing. If you've ever used Google Ads, Google Analytics Intelligence, or AI content generators, then you've already experienced some of these ways. Here are some easy ways to use ChatGPT for marketing.
You can utilize ChatGPT to assist you in producing copy for your marketing materials, including emails, blog posts, product descriptions, ad copy, headlines, website copy, social media captions, and others.
You can ask ChatGPT to generate content, revise existing content to fit a specific tone (such as making it more engaging for a particular audience or giving it a more negative charge) or improve current content to meet a particular objective (such as SEO). It's important to note that requesting a complete blog post may be too much, so instead, you could ask for an outline.
1. Create Content for your Marketing Materials.
You can utilize ChatGPT to assist you in producing content for your marketing materials. This includes various types of assets such as emails, blog posts, product descriptions, ad copies, headlines, website content, social media captions, and many more. Simply request its assistance to:
Generate new content from scratch.
Revise existing content to reflect a particular tone, such as making it more exciting for a specific target audience or adding a negative tone to it.
Enhance existing content to achieve specific goals, such as improving its SEO.

Bear in mind that requesting an entire blog post may be too much, so you can ask for an outline instead. Try ChatGPT
Prompt: Write a promotional email letter for GoMaxoo Advance SEO Services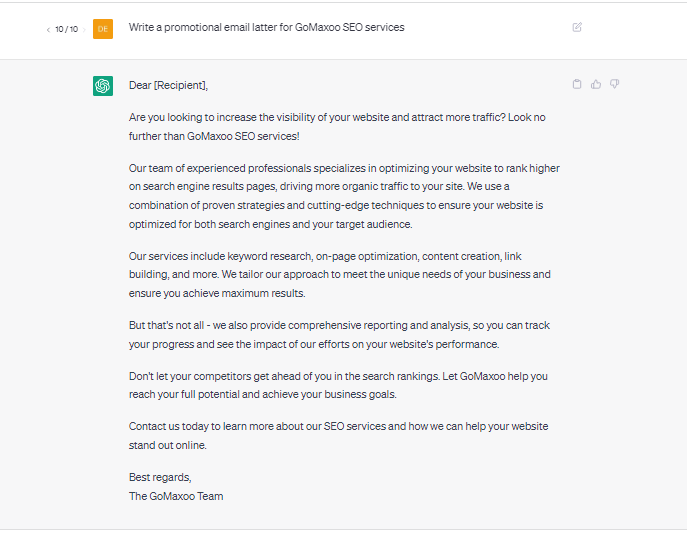 Here's an example of using the output only as a starting point. However, this promotional email contains too much text. To assist you with creating excellent marketing copy, we offer several reliable resources:
Tips for Email Copywriting
A Free Guide to Writing Exceptional Text Ad Copy
Examples of Headlines
A Guide on How to Write a Press Release
Suggestions for Writing Instagram Captions
A Guide on How to Write a Blog Post
2. Get Marketing Tool Suggestions
Please note that the aforementioned resources are subject to the disclaimer mentioned earlier.
Request suggestions for marketing tools, or ask for recommendations on specific tools. The internet offers numerous "top five" lists for various tools, such as keyword research tools. For instance, if you inquire about the top keyword research tools, you may receive a list similar to our compilation of the best free keyword research tools. Additionally, learn how to write a blog post.
Prompt: What are the best free keyword research tools for Digital Marketing?
3. Generating Content Ideas
You can utilize ChatGPT in various ways to come up with ideas for your blog posts, guides, white papers, and e-books. You can request it to suggest post ideas based on topics or your current content, conduct research on a particular subject, aggregate top articles on a topic, or have it simplify a complex concept for you to make it easier for your readers to understand.

Prompt: Explain the Google SEO Algorithms Work.?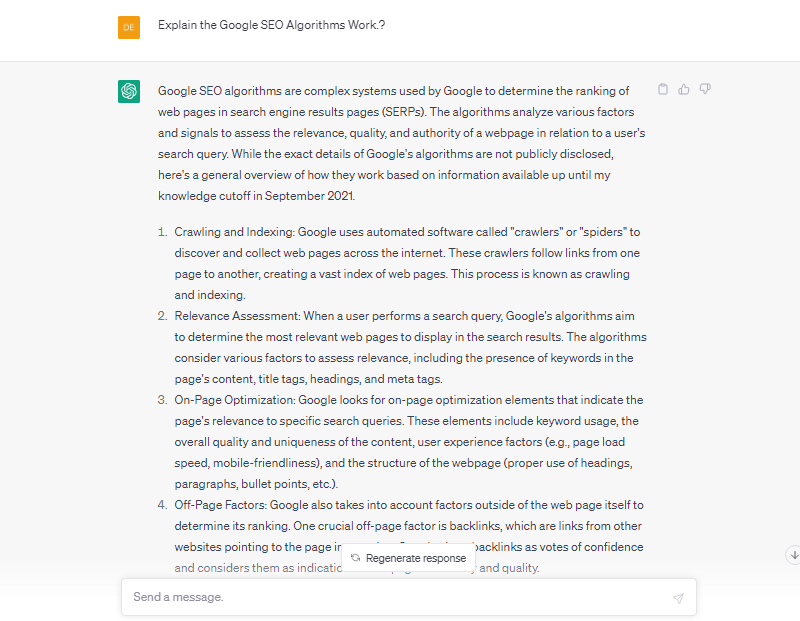 Based on our post on how the SEO Algorithms work, you can see this isn't too shabby!
4. Chat GPT for Excel
It's important to learn shortcuts and formulas, even though you shouldn't rely solely on ChatGPT for your reporting and analytics (we'll cover that topic soon). However, one-way ChatGPT can assist you is by teaching you helpful shortcuts for processing and analyzing data. For instance, you can request spreadsheet formulas, regular expressions, and other timeless strings.
Prompt: What's the Excel formula for percent increase?
5. Generate Client Surveys Ideas
Your intended audience is constantly changing. To identify your target audience, it's important to conduct comprehensive research. However, you can utilize Chat GPT to create a survey or poll that can aid in further understanding your audience and customers, as well as gathering customer feedback.
Prompt: Generate a customer feedback survey
6. Chatbot Interesting Ideas
Generating ideas for chatbots is an excellent strategy to enhance customer engagement, collect feedback, and generate leads on your website. You can use Chat GPT to explore various prompts and answers that can inspire your chatbot creation.
Prompt: I'm building a chatbot for my website, GoMAXoo! How should I greet customers who come to my pricing page?
You can also use our chatbot examples to get ideas!
Please keep in mind that any responses generated by ChatGPT are meant to be used as a starting point and for brainstorming purposes only. It's important to adapt the language and tone to fit your brand voice and cater to your specific audience.
7. Market Research:
Chat GPT can analyze large amounts of data quickly and accurately, identify patterns and trends, and generate insights that inform business decisions.
Prompt: What are the primary factors that influence consumers when making a purchase decision for [product/service category]?
8. Chat GPT for Social Media:
Chat GPT can be extremely helpful for social media platforms, as it has the ability to generate natural language responses that can engage and interact with users in a personalized and efficient manner.
With its vast database of language patterns and its ability to understand context, Chat GPT can provide quick and accurate responses to user queries, enhance customer service, and facilitate engagement with followers. Its versatility and scalability make it a valuable tool for social media platforms looking to improve their user experience and increase their reach.
Prompt: Generate captions for Instagram posts
9. E-Commerce
Use the eCommerce chat GPT to assist with the sales process. The chatbot can suggest products, provide product comparisons, and assist with upselling and cross-selling.
Prompt: How can I increase my eCommerce sales?
10. Create a Content Calendar
Creating a content calendar can help you stay organized and consistent with your content. Use ChatGPT to brainstorm ideas and plan ahead for upcoming posts.
With a solid plan in place, you can focus on creating quality content that resonates with your audience.
Prompt: Create a content calendar
11.ChatGPT for Buyer Persona
Buyer personas are fictional representations of your ideal customer. They help businesses understand their target audience's needs, motivations, and behaviors. Creating buyer personas can improve marketing strategies, product development, and customer satisfaction. Use demographic data, psychographic traits, and behavioral patterns to create accurate and detailed personas. ChatGPT can help you identify key characteristics of your ideal customer and develop effective personas.
Prompt: Write a Buyer Persona
Limitation of ChatGPT
As an AI language model, ChatGPT has certain limitations that are important to keep in mind. While it has been trained on vast amounts of data and can generate responses to a wide range of prompts, there are still several key areas where it may fall short:
Limited knowledge scope: While ChatGPT has access to a vast amount of information, it may not be able to answer questions outside of its scope of knowledge. For example, it may not be able to provide expert advice on complex medical or legal issues.
Lack of contextual understanding: ChatGPT is not able to fully understand the context of a conversation or question. It relies solely on the information it has been given, and may not be able to pick up on subtle nuances or cues that a human would.
Inability to provide emotional support: ChatGPT is not capable of providing emotional support or counseling. It may be able to offer some helpful advice or resources, but it cannot replace the empathy and understanding that a human can provide.
Errors and inaccuracies: While ChatGPT strives for accuracy, it is not infallible. It may make errors or provide inaccurate information, especially if it is given incomplete or misleading data.
The Tool Itself Admits that:
It may sometimes give incorrect information
It may sometimes provide harmful instructions or biased content
Its knowledge of the world and current events is limited to before 2021
Therefore, it's crucial to give specific prompts and use the responses as a starting point only. You should explore further, investigate deeper, and iterate on the information provided.
Even when ChatGPT provides answers, it acknowledges that it's just one of many tools available, and you should use it as a helpful resource rather than the only source of information.
1. Limited training data:
Although ChatGPT is trained on a vast amount of data, it may not have encountered every possible scenario or context. This can lead to incorrect responses when it encounters novel situations.
2. Biassed training data:
The training data used to train ChatGPT may contain biases that reflect societal prejudices and stereotypes. As a result, ChatGPT may generate responses that perpetuate these biases.
3. Lack of common sense:
While ChatGPT has access to vast amounts of information, it does not have common sense or human intuition. Therefore, it may not understand the context or implications of certain questions or statements.
4. Inability to recognize sarcasm or irony:
ChatGPT may struggle to detect sarcasm or irony in a user's text, leading to inappropriate or incorrect responses.
5. Inability to understand emotions:
ChatGPT is not capable of understanding emotions, tone, or intention, which may lead to insensitive or inappropriate responses.
Conclusion
Overall, the benefits of utilizing a language model like ChatGPT for digital marketing are numerous. From providing real-time insights and guidance to automating marketing processes and analyzing data, ChatGPT can help businesses of all sizes enhance their digital marketing efforts and achieve their marketing goals.
FAQs (Frequently Asked Questions)
Chat GPT is an AI language model developed by OpenAI. It uses machine-learning algorithms to generate human-like responses to text-based prompts
2) How can Chat GPT be used in digital marketing?
Chat GPT can be used in a variety of ways in digital marketing. It can help generate content ideas, craft compelling copy for social media posts, and even assist with customer service inquiries.
3) Can Chat GPT generate high-quality content?
Yes, Chat GPT can generate high-quality content that is indistinguishable from content written by humans. However, it's important to note that the generated content may still need to be edited or refined to fit your specific needs and brand voice.
4) How much does Chat GPT cost?
If you are interested in using ChatGPT for your specific use case, you can visit the OpenAI website and explore their pricing options to determine the best fit for your needs.
5) Is Chat GPT easy to use?
Yes, Chat GPT is designed to be user-friendly and easy to navigate. Once you've created an account and logged in, you can start generating responses with just a few clicks.
6) Can Chat GPT be used for customer service inquiries?
Yes, Chat GPT can be used to assist with customer service inquiries. It can provide quick and helpful responses to common questions or issues, improving the overall customer experience.